Bop Shop New Retro Edition: Songs We Love From 2013
Throwback jams from Paramore, Blood Orange, Bonnie McKee, Pusha T, and more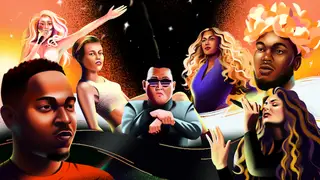 The search for the ever-elusive "bop" is difficult. Playlists and streaming-service recommendations can only do so much. They often leave a lingering question: Are these songs really good, or are they just new?
Enter Bop Shop, a hand-picked selection of songs from the MTV News team. And for New Retro Week, a celebration of the biggest artists, hits, and cultural moments that made 2013 a seminal year in pop, MTV News has looked back to see what lies ahead. We revisited the impact of Kendrick Lamar's career-defining verse on Big Sean's "Control," the first-ever cultural spotlight on Gen Z that Lorde's "Royals" provided, and New York City's queer-rap renaissance as led by Cakes da Killa, Mykki Blanco, and more. We also celebrated the tender and matured side of Miley Cyrus on Bangerz as well as the lasting legacies of Beyoncé's iconic surprise-dropped self-titled album, Girls' Generation's genre-smashing "I Got a Boy," and Lady Gaga's misunderstood masterpiece Artpop. Finally, we examined what exactly shifted when Billboard began factoring YouTube plays into its Hot 100 chart formula — and where "Harlem Shake" fits into that equation.
Now, for this week's music round-up, we give the platform back to our favorite songs from 2013. Get ready: The New Retro Week Bop Shop is open for business.
Daft Punk ft. Pharrell Williams and Nile Rodgers: "Get Lucky"
What's left to say about one of the most talked-about and celebrated songs of all time? Turns out, plenty, especially as we charge into year three of a disco revival. Genre resurgences don't always have specific origins, but "Get Lucky" certainly jump-started a four-on-the-floor craze when pop was still preoccupied with EDM drops and neon choruses. What remains so delightful about Daft Punk's opus after a decade is how easy it is to slip back into. Throw on "Get Lucky" and go about your day. Let the six minutes of smooth drums and stretchy guitar lines overtake you. You'll sing the hook before you even realize you're doing it. Sounds as good in 2023 as it will in 2033 (and 2043, and 2053, and beyond). —Patrick Hosken
Lorde: "Ribs"
In 2013, I was 14 and 15 years old. I spent my days browsing Tumblr for monochrome and jean outfits and reposting depressing yet aesthetically pleasing content. So of course I was listening to Lorde, and "Ribs" was completely emblematic to my teenage experience. Pure Heroine embodies the anxiety, grief, and aggravation of a vanishing adolescence. Having an artist my age encapsulate the transition into adulthood helped me progress forward, appreciate those close to me, and embrace isolation when needed: "You're the only friend I need / Sharing beds like little kids / And laughing 'til our ribs get tough / But that will never be enough." —Gwyn Cutler
Miley Cyrus: "We Can't Stop"
Miley Cyrus's Bangerz had the Disney star smashing her childhood image with a wrecking ball. "We Can't Stop" is an ode to her newfound freedom. In it, Miley sings about saying, doing, and loving whatever and whoever. But it's not "I Can't Stop" — it's we, and for a reason: She's inviting all the people who grew up watching her to come to the party and stay out all night. It's all about enjoying the excesses of young adulthood. It's a song that you can sing with your bestie on a road trip, or that total strangers can sing together in the club. Miley made mistakes during this era of her life, but isn't this song about that young, messy time where you get to party too hard and be carefree? The pop star has talked about the Bangerz era as a time when she learned a lot about herself and grew up. But we'll always remember the messier Miley, and we'll always love "We Can't Stop." It still hits, and it's an important stop on Miley's journey of artistic revolution. I hope I get to write about her iconic new "Flowers" era in 10 years. —Kelsey McLaughlin
Beyoncé ft. Frank Ocean: "Superpower"
Bop Shop is a sacred ground where we have free rein to write about any song, so as we travel back to 2013, I'm going with "Superpower," a track from Beyoncé's game-changing self-titled album that I thought deserved more attention. Protest songs are naturally loud, aggressive, and urgent, but on "Superpower," Knowles and Frank Ocean exercise control as they deliver smooth, beautiful harmonies in an understated doo-wop ballad that's all about the power of love. "The laws of the world never stopped us once," Bey croons. "'Cause together we got plenty superpower." The music video, directed by Jonas Åkerlund, contrasts the song's subtlety with extreme imagery from a slow-motion political riot while continuing to demonstrate how love and unity empower us and inspire forward motion. —Farah Zermane
Drake ft. Sampha: "Too Much"
Nothing Was the Same is the era of Drake I revisit most: He's always contemplating what it means to become the biggest rapper in the world, but in 2013, the mountaintop felt unbearably weary with his relationship to success maybe growing too complicated. Tracks like "Tuscan Leather" and "Worst Behavior" bristle with spite towards the isolation it took to get there, and "Too Much" begets troubling familial realizations: Accomplishing his dreams has somehow stifled theirs, and resentments pour out. "Money got my whole family going backwards / No dinners, no holidays, no nothing / It's issues at hand that we're not discussing / I did not sign up for this," he helplessly lays out with rushing angst, lamenting how his mom, his uncle, and all his old friends are resigned to lives he's removed from — defeated perceptions he can't save. An empathetic fling suggests he's "too worried about being the best out." True, but he's also haunted by the cost. —Terron Moore
Blood Orange: "Time Will Tell"
Here's an instance where an incredible album dropped in 2013, but I didn't get to discover it until years later. Back then, I don't think I would've fully recognized the true artistry behind Blood Orange's LP Cupid Deluxe. The saxophone, synthesizers, and soulful sensuality of Devonté Hynes's singing voice is absolutely sensational, nailing the '80s feel but with modern themes. Hynes couples his timeless sound with organic movement, giving life to his lyrics for us to emphatically follow along with our own expression. Like his other hits, he delivers the full package with his performance of "Time Will Tell" — emotive echoing, audience interaction, and interpretive dance. This song was even featured in Luca Guadagnino's We Are Who We Are, which fits perfectly along the show's stellar soundtrack. —Gwyn Cutler
Pusha T: "Numbers on the Boards"
King Push was arguably at the height of his powers when "Numbers on the Boards" dropped like a piano from a 10-story building in the fall of 2013. The crispness of the New York air had just set in, and walking around the city with that jangly, atonal loop (sample: "Pots and Pans" by A. King and J. Matthews) blaring in my headphones made me feel invincible. "Numbers on the Boards" is the quintessential Pusha T song. In one line, "Hard to get a handle on this double edged sword," Push sums up the theme that undergirds his oeuvre: He raps better than you, he sells drugs better than you, and most days he's not sure which half of his identity is in the driver seat of his SLS. Nobody has ever had so much fun telling everyone else "you're doing it wrong" and threatening to snatch the mic from you to show you how it's done. Ten years later, "Numbers on the Boards" still sounds brand new. Run it back! —Adam Murphy
Bonnie McKee: "American Girl"
Please rise for (what should be) the national anthem. Ten years ago, Bonnie McKee released this banger of a bop, but up to that point, McKee had mostly been working behind the scenes, writing some of the biggest pop songs of all time (and if you haven't watched her perform a medley of her greatest hits, get thee to YouTube!). She wisely kept "American Girl" for herself as her debut single. The song hits you like a shimmery shot of adrenaline, and you can practically feel the L.A. sun seeping out from the speakers. "American Girl" is the optimism of the American dream packaged as a perfect slice of pop, and all these years later, it can still elicit chills like you just sucked down a psychedelic 7-Eleven Slurpee. —Chris Rudolph
Janelle Monáe: "Dance Apocalyptic"
We all know Janelle Monáe is a fierce and fabulous force to be reckoned with, but back before her triple-threat days, she was slinging out striking singles like "Dance Apocalyptic," made for the folks who "aren't afraid to freak out." If this song doesn't give you the urge to bust out and dance, the lyrics will at least invite your attention. It details a rebellion against a dystopian world of Monáe's imagination based on our reality. The video is full of wacky and chaotic energy surrounding this impending apocalypse, which adds the pop to this bizarre bop. It's also an affirming and fun reminder that the origins of rock and roll are inherently and authentically Black, depicting Monáe with her band and live studio audience comprised of beautiful Black femmes. —Gwyn Cutler
Vampire Weekend: "Hannah Hunt"
At the risk of placing too much retroactive importance on one song, "Hannah Hunt" kind of changed the game. It doesn't seem like it did — but lean in a bit. Those whisper-quiet verses? That blown-out but still earthy climax? That eerie wailing coda? All the work of former band member Rostam, whose production fingerprints have since been all over key tracks from Haim, Clairo, Maggie Rogers, Frank Ocean, and, most recently, Vagabon. "Hannah Hunt" has a beautiful sound, like an old house falling into the sea very slowly, then all at once. Modern indie folk-pop has excavated that wreck. —Patrick Hosken
Paramore: "Ain't It Fun"
New Retro Week gives us a moment to reflect on 2013's "Ain't It Fun," one of Paramore's best songs, as we patiently wait for the release of their upcoming album This Is Why. "Ain't It Fun" is an experimental pop-punk classic that meshes tongue-in-cheek lyrics about the transition to adulthood with a groovy bassline, a xylophone earworm, and a gospel choir. An unlikely combo, but the risk paid off. The track earned the group their first Grammy award and has been etched into their setlists ever since.—Farah Zermane
Haim: "If I Could Change Your Mind"
Front to back, I'd listen to this album going to and from class in high school. If I wanted an edgy entrance song to blast in my headphones, I'd pick "My Song 5." If I wanted a love song that would get me daydreaming about my crush, I'd play "Honey & I." Finally, if I wanted to pretend I was in a delightfully choreographed music video, I'd put on "If I Could Change Your Mind." To my excitement, the actual music video is nothing shy of what I imagined! This funky and infectious single has remained in my head rent-free for years, and will for years to come. —Gwyn Cutler
Justin Timberlake: "Don't Hold the Wall"
The genius of Timberlake's FutureSex/LoveSounds feels like lightning in a bottle, where its best parts ("SexyBack," "My Love") show mastermind producer Timbaland at his wackiest, eeriest, and most inventive. As a follow-up, The 20/20 Experience is generally a retread into a brighter, more traditional R&B sonic landscape — except for "Don't Hold the Wall," a slinky thumper simmering with sensuality, fueled by dank jungle drums, animal noises, and tribal chants; it's like if "Get Ur Freak On" smoked a blunt. Timberlake's best jams aren't about sex as much as they own the moments between the meet-cute and the bed romp: that feeling of oh yes, it's on just before two bodies meet. "I heard your girlfriend tell you you deserve better / Well, I'm the best ever," he coos. Tim's murky studio magic has always turned Timberlake's corniest one-liners just dark and seductive enough to work. —Terron Moore