What Makes A Hit? The Legacy Of 'Harlem Shake' And No. 1 Memes
After 'Billboard' incorporated YouTube streams into its Hot 100 chart in 2013, the viral spirit of hits by Baauer and Psy reigned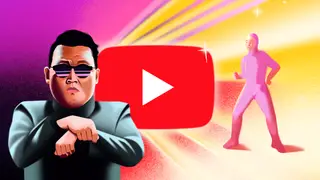 Welcome to New Retro Week, a celebration of the biggest artists, hits, and cultural moments that made 2013 a seminal year in pop. MTV News is looking back to see what lies ahead: These essays showcase how today's blueprint was laid a decade ago. Step into our time machine.
Just before Valentine's Day in 2013, all hell broke loose on the University of Texas at Austin campus. Or so you'd think, if you saw one particular YouTube video, uploaded on February 13. Under the school's iconic tower, its costumed mascot steer revs up to climbing bass music as a few dozen students around him pay no mind. But when the beat drops, the quad explodes into a vibrant dance party that makes a Longhorns tailgate look like a study group.
Such a sequence could have only one soundtrack: "Harlem Shake," the booming song from American DJ Baauer that found life online propelled by thousands of viral videos. It was released in mid-2012, but early the next year, boosted by 4,000 new uploads per day at its peak, the song became inescapable — even on the Billboard Hot 100.
Thanks to a fortuitously timed update incorporating YouTube plays into the magazine's Hot 100 chart formula, "Harlem Shake" hit No. 1 on March 2 and topped the chart for the entire month. Baauer never saw it coming. "I was surprised that a song could make it to No. 1 on Billboard from a meme," he said to MTV News in an email. "Today, 10 years later, that doesn't seem so unusual."
In an age when the popularity of a song on TikTok regularly drives its Hot 100 performance, Billboard's decision, which went into effect in late February 2013, may seem less than revolutionary. But it was a key moment for modernizing the then-55-year-old chart, according to Bill Werde, former Billboard editorial director and current director of the Bandier Program for Recording and Entertainment Industries at Syracuse University. He oversaw the YouTube decision, and now runs a weekly music-business newsletter called Full Rate No Cap.
"The Billboard charts have been a living, breathing document of the music industry," Werde told MTV News. "We would be in the marketplace regularly having conversations, particularly with label presidents, label [managers], the folks that were responsible for distribution and sales, the people on the front lines of making the data, essentially."
Those talks were backdropped by tremendous upheaval in the music industry. Spotify had only launched stateside in 2011, and streaming was yet to become the behemoth it remains today. The influence of social media on the consumption (and eventually the creation) of popular music, however, was growing wildly. The Billboard team knew it had to reckon with the times. But Werde stressed that they didn't hasten their decision to update the Hot 100 formula specifically to accommodate "Harlem Shake," which was exploding on YouTube when the change went into effect. Their decision was partly influenced by the staggering online success of another song: Psy's "Gangnam Style," released in 2012 and, at 4.66 billion plays, still the 11th most-viewed video in YouTube's history.
"From a common-sense perspective, Psy had the biggest song in the world, and everyone was talking about it for weeks and weeks," he said. "So how can the charts not take all of that activity into consideration? Our charts need to make it clear that he has the biggest hit in the world."
The backstory of the Hot 100 chart helps explain the context. It started up in 1958 when Billboard combined two existing charts: one that measured sales of singles and another that tracked radio plays. Writer and chart historian Tom Breihan writes in his book, The Number Ones, that like today — and throughout the story of pop music — teenagers helped drive its early success stories. "The Hot 100 just missed the very beginning of the rock [and] roll era, but the chart began at a moment of vast demographic change, a time when baby boomer children were starting to spend money on singles and a whole new cultural wave was gathering force," he writes.
The wave has continued, albeit in much different forms. Before the eruption of both "Gangnam Style" and "Harlem Shake," as both Baauer and Werde pointed out, memes had yet to become drivers of what eventually becomes a chart smash. But in their wake, the landscape shifted dramatically. Rae Sremmurd's "Black Beatles" powered 2016's Mannequin Challenge viral craze, earning them the No. 1 spot for six weeks. Lil Nas X's "Old Town Road," a cultural phenomenon that began as an enigmatic meme, became the longest-running Hot 100 chart-topper in history three years later. "You may choose to see that as dystopian or you may choose to see it as incredibly cool," Werde said. "A lot of that is a Rorschach test based on how you feel about Lil Nas X."
There remains a direct line connecting Baauer's hit to the TikTok-boosted singles of the 2020s, even if older and more traditional ways of looking at the charts linger. "I still get into fights in bars over this issue and whether or not ['Harlem Shake'] should have been the number-one song in America," Werde said. He defends the decision, arguing that consumers were moving away from the passive listening of radio (which the Hot 100 was "overvaluing") and into an era of active, on-demand listening thanks to YouTube plays, and soon after, streaming. With these behavioral adjustments came a long-overdue forward-thinking approach to what makes a hit in the 21st century.
Stephen Bryan, YouTube Music's global head of label relations, emphasized the agency both fans and artists gained. "I'm not sure it changed [YouTube]'s relationship with pop music, but for Billboard, it was certainly one step closer to its charts more accurately representing what is popular in music," he said to MTV News in an email. He forecasted that the next decade will continue to see artists finding novel ways to connect with their audiences, while "fans will continue to be able to discover, listen, watch, and engage with the music and artists they love across every relevant format."
Those formats continue to be mulled over by industry leaders. In late 2019, Billboard announced yet another tweak, this time factoring plays of an artist's official YouTube videos into its Billboard 200 albums chart formula. The change also stipulated that visual plays from streaming giants like Apple Music, Spotify, Tidal, and Vevo also count. Three years after taking effect, one notable evolution in the entire equation of what makes a hit is, of course, TikTok and its estimated 100 million users in the United States alone.
When a song trends on the platform, it creates a ripple effect where users seek it out to stream or download on other services, often causing it to chart on the Hot 100. It happened with Fleetwood Mac and Kate Bush. Would it have happened to "Harlem Shake" if Baauer had dropped his song in 2023 instead?
Perhaps the question is not what might've been, but what might yet be. Could TikTok conceivably help "Harlem Shake" reach No. 1 again, a decade later? Maybe — but not with any help from UT Austin, which joined the rest of Texas in blocking downloads of the app on its campus this week.
Werde knows music fans love to argue about hypotheticals like this, as well as what makes a hit. He offered one of his own. "If a song streams a billion times on TikTok because fill-in-the-blank influencer does a cool dance to it or captures a cool sort of meme-friendly moment and this is the soundtrack to it, is that a hit?" he said. "My answer is yes."