'Bangerz' Was A Party, But It Also Gave Miley Cyrus A Mature Look At Love
Co-writer Oren Yoel looks back on 'Adore You,' Miley's major leap into adulthood, and the album's legacy a decade on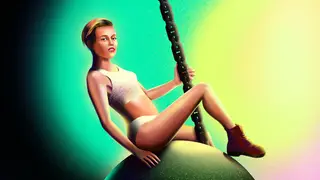 Welcome to New Retro Week, a celebration of the biggest artists, hits, and cultural moments that made 2013 a seminal year in pop. MTV News is looking back to see what lies ahead: These essays showcase how today's blueprint was laid a decade ago. Step into our time machine.
You can't think of 2013 without picturing Miley Cyrus. Rocking a flesh-toned two-piece bikini, Miley and her twerk-centric performance with Robin Thicke at the MTV Video Music Awards in late August caused an uproar, but really, the then-20-year-old artist was just out there having fun, embracing her young adulthood, and expressing her autonomy. And she brought that fun and exploration fully to life on the album she released a month later, Bangerz.
After the release of her sophomore LP Can't Be Tamed in 2010, Miley revealed in a Billboard interview that she felt "disconnected" from it and the rest of her older music. "I was 16 or 17 when I made it. When you're in your twenties, you just don't really know that person anymore," she said. A few years earlier, she told MTV News, "The more I make music that doesn't truly inspire me, the more I feel like I'm blending in with everyone else."
Unlike her previous albums which were fully centered in pop (or country, in her Hannah Montana era), Bangerz found her taking the adventurous route, dabbling in hip-hop, as heard on her hits "We Can't Stop," "FU," and "Love Money Party," as well as in and her collaborations with rappers like French Montana and Big Sean. But Bangerz's opening track, the tender "Adore You," kicked off this new version of a nearly 21-year-old Miley with a tender look at love from a more heartfelt place.
Oren Yoel, who co-wrote and produced the track, revealed to MTV News that the star wanted to show off both her fun-loving spirit and her maturity. "This was her way of showing that she's growing up," he said. "I think she always wants something that touches her and hits the soul viscerally." He said Bangerz was meant to reflect the changes in Miley's life at the time, including throwing "awesome parties." And Miley got real with her creativity during this era. "She pulls the things that she likes from different things and puts them together," he continued. "So I think she wanted some big-booty bass and then just a great song."
To make the track, Yoel met up with Miley in Philadelphia in 2012, where her then-partner Liam Hemsworth was filming a movie. "We got cheese steaks brought to us," he said. "We worked at the studio, and there was this one huge room, gorgeous, and then a little room in the back that was barely hanging on. Miley wanted to work in that room. I remember [thinking], 'Well, all right, OK, let's do it.'" Yoel tidied the place up ("I like a little feng shui in the room"), and then the two of them, along with co-writer Stacy Barthe, "hung out in this little back room, eating some cheese steaks and just talking about life. It was a really, really cool time."
The end result was "Adore You," which led off Bangerz on an earnest note. Although her other love songs such as "Wrecking Ball," "My Darlin'," "Someone Else," and "On My Own" touched on heartbreak, the R&B-inspired pop ballad "Adore You" found Cyrus embracing the positive aspects of a growing love. The accompanying music video depicted a surreal montage of Miley lying under the bed covers and in the bathtub, suggestively expressing the star's dual erotic and romantic feelings for her lover. The lyrics were simple but straightforward: "When you say you love me / Know I love you more / And when you say you need me / Know I need you more."
"When somebody else is excited about love, it makes you excited about love, the possibility of it," Yoel said. "And so I think that her excitement touched me, and it's just that all-encompassing thing. Everybody needs love, and when you find somebody special and you want to show them why they're special and her talent, amazing talent is to sing. And she showed that the best way she could to him."
Yoel feels pride for how the song has touched others' hearts. "I've gotten videos of it being played at weddings and a whole bunch of stuff," he said. "I was sitting in the car and saw somebody listening to it next to me, bawling and crying. [I'm] very proud of how special that record has become for certain people."
"Adore You" peaked at No. 21 on the Billboard Hot 100, while fellow Bangerz singles "Wrecking Ball" and "We Can't Stop" reached No. 1 and No. 2, respectively. The latter originated from musical duo R. City, a.k.a. Rock City, who initially wrote it with Rihanna in mind. In a 2013 Vixen interview, the pair said Bangerz producer Mike Will Made-It pitched for Miley to take it instead. "We felt like this could be somebody's first single," R. City's Timothy Thomas said. "We knew it was going to be big because it was very original." A glimpse of Miley's lively parties was featured in the hit's music video, which was filled with bizarre props like giant teddy-bear backpacks, a mountain of white bread, a French-fry skull, and a woman simulating slicing her fingers. Even more surprising, Miley got into a brawl with her party guests. Director Diane Martel explained its significance to MTV News in 2013. "That fight scene is awesome. What female artist lets themselves get their ass kicked in their own video?" she said. "This is what I mean about her. Miley is my hero."
Yoel, who also worked on Miley's subsequent albums in 2015 and 2017, mentioned a similar sentiment. "What I always know is that eventually people are going to find out that you're bullshitting, and so it's always best to be 100 percent," he said. "She's always been 100 percent. She doesn't have to hide."
Years after Bangerz set her on a more mature career path, one thing Miley did not shy away from was discussing its impact on her psyche — specifically the body-shaming memes that defined the aftermath of her infamous VMAs performance. "I basically went through two or three years where I wouldn't wear shorts," the singer said during a 2020 conversation with Demi Lovato on Instagram Live. "I stopped wearing skirts onstage." She also revealed that "having this persona of being the most confident girl on the planet was actually kind of a fraud because I was so insecure inside. What was so hard about it was my brand has always been about being so unapologetically myself and being confident, and the worst thing I would feel I would be to my fans is… a fraud."
Yoel stressed that though Bangerz may have embraced excess, Cyrus is "just not about glitz and glamor. She's a humble person." "Adore You" is proof.
​​"What's great about her in general is that she's willing to just put herself out there and to show her true feelings," he said. "That's real art, and there's not a lot of people that are willing to do that."