Lady Gaga's 'Artpop,' Misunderstood In Its Time, Foretold Pop's Future
Though it failed to replicate the success of its predecessors, Mother Monster's cult-favorite album has seen a resurgence in recent years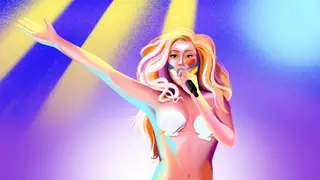 Welcome to New Retro Week, a celebration of the biggest artists, hits, and cultural moments that made 2013 a seminal year in pop. MTV News is looking back to see what lies ahead: These essays showcase how today's blueprint was laid a decade ago. Step into our time machine.
You don't have to traverse deep into the internet to stumble upon the "Artpop deserved better" discourse that's inspired think pieces, memes, and Twitter conversations alike. For a pop icon with 13 Grammys, two Golden Globes, and an Academy Award, a tepidly received third record would typically be a footnote in an otherwise massive career. However, not every artist is Lady Gaga, and not every album is Artpop.
With the avant-garde album in 2013, Gaga sought to unite the pop and art worlds through electronic-inspired music and a Jeff Koons-crafted album cover juxtaposing a nude sculpture of herself against Sandro Botticelli's famed Renaissance painting The Birth of Venus. Despite its lofty ambitions, Artpop failed to duplicate the massive commercial success of its predecessor, Born This Way. After its technicolor tracks fell off Gaga's tour set lists and she later joked in a tongue-in-cheek tweet that she "[didn't] remember Artpop," it seemed Mother Monster had turned her back on the era altogether — until a 2021 fan-led campaign, inspired by Gaga's promise of an unreleased second volume, thrust the record to No. 2 on iTunes. "We always believed it was ahead of its time," she wrote in response to its resurgence. "Years later turns out, sometimes, artists know. And so do little monsters."
Ahead of its time is right. In the decade since Artpop's release, future-thinking subgenres like hyperpop and a house revival have all hit the mainstream. The album's adrenaline rush of EDM, synthpop, and trap now reads less otherworldly than pioneering, though it's not just a matter of evolving trends or an unreleased part two that has kept Artpop in the cultural conversation. The raw emotion and unabashed passion behind the project continue to strike a nerve with its creator as much as with her adoring fans.
"Gaga is just like the rest of us," said producer Nick Monson, who worked on Artpop alongside DJ White Shadow and Dino Zisis. "In those darker types of times, you dive into the music, which is totally what she did. And I think it comes across." The album certainly found Gaga in an intense period of life. A hip injury brought her globetrotting Born This Way Ball to an abrupt halt in early 2013, and she split with longtime manager Troy Carter due to "creative differences" days before its release.
Artpop launched with "Applause," a Europop-inspired ode to Gaga's love of performance that producer DJ White Shadow dubbed "the silver spoon that shoved the medicine down everybody's throat." The rest of the track list is defined by its expansiveness, summed up by the intergalactic title track where she croons, "My artpop could mean anything." Gaga invites listeners to prescribe their own meaning to the record, yet a need to take ownership of her identity and sexuality informs nearly every track. She invokes the powers of Roman gods to make her point on fan favorites like "G.U.Y." and "Venus," as well as teeth-gritting beat drops on "Swine," a song about healing from the pain of sexual assault. Even its more hedonistic turns are led with an iron fist of dominance, like "Donatella," which finds Gaga declaring, "I'm blonde, I'm skinny, I'm rich / And I'm a little bit of a bitch," through a cloud of Marlboro Red smoke.
"[The album] was created from the brain of Lady Gaga, and she's never been one to go for the obvious or what's easy or for something that might not be as worthwhile," Monson said. "We were really going for the craziest kind of stuff that we could come up with." The record was written while Gaga and her collaborators toured the world, going from a four-day South African safari to Bueno Aires with the singer's parents to freezing temperatures in Norway. That whirlwind extended to her approach in the studio. "I remember the musicians coming in and the directions she was giving them: asking the guitar player to play violent, or play like you're on a beach with bombs coming out of the sky," Monson said. He recalled creating "Venus" in the back room of Los Angeles's Record Plant "from the bottom up," blasting its beat at deafening volumes over two sleepless nights. "She worked on the bassline for hours and hours because she wanted to get it completely right," he said. "It was full mermaid, full strobe light, full technicolor in the studio."
It was full mermaid, full strobe light, full technicolor in the studio.
Despite Gaga's devotion to the concept, there seemed to be a lack of understanding from the public, whose relationship to Artpop continued to sour as some of the record's more controversial moments emerged. "Gypsy," a ballad-turned-disco anthem about her nomadic life as a performer, was criticized for its title, while R. Kelly collaboration "Do What U Want" was eventually removed from streaming services in light of sexual abuse allegations against the rapper in 2019's Surving R. Kelly. "I stand behind these women 1000%, believe them, know they are suffering and in pain, and feel strongly that their voice should be heard and taken seriously," Gaga wrote at the time of the documentary's release.
According to DJ White Shadow, the track was "completely done" before Kelly's inclusion, which was a last-minute decision both he and Gaga regret. "I wish we would've put the song out without him, because it was still my favorite song [on the album] without him," he told MTV News. "Maybe for the 10-year, I'll see if I can suggest resurrecting the demo for that one."
Perhaps one of the most intriguing aspects of Artpop's lore is the planned-but-scrapped Act Two, which Gaga announced on Twitter ahead of the initial album's release. Though the record never materialized, Little Monsters never forgot, and a Change.org petition asking Interscope Records to release the songs has received over 55,000 signatures. Interest in the record's sessions has only been bolstered by the number of unreleased tracks Gaga has teased, including "Onion Girl," "Tea," and two songs she performed on tour, "Princess Die" and "Brooklyn Nights." "['Brooklyn Nights'] is still, to this day, one of my favorite songs that I've ever been a part of in my whole career," Monson revealed, adding that many of the shelved tracks "were a little poppier or maybe veered too much in this or that direction [and] got put to the side in view of what fit more into the Artpop, hard-EDM vision."
Unfortunately, releasing a sequel is a complex equation of record-label logistics, according to DJ White Shadow, who has been one of the album's most vocal supporters. "It's literally putting up a fourth pyramid," he said. "If it were only [Gaga, me, and the fans] involved, then we'd have Artpop Part 8." Still, he's confident that an extension of Gaga's grand vision could see the light of day. "I think she's here for it… It might not be exactly what you think it's going to be, but we do have some things we can do," he said, echoing a promise he made on Instagram that he "will have something special" for the fans in time for the record's 10th anniversary.
Gaga has yet to confirm or deny that there will be another trip to the Artpop universe, though in 2019, she admitted fans' support was especially meaningful during that era. "Making this album was like heart surgery, I was desperate, in pain, and poured my heart into electronic music that slammed harder than any drug I could find," she wrote on Twitter. Indeed, Gaga's blog posts from 2013, alluding to rumors of financial woes and being exploited by former members of her camp, seemed to hint there was more happening behind the scenes than we know.
While the rollouts for her subsequent albums have featured neither life-size statues nor live puking, they showcased how her means of expression have evolved alongside her mental health journey. Through Joanne, 2016's country-driven Artpop followup, she found strength in her hometown roots and "going into the studio and forgetting that [she] was famous." 2020's Chromatica symbolized "the beginning of my journey to healing, and what I would hope would be an inspiration for people that are in need of healing through happiness, through dance," she told Zane Lowe. Her continued dedication to supporting women seems to echo the feminist edge she started to hone on tracks like "G.U.Y." And while she's largely shifted her focus to acting, perhaps embodying Patrizia Reggiani isn't such a far cry from adopting a stoned alter-ego on "Mary Jane Holland."
The Lady Gaga of 2023 may not be identical to her 27-year-old counterpart, who donned grandiose wigs and waxed poetic about "putting art onto the soup can." Yet she represents a woman who has learned a decade's worth of lessons about the industry, fame, and creating art. "Ten years after the fact, I think that she's happy that she made it," Monson said. And as for an Act Two? "If the fans want something, I would be very, very surprised if she doesn't give them something," Monson said. "But don't bombard the poor lady."