Anthony Ramos And Dominique Fishback Ramp Up The Tension In New 'Transformers' Clip
'Transformers: Rise of the Beasts' hits theaters on June 9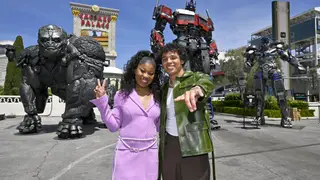 Tonight (May 7), the MTV Movie & TV Awards honored some of our favorite films and television programs of the past year. But equally exciting is the slate of new releases coming out later this year. Several summer blockbusters are imminent, including Transformers: Rise of the Beasts.
During the MTV Movie & TV Awards broadcast, fans got an exclusive sneak peek at the upcoming seventh installment in the franchise, which features a promising star-studded cast. In the Heights's Anthony Ramos and Swarm actress Dominique Fishback popped into the ceremony to drop a never-before-seen clip.
In the exclusive sequence, Ramos and Fishback are seen as their respective characters — Noah, an ex-military electronics expert, and Elena, an artifact researcher at a museum. The promising duo is seen in the woods, as the Maximals surround them. The two are seen in a state of fear; however, the Maximals ease off on them after Optimus Prime, one of the duo's allies, warns them to "stand down."
"I won't ask a second time," says Prime.
We still don't know a whole lot about the upcoming Transformers movie, though we can imagine that Fishback's character will be complex, nuanced, and multifaceted. In an interview with Entertainment Weekly, Fishback recalled how the Transformers production team called a shaman to literally bless the set. On this particular day, Fishback remembered receiving a special sign from the universe.
"The shaman came — and butterflies remind me of my grandmother, and [afterwards] a butterfly stayed in the middle of set for 15 minutes," Fishback said. "And then I got the butterfly to walk on my finger. We have videos."
Transformers: Rise of the Beasts arrives in theaters on June 9.
The 2023 MTV Movie & TV Awards are airing right now on MTV. Find all the winners here.