Kendrick Lamar's 'Control' Verse Reintroduced A Rap God
Producer No I.D. explains how the MC's candor brought back hip-hop's combativeness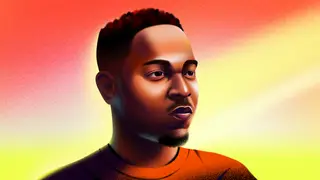 Welcome to New Retro Week, a celebration of the biggest artists, hits, and cultural moments that made 2013 a seminal year in pop. MTV News is looking back to see what lies ahead: These essays showcase how today's blueprint was laid a decade ago. Step into our time machine.
When the world heard Kendrick Lamar's verse on Big Sean's "Control" 10 years ago — a track intended for the Detroit rapper's 2013 sophomore record Hall of Fame — audiences were stunned at Lamar's combination of lyrical bravado and exhilarating vigor. Just a year prior, Lamar had released his second studio album, Good Kid, m.A.A.d City, which established him as one of the most gifted emcees in the history of the genre. It also happened to be his major-label debut.
The Compton native — who was famously endorsed by Dr. Dre — had already established his presence in hip-hop with an impressive first record: 2011's Section.80. However, the platinum-selling Good Kid, m.A.A.d City showcased his storytelling abilities on an entirely different level. Lamar's proclivity for mesmerizing detail shined on "Swimming Pools (Drank)" while the Drake-assisted "Poetic Justice" displayed his romanticism in a surprisingly tender manner.
Ultimately, the album worked to keep fans salivating at the mere thought of future projects from him. "Control," which also featured an appearance from Jay Electronica, premiered on New York City's iconic Hot 97 radio station by Funkmaster Flex, but it never actually appeared on Big Sean's Hall of Fame, nor was it available for purchase due to sample-clearance issues. Scarcity creates demand and the fact that "Control" wasn't easily attainable added to this allure. However, Kendrick's verse exponentially elevated it.
The legendary Chicago producer No I.D., who was the mastermind behind the track, tells MTV News that "Control" almost didn't wind up in the hands of Big Sean at all. "When you're a producer, you go through different versions of an idea. So that beat actually started when I was working with J. Cole, and that version didn't make it. I did a version for Jay-Z — that didn't make it," he states. "I did that version for Sean, and it was merely intended to be a kind of street track for him: 'You don't need anybody on it.'"
Sean, though, expressed interest in adding Jay Electronica to the mix, and then Kendrick. "I was like, 'We're getting away from what we intended, but cool,'" he says. "And then when I heard it all together, I definitely had a feeling that ['Control'] would be felt.'" Not only did it become one of the most talked-about rap songs of the decade, but it solidified Kendrick Lamar as the nucleus of cultural discourse for most of 2013.
Sandwiched between epic verses from Big Sean and Jay Electronica, Lamar surpassed his counterparts with bars so theatrical they couldn't help but flourish on the world stage. He enters the song with an eerie but melodic bridge, declaring: "Miscellaneous minds are never explainin' their minds / Devilish grin for my alias aliens to respond." From there, he unleashes a tirade not only declaring his indisputable greatness ("I'm Makaveli's offspring, I'm the king of New York"), but he also calls out his peers — by name — and encourages them to step up to the plate to take a swing at his title.
"I'm usually homeboys with the same n----s I'm rhymin' with / But this is hip-hop, and them n----s should know what time it is / And that goes for Jermaine Cole, Big K.R.I.T., Wale / Pusha T, Meek Millz, A$AP Rocky, Drake / Big Sean, Jay Electron,' Tyler, Mac Miller / I got love for you all, but I'm tryna murder you n----s." Critics fawned over "Control" and the way Lamar used it to put his contemporaries on notice. The rapper's candor, perfectly encapsulated by his venomous demeanor, brought back the combativeness of hip-hop, which had seemingly died out over the years.
When rap started out, it served as a space for marginalized Black and brown communities to speak out about the injustices against them. From poverty and police brutality to drug epidemics and gang culture, the harrowing picture it painted was one that captivated the nation. However, the genre soon gave way to the American pitfalls of both misogyny and capitalism. Emcees were notoriously criticized for their lyrics about women as well as bars glorifying vapid materialism. In addition, rivalries between artists — who were often high profile — became a way to sell records. The latter, No I.D. explains, is one of the reasons why "Control" was so groundbreaking.
"Beef made competitive [rap] fall a little into the corny space," No I.D. says, "because it was viewed as a marketing gimmick tool to try and get hot as an artist versus just being skillfully competitive, you know? I think Kendrick's verse embodied both. He was bringing an element of competition that was stepping over the line to mention people's names, but it wasn't beef as we have viewed the way it happens in rap. There's a less competitive spirit now just because people don't wanna look like they're beefing to kinda get hot."
"['Control'] definitely made people go, OK, [Lamar's] not playing," he continues. "He's not playing at all."
"Control" also triggered an immense call and response from emcees both mentioned by Lamar personally on the song as well as those who felt that they were wrongfully excluded from the conversation. Notable personalities like J. Cole, Lupe Fiasco, Joey Bada$$, Papoose, and others replied on wax. No I.D. reveals that the attention around "Control" even shocked one of the song's collaborators. "I remember even Jay Electronica called me and was like, 'Bro, why you ain't tell me what was going on? I just made my verse and you just gonna let me…'" And before he finished, I was like, 'Hey bro, I didn't call you to get on this record,'" he says with a slight chuckle.
"He was like, 'Man, if I knew it was a competition, I would've—' Well, it's always a competition. How about that?" No I.D. says. "Maybe we have the money competition, maybe we have the hit competition, but we don't have the skillful art competition as much anymore. I just kinda was happy to be a part of getting that spirit to come back to the forefront more than anything."
The esteemed producer boasts a lengthy discography known for defying boundaries and expanding minds. From "Control" to Common's "I Used To Love H.E.R" to Jay-Z's "D.O.A. (Death Of Auto-Tune)," No I.D's catalog is saturated with songs that push the needle forward at the risk of potential backlash. Naturally, he basks in his deliberateness. "I definitely am a guy that, when I'm working with someone, I like to poke the bear. Whether it's bringing up information or letting people know how people really view them…know [that] I am not into making music that doesn't have a purpose."
However, he remains stoic and humble about his contributions to rap overall. "I don't think about, nor do I really promote what I do, because part of it takes away my hunger and my desire. I wanna think that my best work is ahead of me."
Looking back at the legacy of "Control," No I.D. affirms the notion that fearless artists always have the biggest impact. "I've been through enough decades to know that history rewards braveness.  That's what hip-hop is to me — breaking the rules while still being dope and brave." Lamar's subsequent records following Good Kid, m.A.A.d City, To Pimp A Butterfly, and Damn, reiterated this notion as they became two of his most critically acclaimed to date.
Mr. Morale & The Big Steppers, which was released last year, continued to demonstrate his unconventional approach to music-making while still offering potent social and cultural commentary. Though deemed controversial for its subject matter, Mr. Morale also symbolized Kendrick's gallant exploration of his deepest traumas. No I.D. affirms that that kind of liberation is the true point of art. "I enjoyed the perspective of his freeness [on Mr. Morale] to truly be a creator and not a competitor all the time. When you just create freely, you already won… that's the point. It's about being happy with yourself and your expression and leaving it for the next generation."