Scream's Ghostface Accepts Best Movie And Best Fight: 'Movies Don't Create Psychos'
'It's about time someone truly appreciated my work'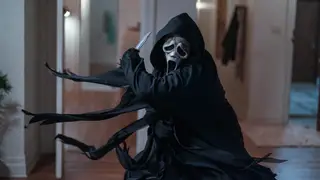 In "a twist you didn't see coming," Scream VI took home one of the biggest accolades, Best Movie, at the MTV Movie & TV Awards. "The villain comes out on top," Ghostface said in his acceptance speech, shouting out fans for finally answering his age-old question: What's your favorite scary movie?
This wasn't Ghostface's first appearance on Sunday night (May 7). Earlier in the show, he won Best Fight for his face-off with Courteney Cox in the film. Cox's character Gale Weathers gets ambushed by Ghostface in her own home a lá Drew Barrymore's Casey Becker in the franchise's original 1996 film.
That means it's been over 20 years since the iconic Scream mask has been in action, and Ghostface told the camera as much: "It's about time someone truly appreciated my work."
Jenna Ortega — who stars in the Scream franchise alongside Cox, in addition to being nominated for multiple awards herself for her role in Wednesday — previously spoke to MTV News about how Ghostface has evolved to be "aggressive" and "intimidating" across multiple sequels. "It gets graphic in a way that Scream hasn't seen before," she said in January 2022, adding that the gore "makes this killer stand out and shift into a bigger and better horror."
Scream VI's slasher shock won out against fan-favorite Best Movie nominees, including Avatar: The Way of Water, Black Panther: Wakanda Forever, Elvis, Nope, Smile and Top Gun: Maverick. The competition brought a lot of action to big screens everywhere, but Scream has one thing the above don't: unfiltered psychopathy.
"You know what they say in Hollywood: movies don't create psychos, movies make psychos more creative — and I'm looking forward to a lot more creativity," Ghostface said after winning Best Fight. Consider yourself warned.
The 2023 MTV Movie & TV Awards just finished airing on MTV. Find all the 2023 MTV Movie & TV Award winners here.