Albums Of The Year: Beyoncé's 'Renaissance' Is The Sound Of Freedom And Adventure
The Queen's seventh album reclaims the Black origins of dance music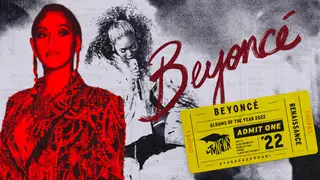 This is the first of five essays MTV News will publish this week honoring our 2022 Albums of the Year.
Beyoncé carried 2022 without so much as a single music video. To her dedicated BeyHive fan base — who generated viral challenges and parties to celebrate Queen Bey's latest work — the Houston native didn't have to lift a manicured finger to ensure the significance of her seventh album Renaissance. The proof was in its innovative quality and Beyoncé's letter about the LP allowing her "to feel free and adventurous in a time when little else was moving." Straddling a holographic disco ball horse on the album's cover, the icon readied listeners for what they could expect from the album's one-hour runtime: a reclamation of the Black origins of dance music. A pop and R&B wunderkind, Beyoncé has made herself protean throughout her 25-year career and took her reinvention to the next level on Renaissance.
Beyoncé, now 40, is no stranger to industry politics. Since her Destiny's Child days, she has spent years repurposing her craft to become acknowledged as a sheer visionary. Renaissance serves as both a testament to Beyoncé's legacy and a salute to Black pioneers in disco, electronic, funk, R&B, Detroit techno, New Orleans bounce, Miami bass, and other dance subgenres. Even predecessors like Prince, Nile Rodgers, Donna Summer, Grace Jones, Robin S., and Vanity 6 were either directly referenced in production or featured on the album.
Throughout Renaissance are affirmations galore, and some even sit within the tracklist. "I'm That Girl," sees Beyoncé following the lead of late Memphis femcee Princess Loko, sampled from 1994 Tommy Wright III Southern underground cut "Still Pimpin'." As the title suggests, Beyoncé's hiatus shouldn't be taken for weakness — although the singer hadn't released a solo effort since 2016's Lemonade, she's here to collect bragging rights. Beyoncé stands firm in her self-assuredness, also nodding towards the LGBTQ+ Progress Pride Flag on "Cozy." Depending on how you hear it, the song can even play as a tribute to co-producer Honey Dijon and media personality Ts Madison, both "Cozy" contributors and trans people.
Beyoncé continues to praise her triumphs on the third song, "Alien Superstar," unapologetically crowning herself "the bar" of the ballroom. She huskily avows, "I'm one of one / I'm number one / I'm the only one." The 28-time Grammy Award winner isn't wrong in her declaration: She's the first female solo act to have 20 singles in the top 10 of the Billboard Hot 100. Her eponymous 2013 album is the fastest-selling in iTunes history. She's the highest-paid Black artist of all time — and that's only a sample of her accolades. However, Beyoncé's achievements didn't stop legendary songwriter Diane Warren from questioning how there could be "24 writers on a song." Renaissance fans (and co-producer The-Dream) took it as a slight to "Alien Superstar," as the song — and the entirety of Renaissance — features a consortium of songwriters partially due to samples.
Few landmark LPs are released without controversy. In Beyoncé's case, Renaissance was also lambasted by English pop duo Right Said Fred (over sample-clearance issues, which Bey refuted) and alt-R&B vocalist Kelis. The latter ranted towards Beyoncé and former producer Pharrell Williams in a series of Instagram videos after her 2003 hit "Milkshake" was interpolated on Renaissance track "Energy." Beyoncé classily removed the interpolation, even releasing the tongue-in-cheek post-Renaissance loosie "Break My Soul (The Queens Remix)." The woman is an undeniable powerhouse, giving credit where it's due to the likes of Sade, Nina Simone, and Janet Jackson on the Madonna-sampling standalone.
On the original version of "Break My Soul," Beyoncé heads for a "new vibration" over a light house groove. Although the '90s-inspired arrangements of the Renaissance lead single are unlike Bey's past material, the transition was welcomed, and even lauded by the Recording Academy with three 2023 Grammy nominations for Record of the Year, Song of the Year, and Best Dance/Electronic Recording. (She became the first Black woman to be nominated in the latter category.) Nearly five months since the debut of Renaissance, second single "Cuff It" has commanded its own attention, creating dance-oriented challenges serendipitous with neighborhood events and weddings. Both tracks provide a high energy that listeners have admittedly become addicted to. Renaissance houses a sonic escapism distinct from Beyonce's prior albums.
Beyoncé makes each Renaissance staple more evocative than the last. She takes the pulpit to the dance floor with permission from The Clark Sisters ("Church Girl"). With lustful candor, she harmoniously embraces her lover's mannerisms ("Plastic Off the Sofa"). "Virgo's Groove," arguably the album's centerpiece, takes Beyoncé "on this magic ride" through honeyed bliss. At six minutes, longer than any other track on Renaissance, Beyoncé goes from commanding to euphoric, cooing a "love of my life" riff that fans attempted to replicate on TikTok.
Liberated within the nightclub energy of Renaissance is Beyoncé herself, who smartly used the last two years of pandemic isolation to create a carefree album. She burns up the riddim while honoring her gay Uncle Jonny who died of HIV-related complications ("Heated"). The album nearly gets dystopian over warped hyperpop and techno production ("All Up in Your Mind"). Beyoncé's vocals hypnotically soar over a reworked version of an early '90s Atlanta classic ("America Has a Problem"). Listeners are even transported to the '90s ballroom scene with sleek elements of Kevin Aviance's 1996 song "Cunty" and 1992 "bitch track" "Miss Honey" by late drag legend Moi Renee. With reverence to Donna Summer, Beyoncé reintroduces 1977 disco anthem "I Feel Love" to a contemporary audience, offering a gospel-indebted breakdown and admiration to haute couture brands and the Black-owned Telfar. The incandescent afterglow of Renaissance is felt long past the album's conclusion.
Even as the music industry notoriously dismisses middle-aged women, Beyoncé proves that there's still a lot of life left in her. She shadows the footsteps of female acts who've made their brightest dance efforts well into their forties — Janet Jackson, Diana Ross, Madonna, Sia – all while carving her own lane. Both powerful and optimistic, Renaissance extends itself as a kiss-off to pundits who deny Black representation in dance music, although the genre is rampant with unsung Black, mostly queer trailblazers. In Club Renaissance, marginalized groups can feel seen in a world that says there's no place for them.
See MTV News's other 2022 Albums of the Year: