From Clubs And Counter-Culture, A Queer Rap Renaissance Emerged In New York
A decade ago, they always seemed to be at the same parties. The movement Cakes da Killa, Mykki Blanco, and others started there continues today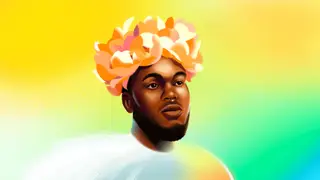 Welcome to New Retro Week, a celebration of the biggest artists, hits, and cultural moments that made 2013 a seminal year in pop. MTV News is looking back to see what lies ahead: These essays showcase how today's blueprint was laid a decade ago. Step into our time machine.
"Very few people get to live through an acceleration point where the culture dramatically shifts in a decade," reflects the multi-hyphenate artist Mykki Blanco of the landscape 10 years ago, a period when music culture reached a tipping point. In the lead-up to and wake of 2013, a queer rap renaissance emerged, shifting the tide in a seismic way. It was a creative epoch when the careers of a slate of popular artists were simultaneously minted — including Blanco herself, as well as Zebra Katz, Cakes da Killa, Le1f, and numerous others. 
Each of these musicians unapologetically spoke about their queerness and the love, lust, celebration, and heartbreak that goes along with it. As a result, the geyser of new talent and fresh ideas pushed the industry forward, arguably paving the way for the likes of a bevy of contemporary hit-makers, among them chart-toppers like Lil Nas X as well as on-the-rise stars Saucy Santana and Kidd Kenn. 
"Do we still have a long way to go? Yes," Blanco continues. "But I've often wondered if people really clocked what happened."
---
It was a generally exciting and hectic time for Blanco. Just a few years earlier, they were a two-time college dropout, departing both the Art Institute in Chicago and New York's New School after only one semester each. "Then I was doing all kinds of things in New York, from interning at art galleries, working as a personal assistant and at a skate shop," they recall.
Envisioning themself as a Yoko Ono type, with music only serving as one of many layers to her creative practice, they happened to find themself in the Big Apple during a fortuitous time. Around them was a group of like-minded artists who were laying the bricks for their respective careers and turning heads along the way. They coalesced at shows and parties, including GHE20G0TH1K, which took place in warehouses in Brooklyn and Manhattan. Hosted by a collective of creatives like the DJ Venus X and the beat-spinning fashion designer Shane Oliver, Blanco thinks of it fondly as "a huge breeding ground for so many things that up until that point hadn't existed. There was total freedom. Everything was new for us, and it felt like New York was going through a rave renaissance."
The rapper Cakes da Killa remembers this era well. "You had a few artists like Mykki, me, and Le1f who all seemed to be in the same places, same neighborhoods, same parties. And we were queer, Black individuals who were making rap music." They performed for people of all different stripes. "When I began, the majority of the audience was straight, but I'm the type of person who just performs my material, and if you like it, you like it, and if you don't, you don't," he told Out at the time.
Born and raised in nearby New Jersey, Cakes released his first full-length mixtape in 2013 via the clothing brand Mishka. He dubbed it The Eulogy because he intended to put his fledgling music career to rest to focus on other pursuits. Ironically, that plan was stymied after the project blew up. Songs like the irresistibly frenetic "Goodie Goodies" enjoyed widespread acclaim thanks to playful lyrics that play with queer themes. Cakes spit on the track, "Cause my shit come tighter than a drag when she tuck."
"Cakes is maybe the closest thing hip-hop has right now to a Lil' Kim figure, a raunchy-ass bitch who absolutely owns being a raunchy-ass bitch," raved an adoring Pitchfork review, published that February. "He has enough on-mic charisma to convince us that this is an admirable personality type." According to Cakes, "The press started to pay attention to what was going on in New York at the time. The media made it a trend piece. The Eulogy was my first body of work that had any reception from mainstream media. There was that shift."
Causing this shift was a variety of different factors, though the towering one among them might seem cliche today: the democratization of the music industry thanks to social media. Suddenly, the gatekeepers were no longer stuffy executives behind desks in sleek office buildings but fans with internet connections searching for cultural representatives of their own. "We wouldn't be even having this conversation if it wasn't for social media," explains Blanco. "It's something that opened the door for a lot of disenfranchised people."
"I didn't have to send my demo to P. Diddy or Jay-Z and wait to get approval from them, or from straight guys at these hip-hop clubs," Cakes adds. "I put it on SoundCloud and had social media." His audience soon followed organically, and "Goodie Goodies" became his breakout hit. Later that year, Le1f put out his acclaimed 2013 mixtapes Tree House and Fly Zone, both bearing irreverent dance-rap tracks tailor-made for the club.
Blanco's mixtape Cosmic Angel: The Illuminati Prince/ss and its star-making song "Wavvy" dropped in late 2012 and caught fire shortly thereafter. "When 'Wavvy' went viral, I never had a modicum of fame up until that point," they recall. "It was: right place, right time, right medium, right message. I was unafraid to talk about things that so many people in the world found taboo at that time."
Considering it was only one year before that Frank Ocean announced to the world he was gay, inspiring a generation, LGBTQ+ artists were often rarefied as they approached mainstream success. "When I first started, I thought it was really cool because it was making me get press and I needed the press to keep working," Cakes says. "But after a while, it felt like I was being put in a box because there were only like five of us. You were constantly comparing yourself to other people and it caused some tension."
It was a tension that the artist Zebra Katz spoke candidly about in an interview with the Guardian published in May 2013. "Creating a strong, Black, other, queer male is something that really needed to happen because you don't see that that often, especially not in hip-hop," says Katz, who that year released the mixtape Drkling and its signature track "Ima Read," which made allusions to ballroom culture. But as Katz attested, "It's terrifying standing up as a queer man. People are getting attacked all over the world, but you have to use your sexuality as a tool, instead of having them use it against you."
The trailblazing aspects of their careers were sometimes received in awkward ways, as well. During an infamous 2014 interview on Hot 97's "Ebro in the Morning" radio show, Cakes's sexuality was a main topic of discussion, as he was forced to dodge what could be considered an ignorant line of questioning. "There's no way they could have done the same interview today," he emphatically states. "[The problem was] you kind of become one of the poster children, or you become tokenized in a way. It's a case-by-case scenario, because the path that Lil Nas X is on is not the same as Saucy's and is not going to be the same as mine. Even though we may all be rapping and whether we may or may not suck dick, it just depends on our own type of journey."
---
"I think it's awesome," says Blanco, who most recently released the album Stay Close to the Music on Transgressive Records last fall. It's a guest-spot-heavy musical jaunt that touches on everything from racism to queer pride and proves Blanco is still pushing their art to this day. "You're able to see culture at an acceleration point that needed to happen. But I've had quite an awesome career and I've gotten to be the multi-disciplinary artist I've always dreamed of being."
Cakes dropped his second studio album, the jazz-tinged Svengali, in October, which zeroes in on themes of love and lust. Despite his history, he doesn't want to be pigeonholed as just a trailblazer. 
"It got to a point in my career where it's become a footnote and you feel like you're fucking dead, like you're in an urn," he says. "When it comes to younger generations, it's like, 'Back in the day, Cakes da Killa…' But the bigger picture is that I did something interesting and progressive with my voice and my talent, and it's kind of a nice feeling that, when talking about openly gay artists and hip-hop music, you have to talk about me. I think that that's a great thing. But I'm not dead yet."