Is Cardi B's 'Bickenhead' Her Next 'Bodak Yellow'? And More Moments From 'Invasion Of Privacy'
So many hits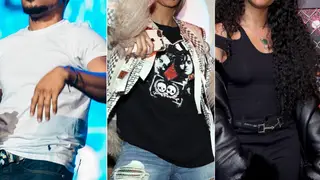 Invasion of Privacy is savvy. Instead of bloated, Cardi B's debut album is concise. Rather than chase pop trends, the album's best songs reconfigure pop around the Bronx rapper's charisma and raw personality. The project's greatest achievement is a complex dilemma made to look simple.
How do you seamlessly distill the essence of Cardi B — the former stripper with a chip on her shoulder, the brash Billboard hitmaker, queen of 'hood anthems — into one album? Simple: You let Cardi be Cardi.
With each passing song, Cardi crosses off another demographic. There are club records, backyard bops, and international behemoths for days. However, the consistency of the album introduces a challenging question. If last summer was ruled by "Bodak Yellow," what song off Cardi's debut represents her next gargantuan hit?
Bodak Bar: "Spread them asscheeks open, make that pussy crack a smile"
"Bickenhead" takes the ratchet spirit of "Bodak Yellow" and dips it in Southern bounce. Not only is it one of the best songs on Invasion of Privacy, but it also hits harder than "Bodak Yellow" ever could. Three 6 forever.
I Like It, More Like Love It
Bodak Bar: "I like texts from my exes / When they want a second chance / I like proving n----s wrong / I do what they say I can't"
Cardi B And Chance The Rapper Love Rapping About Beyoncé
Bodak Bar: "I took pictures with Beyoncé, I met Mama Knowles / I'm the rose that came from the concrete in the Rolls"
"Best Life," featuring Chance The Rapper, is Invasion of Privacy's first great album cut. It isn't as club-ready as "Bickenhead," as worldly as "I Like It," or vulnerable like "Thru Your Phone," but it doesn't need to be.
The genius of "Best Life" is the way it positions Cardi next to Chance. The Chicago artist doesn't outrap Cardi like he tends to do and he might not have been able to considering how hard the former Love & Hip Hop actress spits throughout the album. Instead of lyrical competition, the low-key song allows for both rappers to get inspirational while collectively geeking out about how they met Beyoncé.
Can't Spell "Group Text" Without "Ex"
Bodak Bar: "I seen y'all little group texts / Where you all like to brag about your hoes / And you can tell your little bitch / I screenshotted all her naked pics"
"Thru Your Phone" isn't subtle. The song tells the story of Cardi finding out about an unfaithful lover, who fans are already convinced is Offset. If "Be Careful" was introspective, then "Thru Your Phone" is acidic. Lines like "Smash your TV from Best Buy / You gon' turn me into into Left Eye" and "I'mma make a bowl of cereal with a teaspoon of bleach / Serve it to you like, 'Here you go, n---a, bon appétit'" are harsh in the best way possible.
If Cardi ever wants a vacation from the charts, she would be an excellent battle rapper.
Bodak Bar: "They said by now that I'll be finished, hard to tell (I can tell) / My little 15 minutes lasted long as hell, huh?"
Cardi B and SZA are the queens of relatable flex anthems. "I Do" is the perfect way to end an album. Cardi doesn't have time for a kitschy "I made it" record. Instead, the mission statement of "I Do" is simple. The Bronx rapper says it in the opener of her first verse: "I think us bad bitches is a gift from God."