Taylor Swift's Eras Tour Kickoff Cemented Her Legacy — And She's Only Just Begun
Swift marked the first stop of the stadium spectacle in Glendale, Arizona with deep cuts, knowing winks, and a literal dive into her catalog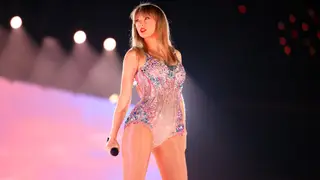 Surprise albums. Internet-breaking VMA announcements. Historic Billboard achievements. If there's one thing Taylor Swift does, it's subvert expectations while giving her fans everything they want. And at the opening night of The Eras Tour on Friday (March 17) at State Farm Stadium in Swift City, Arizona — renamed by the mayor of Glendale in honor of the spectacle's kickoff — she did just that, rewriting the rules for what it means to be a pop star at the top of her game.
In an age when album cycles are distilled into "eras" and defined by commercial success, Swift has always been in on the bit. Even the concept of The Eras Tour, billed as a retrospective look at her sprawling 10-album discography, was enough to sell a record-breaking 2 million tickets in 24 hours and cause Ticketmaster's servers to melt down. In Arizona, after rousing sets from Gayle and Paramore — who dusted off "The Only Exception" for a rare performance in honor of Taylor's extensive love-song catalog — a countdown clock appeared on stage. Lesley Gore's "You Don't Own Me" boomed through the sold-out stadium, filled with 70,000 fans eagerly anticipating her first concert since 2018's Reputation stadium tour. While the 1963 R&B classic has always symbolized feminism and individuality, it took on new meaning as Swift primed the audience for her first show in several years, a time largely defined by her fight for artists' rights to own their masters.
One might have expected Taylor to open with something like "Anti-Hero," the lead from last year's Midnights that recently became her longest-running No. 1 hit on the Hot 100 chart. However, as she emerged from a platform drowned out by ear-deafening screams, she launched into 2019 deep cut "Miss Americana & the Heartbreak Prince," a tell-tale sign that the next few hours would be dedicated to her most loyal fans — and they had a lot to catch up on.
After taking a moment to survey the crowd, Taylor set the evening's missive: "We're going to be going through an adventure, one era at a time." She wasted no time diving into Lover with the debut of fan favorite "Cruel Summer." An echo from the nosebleeds followed every lyric, thanks to the fans who had been waiting to scream along since the pandemic led to the cancellation of 2020's Lover Fest. She dressed up in a shimmering Versace bodysuit with a blazer for a choreography-heavy rendition of "The Man," kicking her feet up to show off red-bottomed heels before turning the LED-stage rainbow for "You Need to Calm Down" and ending with stripped-down performances of "Lover" and "The Archer."
Not only did Swift take careful consideration in crafting the 44-song setlist, but each transition felt equally masterminded: Every concert goer was armed with a light-up bracelet that changed in time with each aesthetic transformation, from the sea of orange sparks that gave way to a green flood for Fearless, to a rustle of autumn leaves and pine trees for Evermore, and an "aggressive color blocking" of scarlet, as Swift described it, for Red.
With a career spanning 17 years, Swift could have easily turned the show into a tour de force of chart-toppers, and the early arrival of staples like "Love Story" and "You Belong With Me" served as a nostalgic reminder of her growth. Still, the transition to a floor-length, earthy orange gown for the debut of Evermore's "'Tis the Damn Season" made it clear that this was a stadium set meant for Swifties who have pored over each lyric as fastidiously as Taylor has. What hasn't changed through Swift's transition from cowboy boots to full-on stadium-pop icon is her relationship with the fans — who showed up dressed like willow trees, mirrorballs, and sexy babies — as well as her omniscience when it comes to what they're thinking. "We are in the middle of the Evermore album, which is an album I absolutely love despite what some of you say on TikTok," Taylor smirked, referencing fan theories that she hated the record after not celebrating its birthday on social media. "I've seen all of it."
The arrival of Reputation was marked by glitchy cobra visuals and a costume change into a bodysuit covered in winding red snakes. After honoring its softer spots like "Delicate" and anthemic moments ("Ready for It" and "Don't Blame Me"), she ended with "Look What You Made Me Do," confronting visual representations of her past eras and their most iconic costumes in glass cases.
After a quick pivot to princess for Speak Now's "Enchanted," Taylor led us on a trek through the career-defining hits of Red like "22" and "I Knew You Were Trouble," before asking if fans had 10 minutes to spare. "The Red album is so special and precious to me as an artist but also as a young person," she mused, adding that she "could never have imagined [in 2012] what you would end up doing a decade later when I wanted to claim that album as my own." Indeed, the 2021 re-release of the record scored Swift her eighth No. 1 hit for the longest song to ever top the Hot 100, and she captivated an entire stadium with just an acoustic guitar and white, snow-like confetti for"All Too Well (10 Minute Version)."
Though Swift is known for massive and thoughtful displays onstage, The Eras Tour dialed it back on props and grandiose speeches, focusing instead on unanticipated performances and an unyielding length of three hours and 15 minutes, as if every act served as a reminder that she's just that good. Fans were caught off guard by Folklore B-sides like "Invisible String" and "The Last Great American Dynasty" before being hit by a handful of 1989 heavy hitters like "Style," "Blank Space," and "Wildest Dreams."
The most vulnerable moment came when Swift got intimate for an acoustic performance of "Mirrorball" and a piano rendition of "Tim McGraw," the ballad from her 2006 debut album that started it all — and one that hasn't appeared on her setlists in a decade. A blue tide washed over the stage and she dove into the water, disappearing from sight amid fans' gasps, emerging in purple for Midnight's "Lavender Haze."
The fact that Swift was able to save her most recent LP for the final half-hour is a testament to the following she has built, and the payoff from hearing tracks like "Anti-Hero," "Midnight Rain," and "Bejeweled" was not wasted on the crowd. It was only fitting that Taylor closed with a wink in a fire-shooting performance of "Karma," a breezy cut that symbolizes everything she has come to represent in pop culture: unhinged fan theories, unbothered attitudes, clever hooks, and the belief that if you are a good person, good things will come. Never before has an artist of her caliber dove so thoroughly into their discography on such a huge stage during a single show. It's a reminder of her strength, her power, and as ever, her real fucking legacy.