Taylor Swift Announces 'Brand New Album' In Video Of The Year Speech
'Midnights' is out October 21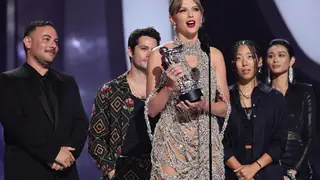 All's well that ends well. Just ask Taylor Swift, who made history at the 2022 Video Music Awards 13 years after another pivotal VMAs night — and surprised us all by unveiling the release date for her "brand new album."
Swift took home the evening's top honor for the "All Too Well (10 Minute Version) (Taylor's Version)" short film, which she wrote, directed, and released in November 2021 with Red (Taylor's Version), her latest re-recorded album. The 32-year-old singer-songwriter is now the first artist ever to win Video of the Year three times. The poignant ballad about an ill-fated love affair has long been a favorite among Swifties, making this victory all the more gratifying.
Swift previously won Video of the Year in 2015 for "Bad Blood" and again in 2019 for "You Need to Calm Down." The kicker? It's been 13 years since the infamous interruption during her acceptance speech for Best Video by a Female Artist at the 2009 VMAs. As any self-respecting Swiftie knows, 13 is the singer's lucky number. Eagle-eyed fans are already speculating that her silver dress is a nod to the bejeweled gown she wore back in '09. After all, when it comes to Taylor Swift, nothing is accidental.
Sparkling like an ever-lovely jewel, Swift took a moment to shout out the fact that four women directors were nominated for Best Direction, another VMAs first.
She proceeded to thank her fans: "We wouldn't have been able to make this short film if it weren't for you, the fans. … You embolden me, so I thought it might be a fun moment to tell you that my brand new album comes out October 21. And I will tell you more at midnight."
When midnight arrived, it turned out to be a fitting time to announce a new LP called Midnights, "the stories of 13 sleepless nights scattered throughout my life," as she wrote on social media. That's 10/21, and 10 plus two plus one equals, you guessed it, 13. Her mind.
It's been a banner night for Swift, who also took home the Moon People for Best Longform Video and Best Direction. She's now racked up a total of 14 VMAs wins over the course of her career. We might be OK, but we won't be fine at all until we hear more about Swift's next project, Midnights. Good thing we won't have to wait much longer!
The 2022 VMAs aired live on MTV from Prudential Center in Newark, New Jersey. Find the complete list of winners right here and keep up with all of the night's biggest VMA moments.