How To Explain Taylor Swift and Scooter Braun's Feud To Anyone Who Asks
There are so many layers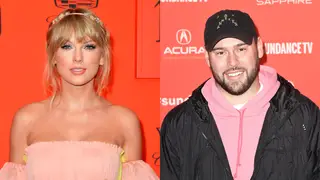 On Sunday (June 30), Taylor Swift shared a heartbreaking note on Tumblr that had Swifties everywhere up in arms. The lengthy letter took direct aim at Scott Borchetta, the CEO of her former label Big Machine Label Group, as well as music manager Scooter Braun, whose company, Ithaca Holdings, acquired Big Machine for a whopping $300 million.
The problem? The label retains ownership of Swift's master recordings from her first six albums, which means that Braun — a man Swift says subjected her to "incessant, manipulative bullying" for years — stands to profit from a whole 10 years of her hard work, including any master recordings before "ME!" featuring Brendon Urie. Swift called the entire thing her "worst case scenario."
But while Taylor's initial post was enough to have Swifties demanding that Braun and Borchetta give Swift her recordings back, it's unfortunately a little more complicated than that. Since publishing her thoughts, several other people involved — as well as several other people not involved — have spoken up in defense of either Swift or Braun, and yeah, the whole thing has gotten pretty intense. Here's a full breakdown of the drama — you know, so you can explain it to anyone who asks! (You can thank us later.)
Taylor Calls Out Scooter (And Others)
The "You Need to Calm Down" singer's blog post was — as you could imagine — anything but calm. In it, she opened up about her failed efforts to gain ownership of her recordings in the past. "For years I asked, pleaded for a chance to own my work," she wrote. "Instead I was given an opportunity to sign back up to Big Machine Records and 'earn' one album back at a time, one for every new one I turned in." But knowing that Borchetta would wind up selling the label, Swift walked away and signed a deal with Universal's Republic Records in 2018 — one that would give her ownership of all her master recordings going forward.
Of course, this new deal with Republic meant that she was entrusting Borchetta with the masters from the first decade of her career. But by selling Big Machine to Braun — best known as the longtime manager of Justin Bieber and Ariana Grande — Swift feels Borchetta betrayed that trust, especially because, according to her, Borchetta was well aware of her negative feelings toward Braun.
The pop star then went on to call out specific instances she felt bullied by Braun and his clients, including Kim Kardashian, Kanye West, and Bieber. "Never in my worst nightmares did I imagine the buyer would be Scooter," Swift added. "Any time Scott Borchetta has heard the words 'Scooter Braun' escape my lips, it was when I was either crying or trying not to. He knew what he was doing; they both did. Controlling a woman who didn't want to be associated with them. In perpetuity. That means forever."
Bieber, who was discovered by Braun at just 12 years old, took to Instagram after reading Swift's note to apologize for the "hurtful" Instagram post she referenced on Tumblr. After acknowledging that the post was insensitive — it showed Braun, West, and Bieber facetiming with the caption "Taylor [S]wift what up" — Bieber's apology quickly transformed into him defending his longtime manager.
According to Bieber, Scooter's always had Taylor's back — especially since Swift allowed the then-teen heartthrob to open up for her during her Fearless tour in 2009. And while he acknowledged that there's been some unresolved conflict between them over the years, he expressed that he doesn't think it's fair for her to hate on Scooter so publicly. "One thing i know is both scooter and i love you," he wrote. From his perspective, it seemed like Taylor only posted that blog because she knew her fans would "bully" Scooter, and according to him, "that's crossing a line."
The Big Machine Boss Weighs In
Later on, Big Machine founder Borchetta directed his followers to a blog post he published on Big Machine's website explaining his side of the story. Not only did he attach an image of his 2018 proposal to Taylor as proof she passed on owning her own masters, but he also expressed a lot of doubt about whether or not Taylor really found out the news with the rest of the world, as her blog post suggested. "I personally texted Taylor at 9:06pm, Saturday, June 29th to inform her prior to the story breaking on the morning of Sunday, June 30th so she could hear it directly from me," he wrote.
Borchetta then went on to point out some other inconsistencies in Swift's post. According to him, there was nothing in the contract that said Taylor would have to earn back the masters from her previous albums. "100% of all Taylor Swift assets were to be transferred to her immediately upon signing the new agreement," Borchetta wrote. "... Taylor had every chance in the world to own not just her master recordings, but every video, photograph, everything associated to her career. She chose to leave."
He also addressed Swift's claims that she was "either crying or trying not to" whenever Braun's name was mentioned. "I certainly never experienced that," he wrote. Borchetta acknowledged past tension between Swift and Bieber but said Braun had reached out to see if Taylor would be interested in participating in One Love Manchester and March For Our Lives. He said she declined both.
'Who Are You To Talk About Bullying?'
Braun's wife, Yael Cohen Braun, took to her own personal Instagram to defend her husband and to call Swift out for being a bully herself. "Who are you to talk about bullying?" she wrote. "The world has watched you collect and drop friends like wilted flowers. ... You are supposed to be a role model, but continue to model bullying."
Demi Lovato also reportedly showed support for her manager, posting to Instagram Stories to share how grateful she is for Scooter, who she signed to back in May. "I have dealt with bad people in this industry and Scooter is not one of them," she wrote. "He's a good man. Personally, I'm grateful he came into my life when he did."
Taylor's Squad Defends Her
A bunch of Swift's famous friends have come to her defense as well. Todrick Hall, for example, was signed to Braun for six years, and according to him, it was an awful experience. "He is an evil person who's only concern is his wealth and feeding his disgusting ego," Hall wrote, also calling Braun "homophobic" and saying "I'm sure [Braun] will threaten me."
Cara Delevingne also reportedly defended Swift by commenting on Bieber's Instagram post. "As a married man, you should be lifting women up instead of tearing them down because you are threatened," she wrote. "I am not sure you actually understand what an apology is."
So far, the only key player who hasn't addressed the drama directly is Braun himself. For the time being, the SB Projects founder has only shared congratulatory messages from those who are supportive of this new venture. He did, however, retweet a simple message: "Everyone has a story. Context is everything."