Taylor Swift Wins Big For 'All Too Well (10 Minute Version)' Short Film
It was rare. We were there!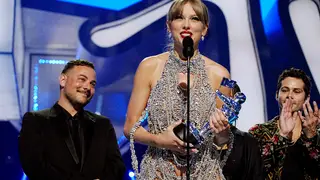 No, we're not being casually cruel in the name of being honest — Taylor Swift just scored the award for Best Longform Video at the 2022 VMAs.
The Red songstress took home her first Moon Person of the night for the "All Too Well (10 Minute Version) (Taylor's Version)" short film. Released in conjunction with Red (Taylor's Version) in November 2021, the 14-minute video stars Sadie Sink (Stranger Things) and Dylan O'Brien (Teen Wolf) as the young lovers whose ill-fated relationship is chronicled in the power ballad's lyrics. Swift wrote and directed the short.
A true showcase of Swift's lyrical prowess, "All Too Well" has been a fan favorite among Swifties since it was released on the original studio recording of Red in 2012. When the 10-minute version of the song dropped last year, it took on renewed significance as an emblem of Swift's ongoing journey to retain full control of her music by re-recording her earlier records.
In her acceptance speech, a sentimental Swift thanked Sink; O'Brien and her cinematographer, Rina Yang, who joined her onstage; and everyone else who played a part in executing her short film directorial debut.
"We put our entire hearts into this trying to make something that might be worthy of the love that you, the fans, have shown this song," she told viewers. "Thank you for the beautiful indication that we did something right."
In case you don't remember it all too well, Swift is veritable VMAs royalty. The pop icon has racked up an impressive 11 Moon People throughout her career, including the Best Direction award in 2020 for her feminist bop "The Man."
Swift now has 12 wins to her name, although she is also in the running for four more Moon People at this year's show — including Video of the Year, the evening's top honor. August might be slipping away into a moment in time, but hey, the night isn't over year.
The 2022 VMAs aired live on MTV from Prudential Center in Newark, New Jersey. Find the complete list of winners right here and keep up with all of the night's biggest VMA moments.