Taylor Swift's 'Red (Taylor's Version)' Has A Song For Every Mood
We break down all 10 new songs, from the mythic, extended 'All Too Well' to the fresh, unexpected collaborations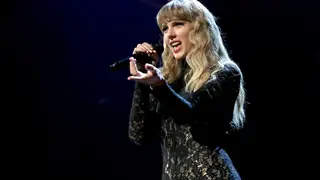 Grab your scarves — and the Kleenex! Today (November 12), Taylor Swift dropped Red (Taylor's Version), the latest album she has re-recorded in efforts to gain control of her masters. While April's Fearless (Taylor's Version) was special, the re-release of her fourth studio album Red, a sonic patchwork dedicated to detailing heartbreak in every last excruciating detail, somehow feels greater. Its arrival marks the start of Sad Girl Autumn (we'll see you next week, Adele), while also providing an interesting reflection point as she revisits some of her most candid and raw songwriting that skyrocketed her career into pop superstardom.
As she sings on anthemic opener "State of Grace," "Love is a ruthless game unless you play it good and right." The mantra defined the entire record in 2012, and it still rings true for the 30-track new edition, which also features her take on tunes she gifted to country acts like Sugarland and Little Big Town, collaborations with Phoebe Bridgers and Chris Stapleton, and the storied 10-minute long version of "All Too Well." Swift sounds older, wiser, and bolder on Red (Taylor's Version), giving off an aura of confidence she didn't have at 22. She's not only lived through the impossible heartache; she's aware of the millions of fans who remember their broken romances in the same jagged hues of red.
The record's new additions take the LP's devastated storytelling to a new level, pulling back the curtain on the ecstatic moments that preceded the fall ("Message in a Bottle"), the kiss-offs that she was perhaps too afraid to give at the time ("I Bet You Think About Me"), as well as the reconciliations Swift was having between her professional and personal images and future as a musician ("Nothing New").
With 10 new songs, Taylor has made it clear there's more to the story than she originally let on, and we're here to guide you through each new tune, mood-by-mood.
Listen to it when you're feeling: like bawling your eyes out.
Key lyric: "Flowers pile up in the worst way / No one knows what to say / About a beautiful boy who died / And it's about to be Halloween / You could be anything you wanted / If you were still here"
Swift has described Red as the one album she penned "specifically about pure, absolute, to the core, heartbreak," and this painful deep cut — which she wrote about a 4-year-old boy who died of cancer in 2011 — highlights a different kind of heartbreak: unbearable grief and loss. Taylor released the track, inspired by poignant blog posts written by the boy's mother, Maya Thompson, as a charity single after performing it at a Stand Up to Cancer event in 2012, and it's hard to get through its four minutes without getting teary-eyed. It seems Swift's decision to re-record this track came out of love and protection for the perspective she sings from: Mama Maya, who is also credited as a songwriter. "I will never be able to thank you enough for keeping Ronan safe with you," Thompson tweeted. Spin this anytime you're missing someone a little extra.
Listen to it when you're feeling: like you deserved a hell of a lot better.
Key lyric: "I wonder what we would've become / If you were a better man"
It's hard to believe a track as heartbreakingly raw as "Better Man" had a life outside of Swift's brutally honest performance, but country quartet Little Big Town picked up both a CMA Song of the Year and Grammy award for their performance of the track, which Swift originally gave them in 2016. The From The Vault version, produced by Aaron Dessner, takes its time to find its power, basking in sorrowful harmonies as Taylor recounts a toxic relationship and its "permanent damage." The track's powerful chorus seems to perfectly explain the late-night yearning we feel for things that are bad for us: "I know why we had to say goodbye like the back of my hand / But I just miss you and I just wish you were a better man."
"Nothing New" (ft. Phoebe Bridgers)
Listen to it when you're feeling: reflective about where life has taken you.
Key lyric: "I know someday I'm gonna meet her / It's a fever dream / The kind of radiance you only have at 17 / She'll know the way and then / She'll say she got the map from me / I'll say I'm happy for her / Then I'll cry myself to sleep"
Taylor celebrated the turbulence of her twenties with "22," and if those years are characterized by their miserable and magical moments, then that song describes the latter, while this Phoebe Bridgers collab documents the former. With painstaking honesty, Swift turns her microscope on herself as she takes on her more self-deprecating side: "I've had too much to drink tonight / And I know it's sad but this is what I think about." Though Swift's star would only continue to rise after the release of Red, it's especially poignant to hear her reflect on her numbered years ("How can you know everything at 18 / And nothing at 22?") alongside Bridgers, as the duo thrive inside an industry obsessed with not letting its female stars grow up. This is a tears-in-my-beers song — and an album highlight.
Listen to it when you're feeling: exceptionally scorned.
Key lyric: "What a shame, didn't want to be the one that got away / How could you do this, babe?"
After not making the cut for Red, this catchy ditty was gifted to country duo Sugarland, who recorded it for their sixth album Bigger in 2018. However, in the fine hands of producer Jack Antonoff, you wouldn't be able to guess it lived any other life. Swift wrote it with Pat Monahan of Train, and Antonoff finds the folksy pop in Taylor's sound, infusing in trumpets and a sneaky refrain of "what about your promises" that serves as a synthy haunting reminder. This is a come-to-Jesus moment about infidelity in a broken relationship, as unanswered calls and kitchen-floor cries stack up. No one anticipates the last time you'll ever call someone "babe."
Listen to it when you're feeling: hopelessly infatuated beyond reason.
Key lyric: "You could be the one that I keep / And I could be the reason you can't sleep at night / Message in the bottle is all can do / Standing here hoping it gets to you"
Swift's other two Red-era collaborations with Max Martin and Shellback ("22" and "We Are Never Ever Getting Back Together") may have been massive hits, but this shiny gem was initially shelved. In a new light, it's all about the high that comes at the start of a relationship, when another's freckles sparkle, their laughter is music, and every kiss is effervescent. It's a dance-floor anthem at its core, and it should be treated as such, whether you're trying to play it cool with telepathic signals, or you've given into ecstasy.
"I Bet You Think About Me" (ft. Chris Stapleton)
Listen to it when you're feeling: like you won the relationship.
Key lyric: "Now that we're done and it's over, I bet you couldn't believe / When you realized I'm harder to forget than I was to leave / And I bet you think about me"
Just when we were getting lost in the synths, Swift dusted off this yee-haw throwback, written alongside songwriting icon and singer Lori McKenna, to remind us Red is a country album at its core. You can imagine Taylor spitting this slow-swaying revenge track at an ex from across a bar or onstage in a stadium, with each line cutting deeper and deeper. The track represents some of her most unhinged songwriting in the best way, comparing an old lover's silver-spoon pedigree and "upper-crust friends" to her childhood on a farm, knowing the realest he ever felt was when they were together. This is a scream-at-the-top-of-your-lungs moment, its deafening blows heightened by Chris Stapleton's soulful voice, especially given Swift's triumphant outro, rife with digs at "cool indie-music concerts," "organic shoes," and that insane girl who "wrote a song about me."
Listen to it when you're feeling: desperately hopeful.
Key lyric: "Too young to know it's gets better / I'll be summer sun for you forever / Forever winter if you go"
What does a co-write between Mark Foster (of Foster the People) and Taylor Swift sound like? Hopelessly optimistic. On this guitar-driven, mid-tempo ballad, Swift tries to take the weight off a lover who's going through darkness, willing to sacrifice her own happiness to give him a little shine. Perhaps his caustic cynicism and her brimming positivity don't add up on paper, but there's a chemistry that's worth fighting for and she'll do anything to keep it alive. As the winter months creep in, turn to this one for a reminder that even on our most depressing days, we can find a little bit of sun.
Listen to it when you're feeling: ready to leave it all behind.
Key lyric: "There's a heart on your sleeve / I'll take it when you leave / And hold it for you / And run, like you'd run from the law / Darling, let's run, run from it all"
"Everything Has Changed" may have a spot in the upper echelon of Swiftian collabs, but it wasn't the only track she penned with Ed Sheeran during the Red sessions. "Run" is even more understated and solemn than its sister track, evoking desperation, hope, and romance all at once. When the pressures of work, friends, and life feel like too much, there's always the dream of running away. This track finds the duo imagining the very act of it, with no destination or expectation of what lies on the other side. It's a beautiful daydream, and the two seem to recognize it's entirely unfeasible, but when you're riding shotgun with the person you love, anything seems possible.
Listen to it when you're feeling: nostalgic.
Key lyric: "I wish that I could fly / I'd pick you up and we'd go back in time / I'd write this in the sky / 'I miss you like it was the very first night'"
What do you do when you're somewhere between heartbroken and ready to move on? Dance. This bumping and hopeful country-pop tune is Taylor down to every detail — from the diaristic retelling of "the night in the hotel," to the "note on the Polaroid picture," and an unexpected zinger: "We broke the status quo then we broke each other's hearts." Even if it wasn't built to last, there's something about that first date magic that feels like an untouchable, out-of-body experience when all you had was hope for what could be.
"All Too Well" (10 Minute Version)
Listen to it when you're feeling: like you need to remember it all too well to move on.
Key lyric: "And I was never good at telling jokes, but the punch line goes, 'I'll get older but your lovers stay my age' / From when your Brooklyn broke my skin and bones / I'm a soldier who's returning half her weight / And did the twin flame bruise paint you blue? / Just between us, did the love affair maim you too?"
"All Too Well" may arguably be the best song Swift has ever written, and it's certainly the glue that holds the heartbroken threads of Red together. How do you elevate a ballad that's already so crammed with pain, loss, and detail? You give them the full story. Alongside haunting production from Antonoff, "All Too Well (10 Minute Version)" represents a sonic fusion between the synthy and understated styles she's explored on her most recent records Lover, Folklore, and Evermore, and she follows through on her promise to reveal every last detail. We knew he almost ran the red, but we didn't know he had a "fuck the patriarchy" keychain, and the hurt from omissions like "I was thinking on the drive down, any time now / He's gonna say it's love, you never called it what it was" still ache. It's the third verse, however, that ties the story of Red together, as Swift recounts the birthday party where it fell apart (her dad told her "It's supposed to be fun turning 21") — a story previously explored on album track "The Moment I Knew" — and absolves herself of this heartbreak. Its haunting outro seems to find a new sense of peace in the relationship's end, like she's exhausted herself retelling it. She seems stronger from the heartbreak as she repeats, "It was rare, you remember it" before fading into silence at, you guessed it, 10 minutes and exactly 13 seconds.