The 'Dirty Little Hamster' Is Back: How Will The Girls React To Angelina's 'Family Vacation' Arrival?
As we all know, Snooki, JWOWW and Deena are perfectly capable of throwing her in the bay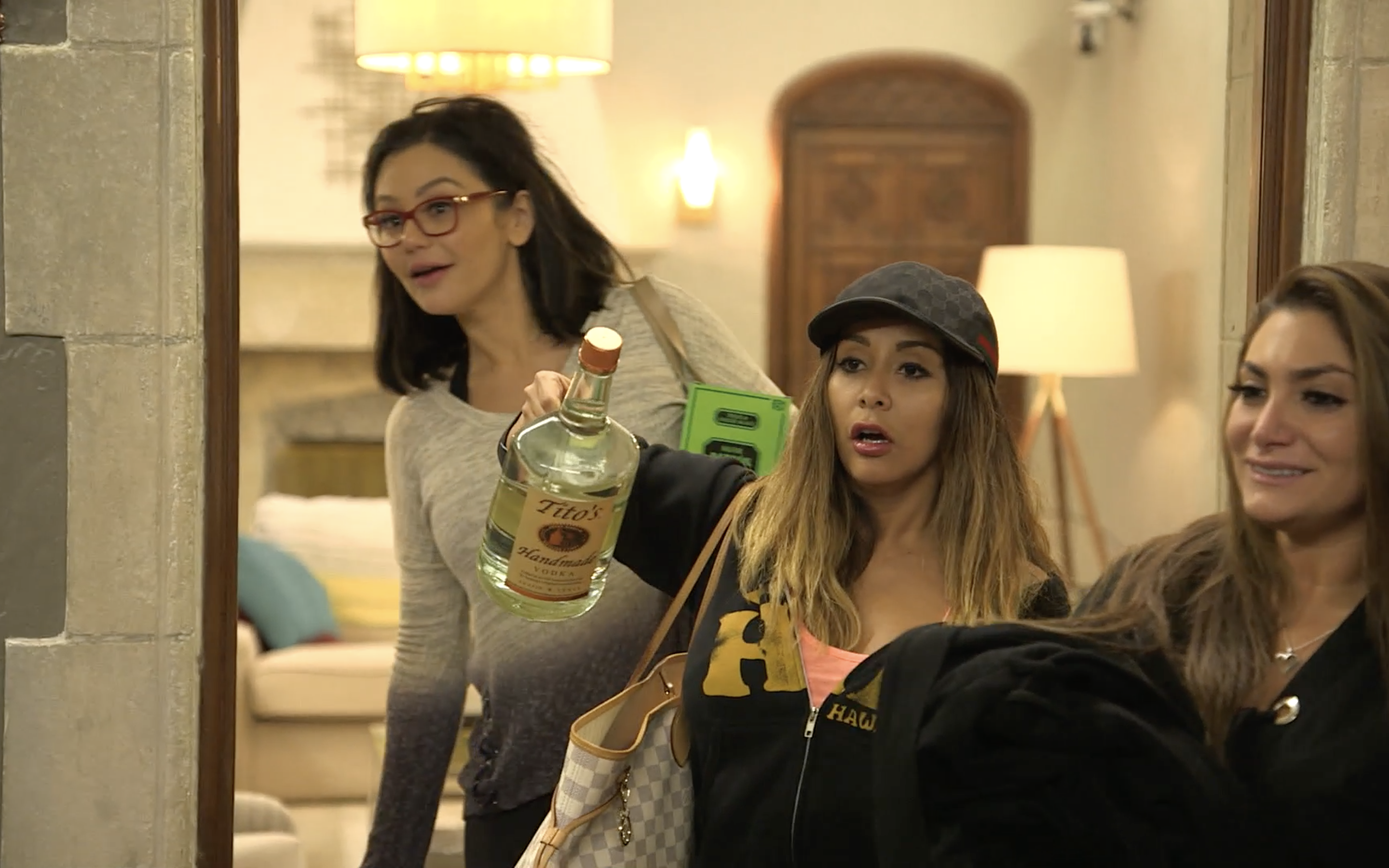 Grab your popcorn, candy and soda, 'cause the self-proclaimed Kim Kardashian of Staten Island is back in Miami for a little redemption Family Vacation!
Tonight's Jersey Shore: Family Vacation saw the surprise arrival of Angelina and her trash bag suitcase, thanks to prank war champion Pauly D's invitation — aka the "most epic prank ever." (Sammi doll, what? That was clearly just a warm-up.)
"It's been a little kumbaya -- we need a villain to stir things up," the DJ said of bringing back his former Jersey Shore roommate, who infamously left the show for a second time in Season 2.
While Mike was shocked to find "the ghost of dirty little hamsters past" on their doorstep, any prior falling out was quickly forgotten with a few apologies and a friendly embrace.
But what about the girls? A weekend away with their families — followed by two bottles of wine — left the trio (especially Snooki and JWOWW) ill-prepared to face their longtime nemesis.
Angelina, meanwhile, was prepared for possible chaos. "These girls, they hated me," she said. "Who knows what they're gonna do? But at the end of the day, this is my chance to redeem myself."
And finally, Vinny offered his take on the situation (not that Situation): "Angelina has the power to bring the JWOWW out of Jenni, the Snooki out of Nicole and the Meena out of Deena. It's gonna get crazy."
Just how crazy has yet to be seen, but if it's anything like their interactions eight years ago, you'd better expect a few knock-down, drag-out catfights — like when JWOWW threatened to beat Angie's ass. Or when a heated Snooki removed her hoops just before tackling the "Staten Island Dump" to the ground ("I'm still pretty, b**ch!").
Think the girls can go the way of The Situation and forgive, or will Angelina get "thrown in the bay"? Vote in the poll, comment with your thoughts, then watch it all unfold next Thursday at 8/7c.