All The Times You Fell In Love With Timothée Chalamet This Awards Season
Let's relive his most charming moments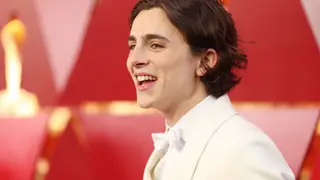 Timothée Chalamet didn't walk away a winner on Oscar night, but that didn't matter; he had already won awards season, endearing himself to an industry — and to an entire generation — that had no idea who he was a year ago. And he did it while being 100 percent himself, rapping Cardi B's "Bartier Cardi" with his mom on red carpets and flashing peace signs for cameras. There's nothing performative about this 22-year-old New York native's exuberance; he really is just that charming — and it's been infectious. (Screenwriter James Ivory even immortalized Timmy's face on his dress shirt at the Oscars.)
Let's take a look back at some of Chalamet's greatest moments this awards season because who knows how long we'll have to wait for his next press tour. Though, with Felix Van Groeningen's Beautiful Boy set to come out sometime this year, it shouldn't be long before we hear Chalamet's nervous laughter on late-night again.
When he fell out his chair during a Q&A at New York Film Festival
How can you not love him after that?
While accepting the Breakthrough Actor award at the 2017 Gotham Awards for his star-making turn in Luca Guadagnino's resplendent Call Me By Your Name, the LaGuardia High School graduate thanked some of the New York artists who inspired him to pursue this "crazy career in the arts."
That list included fellow nominee Mary J. Blige (I'm more of a Growing Pains guy," Chalamet said), Edie Falco, playwright John Patrick Shanley, director-actor Greta Gerwig, Al Pacino, John Leguizamo, his favorite rapper Kid Cudi, and the Bronx's very own Cardi B. The rapper reacted to Chalamet's shout-out on social media, tweeting, "I'm so honored!"
When Ellen DeGeneres put his rap past on blast
Chalamet's statistics rap — a school project — had already been unearthed by the internet the month prior, but DeGeneres made sure the entire world knew about Lil Timmy Tim when she debuted the clip on Ellen while Chalamet squirmed in his seat, looking both mortified and uncomfortable — much to the delight of his costar Armie Hammer.
When he found out his fans in China call him "Sweet Tea"
"From now on everybody please call me Sweet Tea," he said in response. So far, Hammer has dutifully complied.
When he pledged to donate his paycheck from Woody Allen's A Rainy Day in New York
In January, Chalamet became the latest actor to distance himself from director Woody Allen, who had long been accused of sexual assault by his adoptive daughter, Dylan Farrow. Chalamet pledged to donate his paycheck from the upcoming film — in which Chalamet stars alongside Elle Fanning and Selena Gomez — to the Time's Up Legal Defense Fun, RAINN, and the LGBT Center in New York. "I want to be worthy of standing shoulder to shoulder with the brave artists who are fighting for all people to be treated with the respect and dignity they deserve," he wrote on Instagram.
When "Love My Way" by The Psychedelic Furs starts playing, you must stop what you're doing and dance your heart out just like Timmy.
When he claimed Ansel Elgort was more popular in high school
Although Chalamet and his LaGuardia High School classmate Ansel Elgort took different paths to stardom — with Chalamet cutting his teeth on the indie film circuit to great acclaim while Elgort made a name for himself in Hollywood blockbusters — this awards season, the young heartthrobs were both recognized for their work. When MTV News caught up with the Golden Globe nominees at the ceremony this past January, we had one very important question for the young heartthrobs: Who was more popular in school? Was it Elgort, with his movie star charisma, or Chalamet, with his hella tight acting chops and rap alter ego? Needless to say, they both had very different responses.
When he brought his sister to the Golden Globes
Your brother would never.
And his mom to the Screen Actors Guild Awards
Where they both got down to Cardi B's "Bartier Cardi" on the red carpet
When asked what his favorite Cardi B song was, Chalamet replied, so characteristically on-brand, "It's gotta be 'Bodak Yellow,'" adding, "But 'Bartier Cardi' just came out, which is fantastic." He then proceeded to rap/growl a few bars for the camera, while Mrs. Chalamet showed off her moves in the background.
When he helped Ivory to the stage at the BAFTAs
At 89, Ivory accepted the BAFTA for Best Adapted Screenplay for Call Me By Your Name with a little help from Chalamet, and everyone's hearts grew three sizes in return.
When he quotes Frank Ocean's "Seigfried" to... Frank Ocean
And Ocean promptly replied, "Don't do that." Still, Chalamet is such a fanboy, and his interview with the singer for VMan is rife with adorable fan freak-outs like this one. Turns out Timmy's just like us!
When he wore Off-White to the Independent Spirit Awards and was OK with everyone calling him a gas station attendant
Chalamet took home the Independent Spirit Award for best male lead while rocking freshly shorn locks and gas station-attendant chic. You'd think that after giving countless acceptance speeches at various industry events over the last six months that they'd start to get a little stale or performative, but this one was truly one for the history books.
He dabbed, he nearly slipped on his way to the stage, he thanked his talented peers and studio head Michael Barker for "the career," and he even referenced that erotic peach scene. "This is crazy. Two years ago I could do a movie without worrying about if I was going to have sex with a peach or not because nobody knew who I was," he said. "Now I've got to worry a little bit more."
When his former drama teacher, Mr. Shifman, surprised him on the Oscars red carpet
No one reps New York's famed performing arts school, LaGuardia High School, quite like Chalamet. While on the Oscars red carpet, Chalamet and his lovely date (his mom, and fellow LaGuardia grad, Nicole Flender) received a surprise video message from his high school drama teacher, Mr. Shifman, and his newest class of "future Oscars contenders." Shifman's advice for his former student? "Just breathe." Chalamet, with tears in his eyes, said he simply would not be acting without Shifman's support and public arts funding.
When he looked like an actual angel at the Oscars
Chalamet doesn't work with a stylist because he's having too much fun with fashion. Case in point: this custom white Berluti suit. He contrasted the Teen Angel ensemble with black shoes. Unfortunately, there wasn't a designated Timmy Cam during the big show, but Chalamet did get some adorable cutaway shots, like the time he gave Best Oscar winner Gary Oldman the peace sign on his way to the stage. He respects his elders!
We'll miss you, Timmy. Please come back soon. Or at least be more active on social media!