Bop Shop: Songs From Taylor Swift, Big Sean, Rico Nasty, And More
Featuring a slow-burning tune about letting your guard down, a triumphant return to the rap arena, and more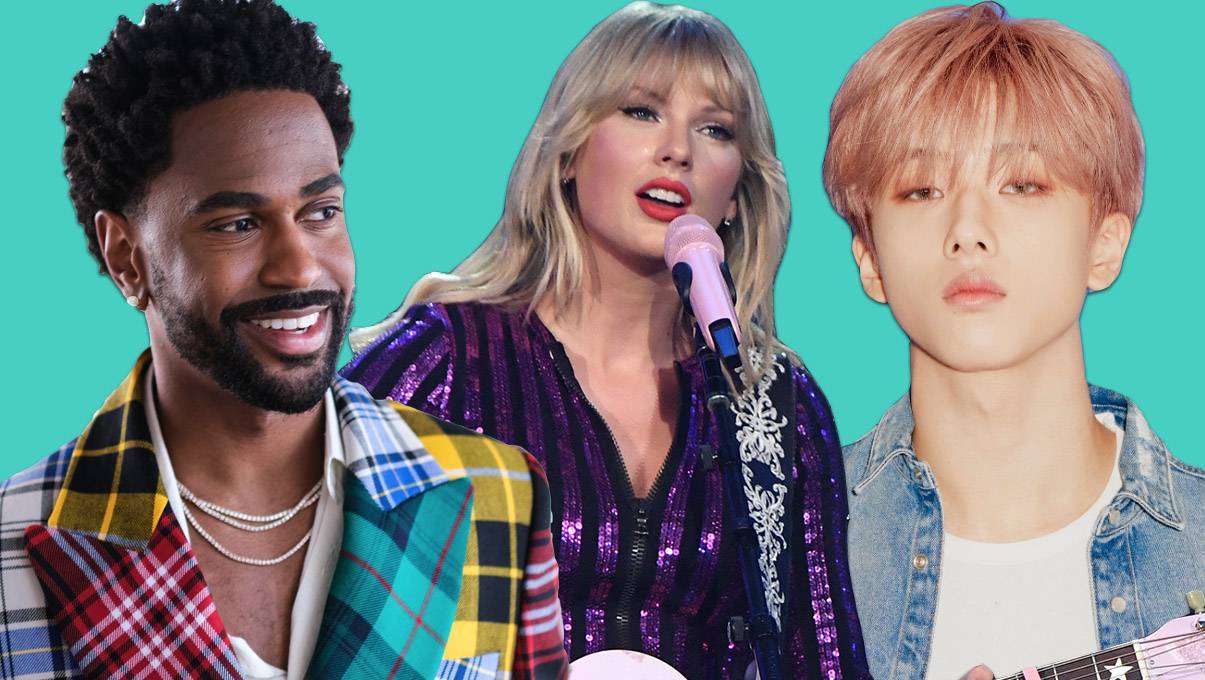 The search for the ever-elusive "bop" is difficult. Playlists and streaming-service recommendations can only do so much. They often leave a lingering question: Are these songs really good, or are they just new?
Enter Bop Shop, a hand-picked selection of songs from the MTV News team. This weekly collection doesn't discriminate by genre and can include anything — it's a snapshot of what's on our minds and what sounds good. We'll keep it fresh with the latest music, but expect a few oldies (but goodies) every once in a while, too. Get ready: The Bop Shop is now open for business.
Taylor Swift: "The Archer"
With "The Archer," Taylor Swift has given us a song starkly different from anything we've heard from her in a while — or maybe ever. It's a wounded slow burn that forces us all to take a good look in the mirror and accept that, as hard as we try, we don't always get it right.
A complete 360 from the poignant lyrical disses placed in songs like "Look What You Made Me Do" and "Bad Blood," Swift shows major maturity by acknowledging that fighting back in the interest of self-preservation usually only welcomes more pain. She also admits to being on both sides of a battle — a difficult place to be when your reputation (no pun intended) is constantly on the line. In the end, it feels like Swift is finally ready to lay her armor down and trust people again — something she's struggled with after years of very public drama. "I've been the archer / I've been the pray," she sings before ultimately coming to terms with the fact that she's not fooling anyone — not even herself. "'Cause they see right through me / I see right through me." —Jordyn Tilchen
Rico Nasty's newest song is as much a flex as it is a challenge. While Rico uses "Time Flies" as an opportunity to reflect on her recent string of fortune (the 22-year-old rapper and single mother announced in June that she signed to Atlantic Records), she also wants to remind us exactly how she got there: hard work and dedication. "Every day I work my ass off, I don't get to take off / The haters get flipped off, I'm ready like lift-off," she boasts, noting that as she witnessed many of her peers sitting on their and asses complaining about not making it big, she chose to rabidly pursue success until she got it. Like a 2019 answer to "Juicy," "Time Flies" deftly mixes braggadocio with humility, and over a soaring loop of Rico's trademark sugar trap, she, like time, flies. —Bob Marshall
When it comes to K-pop collective NCT — an ambitious project from SM Entertainment that currently has 21 members under its global fold — Seoul-based unit NCT 127 is the group that typically gets all the shine with their bass-heavy beats and striking choreography. But with the release of their latest single, "BOOM," NCT Dream — a rotational unit for NCT's teenage performers — prove that perhaps they're the ones to watch. Members Haechan (also in NCT 127), Jeno, Jaemin, Renjun, Chenle, and Jisung have delivered what can best be described as the definition of a bop: a simple bass line (easy to sing along to), a sparkling pre-chorus, dynamic verses from rappers Jeno and Jaemin, and a repetitive chorus that's both insanely catchy and surprisingly alluring.
Their innocent "Chewing Gum" days were over the moment NCT Dream proclaimed that they were "so young" and "so freaky" on last year's rebellious adolescent anthem "Go." But with "BOOM," they're six young men singing about their intense ambition to achieve their dreams, the dreams they've been striving toward since they were a group of preteen trainees. The end of the year will presumably mark Haechan, Jeno, Jaemin, and Renjun's graduation from Dream, as they enter adulthood and the lawless land of Neo Culture Technology. But don't be too sad. With the arrival of "BOOM" comes the reassurance that when it comes to NCT, the kids are more than alright. —Crystal Bell
Dominic Fike - "3 Nights"
The breezy, Jack Johnson-esque quality this ridiculously catchy song boasts is part of why I love it. It's a song I can envision riding around on Friday nights with my fiancé singing at the top of our lungs, having perfectly memorized every word, putting it on repeat to do so again and again. It's incredibly easy to get sucked into, and even though you may never have heard it before, there's a familiar feeling about it with some underpinning of melancholy, despite the vacation-like tune. I can't put my finger on why it feels like I've listened to this exact song before, but it certainly makes me want to keep doing so. —Brittany Vincent
Big Sean signed to Kanye West's G.O.O.D. Music in 2007 (after rapping for him at a radio station in 2005) and grew his fanbase over the next decade. But after dropping Double Or Nothing with Metro Boomin in 2017, Sean canceled the Unfriendly Reminder tour with Playboi Carti and seemed to fall off the face of the earth. He finally gave an update in March, saying, "I stepped back from everything I was doing, everything I had going on, because somewhere in the middle of it, I just felt lost and I didn't know how I got there." He sought out professional help and went to therapy, untangling the cords of his life. He revealed that this resulted in him making the best music of his life. Four months later, that turns out be true with the release of "Overtime." He's back — bolder, stronger, and better than ever.
It starts with confidence. Sean's not rebuilding his entire aesthetic from the ground up; he's tightening it. "Overtime" is like a triumphant chorus of horns that play after a triple-overtime win during March Madness. It immediately lets you know that victory is here, that the battle between Sean and himself is won. "Shit, I didn't take a break, my n---a, I broke / Broke my heart, broke my soul, don't cry for me though / If you don't break nothing down then it's no room to grow / One mental block lead to another, shit it's dominos / Mixtape Sean, but I'm in album mode," he raps, setting himself up for the future by casting away the past. (He even adopts a spot-on Kawhi Leonard laugh.) What sticks the most about "Overtime" is how it feels so much like a prequel. For longtime fans, new fans, and nosy haters eager to create memes, it offers a slice of Sean's best parts, even managing to make his lesser ones redeemable. —Trey Alston
Future Teens: "Frequent Crier"
On Boston band Future Teens's new single, singer Amy Hoffman cries in the shower, in a traffic jam, in a break room, in their fridge, on their birthday, at a Mexican restaurant, and even while staring at photos of a cat. But all the while, their band sounds energized if still empathetic, shouldering their sadness while not attempting to power through it. It's why the crew dub themselves "bummer pop" — it's a bummer, yeah, but it's hard to get out of your head. —Patrick Hosken