Meek Mill And Drake Go Bar For Bar On New Song 'Going Bad': Listen
'Me and Drizzy back to back, it's getting scary'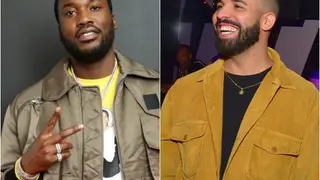 In the biggest plot twist of Meek Mill's Championships era, he and Drake have officially buried the hatchet the way they know best: through music.
The two MCs, of course, were embroiled in an ugly beef back in 2015, when Meek accused Drake of using a ghostwriter. The claim escalated into a full-on feud that played out over multiple dis tracks, but none of that matters now. Meek performed on Drake's Three Amigos Tour in September, and now the two have reunited for their third collaboration on wax. On Friday (November 30), Meek's Championships arrived, and track No. 9, "Going Bad," features him and Drake going bar for bar yet again, following previous team-ups "Amen" and "R.I.C.O."
Drizzy opens the three-minute cut by comparing himself to Don Corleone and bragging that he's "got more slaps than the Beatles," which he's technically not wrong about. Meek steps up halfway through to tout their super rare and surprising reunion, even referencing one of the 6 God's blistering dis tracks by rapping, "Me and Drizzy back to back, it's getting scary." Later, he adds, "DC, OVO, we back again, we goin' plat'."
Earlier this week, Meek reflected on his beef with Drake in an interview with Vulture, saying, "I was just out of control at that point in my life. Getting high and doing whatever I wanted how I wanted to do it. In front of the world, not behind the scenes. I don't know his writing situation or how he really carried it. I just jumped out of anger and what I thought was the truth at the time."
Elsewhere on Championships, Meek briefly references the feud again, on the Jay-Z- and Rick Ross-featuring "What's Free": "Is we beefin' or rappin', I might just pop up with Drizzy like, 'What's Free?'"
In addition to those two star-studded collabs, Championships also features guest appearances by Cardi B, Future, Young Thug, 21 Savage, Fabolous, and more. The album marks Meek's first full-length project since his release from prison in April, and he'll continue celebrating his wins on a U.S. tour early next year. Maybe Drake will return the favor and cameo at one of those shows? Seems only fair.