Justin Bieber Sounds Right At Home On Poo Bear's Rainy 'Hard 2 Face Reality'
Alongside Jay Electronica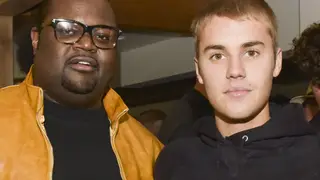 But it's always nice when he does pop up on a new track, even as a featured artist. That's why his new contributions to Poo Bear's "Hard 2 Face Reality," also featuring Jay Electronica, sound so nice and familiar. (Also likely because the song first popped up back in 2014 with Bieber singing lead.)
The rainy-day cut tackles the challenges of ongoing relationships, and Bieber's verse underscores this by specifically talking about being away from the person you're with: "I know it's hard away from home / And it ain't easy all alone / Relationships over the phone / Talkin' to your significant other all night long."
As much as his voice lends itself nicely to the minor-key guitar lines here — and while Jay Electronica brings up some salient points ("One day, you could be the king of pop / Then the next one just be 'Wacko' Michael") — this is Poo Bear's song. He owns it.
You can find "Hard 2 Face Reality" on Poo Bear's upcoming album Bearthday Music, which is available for pre-order now. Below, watch Poo Bear speak to MTV News about working with Bieber and how the Grammy-nominated "Despacito" remix came to fruition.