BTS Album's Historic Grammy Nomination Brings Them One Step Closer To Total U.S. Domination
The nomination is a testament to their artistic vision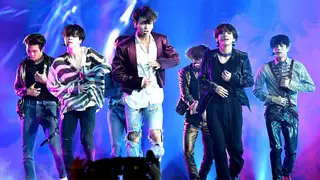 South Korean artists BTS are capping off 2018 with yet another historic achievement: a Grammy nomination. The septet's creative team scored a coveted nom from the Recording Academy for Best Recording Package, a category that celebrates the visual look of an album.
The nomination is testament to the group's artistic vision, specifically for their chart-topping Love Yourself: Tear release — the second installment of their critically acclaimed Love Yourself trilogy. The album art work is nominated by way of Korean branding company HuskyFox, who is listed on the Love Yourself: Tear credits under "art work," reports Billboard. ​
Love Yourself: Tear is up against Mitski's Be the Cowboy, The Chairman's The Offering, St. Vincent's Masseduction, and Foxhole's Well Kept Thing for the gramophone statuette.
BTS and their creative team being acknowledged by the Recording Academy for their visuals should come as no surprise to their dedicated fans; the group's meticulously plotted artistic narratives are often intertwined with the deeper meanings in their music. When it comes to BTS, the two go hand in hand.
While Korean pop has long been driven by striking visuals and conceptualized imagery, the album's nomination at the 2019 Grammys is a huge milestone for K-pop's growing visibility — and credibility — in the U.S. But there's still a long way to go until the Recording Academy — an organization comprised of older, whiter voters — acknowledges Korean artists on a larger scale. Still, an aesthetic category seems like the perfect place to start.
Back in September, lead rapper Suga addressed the subject of defining K-pop during an intimate conversation at the Grammy Museum in Los Angeles. "Rather than approach K-pop as a genre, I think a better approach would be integrated content," he said. "K-pop includes not just music, but clothes, makeup, choreography. All of these elements amalgamate together in a visual and auditory content package that sets it apart from other music or other genres."
Some fans might be upset the group didn't score any nominations in major categories like Album of the Year and Best Pop Vocal Duo/Group Performance, but the seven members of BTS have a lot to be proud of this year. They concluded their chart-topping Love Yourself series — scoring not one but two No. 1 albums on the Billboard 200, a momentous first for K-pop — embarked on their sold-out world tour, became the first Korean artists to perform at a stadium venue in the U.S., spoke at the United Nations, and made history as the youngest recipients of South Korea's prestigious Hwagwan Order of Cultural Merit.
Not to mention, a Grammy is a Grammy.