Childish Gambino And Lady Gaga Will Bring Their EGOT Dreams To Grammys As Performers
Awaken, My EGOT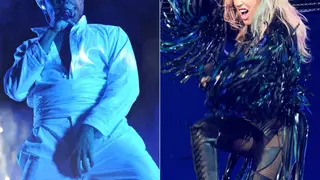 The 2018 Grammys will be Donald Glover's first Grammy performance. This year he has five nominations: Album of the Year, Record of the Year, Best Urban Contemporary Album, Best R&B Song and Best Traditional R&B Performance for "Redbone."
Lady Gaga has two nominations for Best Pop Vocal Album and Best Pop Solo Performance. She will be performing a track off her fifth studio album, Joanne.
If Gambino wins a Grammy, he will be 50 percent of the way to an EGOT — Emmy, Grammy, Oscar, Tony — after winning multiple Emmys in 2017 for Atlanta. Lady Gaga has a little farther to go. While she already has six Grammys under her belt, she hasn't won an Emmy, Academy Award, or a Tony. However, to her credit, she's been nominated for an Emmy in 2011, 2015, 2017, and an Oscar in 2016.
The Recording Academy also announced a Broadway tribute at this year's Grammy's to honor the award ceremony returning to New York City after 15 years. Patti LuPone and Ben Platt are leading the charge on this special performance.