Migos Tease The New National Anthem And 'Culture II' Release Date
Quavo Scott Key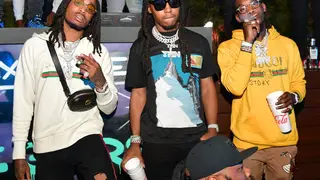 In 10 days, the world will get a second helping of culture. Today (January 16), Migos announced their third studio album, Culture II, is arriving January 26. In recent months, the Atlanta trio have released "MotorSport" featuring Nicki Minaj and Cardi B and the Pharrell-produced "Stir Fry" in support of the album. However, it remains to be seen if either of those singles will make it to the final tracklist.
A few hours before the release date for Culture II was announced, Quavo dropped his anticipated update of the national anthem. For those that don't remember, 2017 was filled with pleas and petitions for the Migos crooner to add more trap to the patriotic song. Some even took to social media to make their own autotune-soaked and adlib-filled version of the Migos anthem.
Thankfully, Quavo decides to completely re-write the song. As a video of Martin Luther King Jr. and civil rights protests plays, Quavo sings: "Can you see my people pray / Take a knee / We don't need stripes / Cause we got bright stars."
The song is a rare somber moment for Migos. If we're lucky, all of Culture II will be this poignant.