Kendrick Lamar And SZA Duet On First 'Black Panther: The Album' Single
From Compton to Wakanda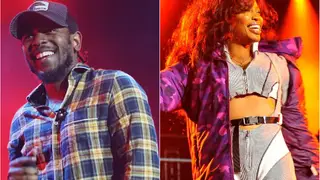 According to a statement via Pitchfork, Kendrick described what it was like to work on the music for the film.
Marvel Studios' Black Panther is amazing, from its cast to its director. The magnitude of this film showcases a great marriage of art and culture. I'm truly honored to contribute my knowledge of producing sound and writing music alongside Ryan and Marvel's vision.
"All the Stars" opens with a soaring hook from SZA as she sings about the feeling that comes along with being closer to one's dreams. Kendrick puts a spin on this theme in the first verse as he tackles those who feel entitled to his time and success. The climax of Kung Fu Kenny's verse comes when he spits, "I hate people that feel entitled, lookin' at me crazy 'cause I ain't invite you / Oh, you important? You're the moral to the story, you endorsing, motherfucker I don't even like you."
Overall, "All the Stars," works as an introduction into the musical world of Black Panther and as a precursor to Grammy night. Kendrick has seven nominations, including Album of the Year and Record of the Year. SZA didn't do too bad herself, netting five Grammy nominations.
In December, SZA spoke with MTV News correspondent Meredith Graves about the Grammys and all of her nominations. Watch that interview below.