Kendrick And SZA Battle To See Who The Martial Arts Master Is In 'Doves In The Wind'
Kung Fu Kenny came to fight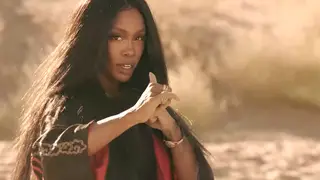 Today (April 27), SZA finally releases the Nabil-directed visuals for "Doves In The Wind." The Spotify video sees SZA trekking through the desert to meet Kung Fu Kenny, played by Kendrick Lamar. The surly martial-arts master sends ninjas after the R&B singer, which she quickly disposes of before coming to meet the floating hermit.
The narrative of "Doves In The Wind" is never fully explained. Is SZA coming to train with Kendrick? Why is he casting illusions on SZA? Did the Ctrl singer just use the power of her femininity to fly and dispatch of her unworthy adversary?
"Doves In The Wind" isn't Kung Fu Kenny's first music video appearance. He also was the center of Lamar's "DNA." video. Although, the martial arts master was a little more successful at not getting his ass kicked during that go-round.
SZA's been teasing the "Doves In The Wind" visual since October 2017. In an interview with MTV News correspondent Meredith Graves, the TDE songstress let it slip that she would get into a fierce battle with Kendrick.
"'Doves,' man. Me and Kung Fu Kenny, we have a battle to the death," SZA said. "That's it. That's all I can say about that."
The "Doves In The Wind" video can be viewed on Spotify.