Shawn Mendes Gets Contemplative On His Gorgeous New Morning-After Ballad
He has one important question: 'Where Were You in the Morning?'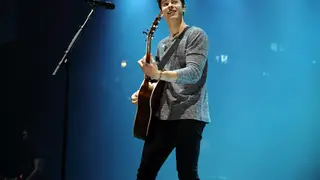 His latest cut, "Where Were You in the Morning?," which dropped Friday (May 18), continues down that path and almost sounds like the potential morning after to "Lost in Japan"'s night out. It's guitar-based but not shreddy, tender but not overly saccharine, and once again, it shares some musical DNA with Mendes's idol John Mayer.
Not to keep belaboring the John Mayer connections and comparisons, but this time, Mendes is doing it for me. I mean, look at this clip! Mayer plays lead on this very song at an Apple-affiliated show, and even on the studio recording, the falsetto vocals and crunchy claps on the chorus are more than a little reminiscent of Continuum's highest bluesy peaks.
(Mayer himself dropped a new, funky, soft-rock ballad this week called "New Light," so, perfect timing!)
Mendes, meanwhile, is prepping for the release of his self-titled third album, which also features collaborations with Khalid and Julia Michaels, next Friday (May 25). And if "Where Were You in the Morning?" is any new indication, the album will be full of self-exploratory ballads that can also (and should also) be blared very loudly from an automobile with the windows down.
You can stream the very-easy-to-sing-along-to "Where Were You in the Morning?" above, as many times as you need to.