Dua Lipa Is 'Horrified' That LGBTQ-Supporting Fans Were Ejected From Her Concert
'I will stand by you all for your love and beliefs'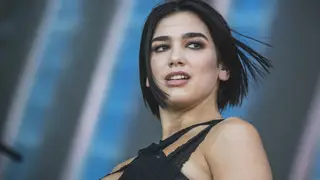 Dua Lipa, in addition to riding high on a wave of pop-song guest spots in 2018, is currently making her way around the world on The Self-Titled Tour. But her stop in Shanghai on Wednesday night (September 12) was marked by an incident directly affecting a group of her fans.
Social media footage from the show reveals venue security members removing certain fans from their seats; these same concertgoers were reportedly waving pro-gay rights flags before their ejection, The Fader points out.
From the stage, Lipa appeared to address the situation through tears. "I want to create a really safe environment for us all to have fun," she said, according to fan-captured video. "I want us all to dance. I want us all to sing. I just want us all to have a really good time."
After the show, she took to social media to address the incident directly in a lengthy statement, saying she was "horrified" at what she saw at the concert.
"I will stand by you all for your love and beliefs and I am proud and grateful that you felt safe enough to show your pride at my show," Lipa wrote. "What you did takes a lot of bravery. I always want my music to bring strength, hope and unity. I was horrified by what happened and I send love to all my fans involved. I would love to come back for my fans when the time is right and hopefully see a room full of rainbows."
Lipa has spoken out in support of LGBTQ rights in the past, telling the U.K.'s Gay Times in 2016, "I think artists should really use their power and presence on social media to just put it out there and show support. It's important because different people look up to them, and they should use that voice to their advantage."