Ariana Grande Admits The Manchester Attack Is 'Still So Heavy On My Heart'
One year later, she emotionally opens up about the tragedy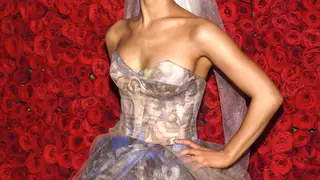 Grande's manager, Scooter Braun, offered insight on the latter subject, explaining that Grande flew to Florida to stay with her grandmother immediately after the attack happened. When he joined her there, he told her that her fans would need her to perform again, but she wasn't sure she could.
"She looked at me like I was insane," Braun recalled. "She said, 'I can never sing these songs again. I can't put on these outfits. Don't put me in this position.'" Her tour was promptly suspended, but just a couple days later, Grande texted Braun that she'd had a change of heart. She wrote to him, "If I don't do something, these people died in vain."
Grande and Braun organized One Love Manchester, a star-studded benefit concert that raised more than $12 million for victims and their families. Now, a year later, the singer is still processing her grief from the attack. She admitted, "Music is supposed to be the safest thing in the world. I think that's why it's still so heavy on my heart every single day. ... It's still very painful."
She said of the attack, "I don't want to give it that much power. Something so negative. It's the absolute worst of humanity. That's why I did my best to react the way I did. The last thing I would ever want is for my fans to see something like that happen and think it won."
Grande sought therapy after the attack, and she insists she's finally found happiness. That's part of the reason why she named her upcoming fourth album Sweetener.
"When you're handed a challenge, instead of sitting there and complaining about it, why not try to make something beautiful?" she said of the name, adding, "When I started to take care of myself more, then came balance, and freedom and joy. It poured out into the music."