Bop Shop: Songs From Billie Eilish, Ella Jay Basco And Ruby Ibarra, And More
Plus, a legendary hip-hop team-up, some pop frisky business, a new Vincint anthem, and more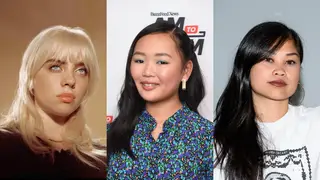 The search for the ever-elusive "bop" is difficult. Playlists and streaming-service recommendations can only do so much. They often leave a lingering question: Are these songs really good, or are they just new?
Enter Bop Shop, a hand-picked selection of songs from the MTV News team. This weekly collection doesn't discriminate by genre and can include anything — it's a snapshot of what's on our minds and what sounds good. We'll keep it fresh with the latest music, but expect a few oldies (but goodies) every once in a while, too. Get ready: The Bop Shop is now open for business.
Billie Eilish: "Your Power"
After conquering the world, where would Billie Eilish go next? Refreshingly, the answer is back to basics, creating an irresistible, understated folk-pop heartbreak ballad that's all about power dynamics. It's a nice primer for Happier Than Ever, her and co-writer/producer/brother Finneas's follow-up to one of the biggest debuts in recent memory. You'll want to sit with this one for a while, though. —Patrick Hosken
Mint Simon: "Used For Love"
"Are you lonely in the night?" Mint Simon (front person of Caveboy) wonders in the pre-chorus of "Used For Love," their debut single as a solo act. If the song's hazy, disco ball-dappled visuals are any indication, Simon is already waiting for a booty call from someone they know will never amount to more than a lover. But they don't mind "being used for pleasure"; they relish it, soundtracking the heady rush with soaring vocals and '80-inspired synths. —Sam Manzella
Eddie Benjamin: "Speechless"
What do you do when you know your relationship is ending? The crown jewel of rising crooner Eddie Benjamin's debut EP Emotional, "Speechless" is a stoic consideration of all those pitiful options. Over a haunting yet soothing bed of his own vocal harmonies, Eddie considers every length necessary, every word that could be said in order to salvage what's left, but the final result is a somber, pitiful resignation to the end. Sure, he's combative — "It ain't up to you," he asserts about the breakup — but at the end of the day, all he can do is wait silently for a return unlikely to ever happen. —Terron Moore
DJ Khaled ft. Nas, Jay-Z & James Fauntleroy and Harmonies by The Hive: "Sorry Not Sorry"
Jay-Z and Nas have more than 20 years of history between them. Though their beef officially ended in a football stadium back in 2005, hearing the former rap foes join up on a luxury DJ Khaled track to discuss living large and reclining atop pyramids of money is enough to warm the heart. Turn your headphones up for trace amounts of Beyoncé on this one, too. —Patrick Hosken
The Chemical Brothers: "The Darkness That You Fear"
The Chemical Brothers are back with a dance track bursting with so many bright colorful sounds you can almost see the music. Similar to other Chemical Brothers classics like "Hey Boy Hey Girl" and "Star Guitar," "The Darkness That You Fear" is actually at its best after you've listened to it on repeat for an hour (or two), falling into an electronic trance as you dream of vibrant technicolor landscapes. With lyrics like "let your heart see the colors all around you, and the darkness that you fear will disappear," it sounds like the perfect mantra as we begin to re-enter into society after this dark pandemic year. The Chemical Brothers rave has returned at the perfect time. —Chris Rudolph
Fellow streamers who can't stop tapping play on The 1975, Charli XCX, and No Rome's "Spinning," here's one for you. It comes courtesy of newcomer James Ivy, whose 2020 tune "Yearbook" presaged the Y2K sonic amalgamation of new single "Texas." It's Gen Z Linkin Park, the angst balanced out by nimble acoustic plucks and just shoegazey enough to make perfect sense on any dreamy playlist. Or, you know, right after "Spinning." —Patrick Hosken
Ella Jay Basco ft. Ruby Ibarra: "Gold"
"When you learn to love your true reflection / Then you'll always be rich with a gold complexion," Ella Jay Basco sings in a feather-light voice. But the weight of her words is great, redoubled by a powerful guest verse from rapper Ruby Ibarra. "We wanted to make a song that speaks out to brown pride and the color of our beautiful golden skin," Basco wrote on Instagram when it dropped in January. This week, "Gold" got a new video that brings that celebration to life. —Patrick Hosken
Morgin DuPont makes a declaration at the start of her new non-binary anthem: "I'm not a man / I'm not a woman / I'm a force, liberty pass that torch." It's a powerful phrase that kicks off the Puerto Rican trans artist's braggadocious bop, laying the groundwork for the confident demands she makes throughout the track, spitting out diamonds like, "You're boring / Explore me, bitch." She's got the attitude to back up her boldness and bars, and the song's themes of self-love, confidence, and unapologetic queerness run throughout her debut EP Pearls out today. It's about damn time queer music gave the gender non-conforming community a shout, and Morgin is blessing everyone with not just a bop, but an exciting new voice to look out for, too. —Carson Mlnarik
Split Single: "(Nothing You Can Do to) End This Love"
One thing you need to know is that if there's a new song out even tangentially related to R.E.M., I will blurb it here. This week, it's thanks to Split Single, Superchunk bassist Jason Narducy's project featuring none other than Mike Mills on patented Rickenbacker bass and harmonies. And man, what harmonies. The tune surges with springy power-pop chords, and of course I'm projecting here, but this could've absolutely worked on Accelerate. Anyway, don't sleep on those Jon Wurster drum hits or Narducy's lyrical fun about blood types. —Patrick Hosken
Gunnar Gehl: "Somewhere We Can Be Alone"
The heat (and the tension) are palpable from the very first notes of pop newcomer Gunnar Gehl's latest single "Somewhere We Can Be Alone." Infatuation is always a frisky business, but it's never sounded quite so suspenseful. "All I can think is your touch, you're the first / Say in my ear while you pulling my shirt / Baby can we go," he croons, his voice rising and falling like a thumping heartbeat. But the real throbbing comes in with the club-ready chorus as Gehl weaves an addictive chorus built for dance-floor romances. Throw in its apocalyptic yet adorable visual and we've got ourselves a bop. —Carson Mlnarik
Little Mix ft. Saweetie: "Confetti"
Little Mix's 2020 club-revelry anthem gets an upgrade — and a hilariously cinematic new video — with a little help from Saweetie. From the glossy production to the rapper's celebratory bars ("Face on Halle, body on Chloe / You give me the chance, I'ma give it to your homie"), the "Confetti" remix is a whole new kind of party. —Patrick Hosken
Vincint ft. Alex Newell with Princess Precious: "Higher"
Joy. Period. Vincint is back with a new song to remind us of the power of love and freedom after one hell of a year. A collab with iconic chanteuse Alex Newell and rapper Princess Precious, "Higher" hits you with energy, excitement, and a beat fit for twirling in the sun. Expect to hear this transcendent track at every queer club, bar, and dance party this summer when we can all gather IRL post-vaccination. "I wanted to make something euphoric," Vincint told Mila Jam during a recent episode of Logo Live. "I wanted to make an album to make people feel alive." Mission accomplished. —Zach O'Connor