Eminem On Potentially Losing Half His Fan Base: 'I'm On The Right Side Of This'
Does Em have a point?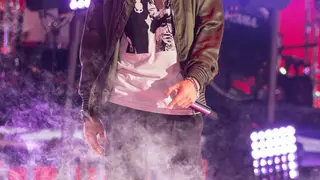 Eminem is transparent. In an interview with Billboard featuring Paul Rosenberg — longtime friend, business partner, newly appointed Def Jam CEO — the Detroit MC was candid about the reality that he might have lost half his fan base after his numerous takedowns of Donald Trump on and off wax.
"At the end of the day, if I did lose half my fan base, then so be it," said Eminem. "Because I feel like I stood up for what was right and I'm on the right side of this. I don't see how somebody could be middle class, busting their ass every single day, paycheck to paycheck, who thinks that that fucking billionaire is gonna help you."
On Eminem's "Chloraseptic" remix released in early January, he rapped, "Then I took a stand, went at Tan-Face and practically cut my motherfuckin' fan base in half and still outsold you." On a commercial level, Eminem's Revival fared poorly when compared to previous albums. It sold 267,000 album equivalents in its first week, while 2013's The Marshall Mathers LP 2 sold 792,000 copies in its first week.
Later in the interview, Mathers described how he was dealing with the critical and fan response to Revival.
"I think that there are things that we learn from each album," said Eminem. "And I think there's things to be taken away from this album and the reaction to it. Were there too many songs? Were there too many features? There were certain songs like 'Tragic Endings' and 'Need Me' where I felt like lyrically they would give the listener a second to breathe. I spend a lot of time writing shit that I think nobody ever gets. I don't know if everybody goes on Genius and tries to look up meanings."
You can read the rest of Eminem's Billboard interview here.