Nicki Minaj Is A Selfie-Taking Neon Peacock In New BTS 'Idol' Video
The Queen on her opulent throne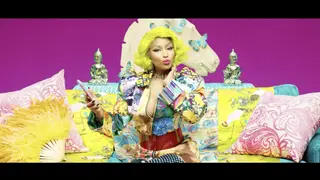 And now, she's back with BTS in the psychedelic graffiti spray that is the new music video for "Idol." Minaj surfaces about three minuted into the lavish clip, opulently peacocking in an incredible floral jacket and done up in neon green hair.
The whole visual is an absolute trip, and Nicki's part only accounts for about 15 percent of it. The rest sees the BTS gang — Jin, Suga, J-Hope, RM, Jimin, V, and Jungkook — dancing in sumptuously colorful locales and robed in equally sumptuous outfits. At one point, one scene transitions into another by way of Jimin's mouth, which becomes a trippy portal into a new realm. That new realm features explosions of color and lots of high kicks.
This video looks like it cost $6 million to make. And it kinda rules! (And who knows, maybe it did.)
BTS had a pretty incredible summer, too, releasing their new compilation Love Yourself: Answer in late August. It became their second album to top the Billboard 200 chart, after this year's earlier Love Yourself: Tear. North American fans are rightfully amped about the South Korean group's upcoming shows in the U.S., which kicked off last night at Los Angeles's Staples Center.
With world-expanding, endlessly stimulating videos like this — and life-affirming lyrics that preach self-acceptance — it only makes sense. Check out the otherworldly visual above.