Cardi B And Offset Have Almost Narrowed Down Their Wedding Song
No, it's not a Migos song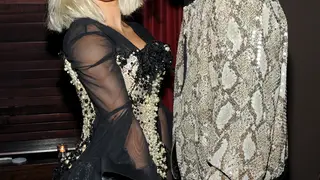 Ever since Cardi B and Offset got engaged in October, fans have been itching for more details about their big day. Will Cardi wear bloody shoes down the aisle? Will Quavo and Takeoff be groomsmen? And what music, pray tell, will the hip-hop power couple play on their big day?
Thanks to Cardi's recent interview with Beats 1 Radio's Julie Adenuga, we now have some intel about that last question. When Adenuga asked if they've decided on a wedding song, the usually outspoken Cardi was hesitant to reveal anything. "I'm not gonna say it because I'm not gonna sound sensitive," she cracked.
After a little coaxing from the host, though, Cardi did let some info slip. "It's between Al B. Sure! or Grace Jones," she revealed, dropping the names of two certified R&B legends. (FWIW, Jones's "Love is the Drug" would be a dope wedding song.)
Of course, that assumes Cardi and Offset make it to their wedding day, which may or may not be contingent upon whether Offset keeps pissing his fiancée off. Asked about the most annoying thing her rapper beau does, Cardi was just as blunt as always. "When he buys food, and he don't eat it," she answered, adding, "I'm a person that sees the spending."
Better shape up quick, Offset — the world is waiting for the most anticipated wedding of the year.