The Rise of Megan Thee Stallion, In Five Songs
What started with a cypher verse has morphed into a dominating rap presence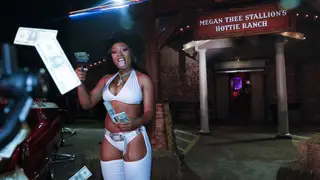 Megan Thee Stallion is the Houston rapper whose Instagram Live videos are so popular and shareable, they get regurgitated onto your Twitter timeline in bits and pieces. You know her. Her late-2018 song "Big Ole Freak," currently sitting at No. 65 on the Billboard Hot 100, is a sex anthem for bosses that manages to sound both silkier than the most sensual records and angrier than the most bombastic modern trap. It's her statement song. And it's her moment — her world — that she's graciously letting us all into to.
We live in an age of viral hits, so Megan's quick ascent — supported by the success of her #BigOleFreakChallenge — makes sense; look at how Lil Nas X's "Old Town Road" made him a star overnight. But Megan Thee Stallion's prominence isn't the result of one, strategic social media play: From 2016 to now, Megan has worked to become a member of rap's class of female elite. Now, she's leading the pack. Here's how that happened.
"The Houston Cypher" (2016)
Megan told Vulture that her infamous verse in "The Houston Cypher" — the fiery local moment that laid the foundation for widespread dominance — was done on a whim. "My homeboy was like, 'Megan, I need you to come with me to this cypher,'" she said. "And I'm like, 'A cypher? I ain't going to that.' And he was like, 'No, for real, Megan. It's gonna be lit, come on.' So I was like, 'All right, cool. I'ma go.'" She pulled up to the rooftop cypher as the sole woman rapper in an enormous circle of at least two dozen fellow Houston artists. You can see: When it's her turn to step up (she goes second), all attention melts away from everyone else.
She's direct, certain, and bossy. The striking cypher verse reveals total confidence in her delivery, so much so that the blurred faces in the background can be seen smiling and hollering as her hands move over her body and her hips slowly sway from side to side. This X-rated minute placed her piece on the larger board of the industry, going viral and introducing her to a world meant for her to rule.
"Stalli (Freestyle)" (2017)
A year later, Megan was in a different place. On her first mixtape, Rich Ratchet, she found power in her sexual dominance while rapping over the classic beats of Jay-Z's "Big Pimpin" and Ashanti's "Foolish." But in 2017, she washed the board. After hearing XXXTentacion's "Look At Me!," she dropped a rework of it a few months later in "Stalli (Freestyle)." Instead of clinging to an "aye" at the end of every rhyme, she punches each one with powerful conclusions and demands a step up from her cypher verse, firmly rooted in a blossoming superstardom.
The video followed a series of mostly now-deleted Instagram freestyles. "Stalli" was the next step up from the cypher and gave the world an original visual component for Megan. The effect was almost instantaneous. It cracked a million views without a sweat and showed us that even when she's keeping it simple visually, she's a magnet for the camera. She retained that cypher confidence moved with the kind of grace that leaves you defenseless with your eyes glazed. It became her biggest song and video at the time that put her into label crosshairs.
Almost two years to the date after her cypher verse, Megan gained a boost by signing with local Houston label 1501 Certified Ent. Under its umbrella, she released Tina Snow, an EP where she introduced a rawer version of herself, unafraid to say whatever comes to her mind. The tape is a smash; she soon signed with 300 Entertainment, home of Young Thug, Tee Grizzley, and many more. The "Freak Nasty" video landed in August, showcasing what she is about now (as Tina Snow), which is the same as what she's been about (as Megan Thee Stallion).
More boss talk. More sex. More cars. Good life. No stress. If Megan Thee Stallion hisses, Tina Snow roars — the Killer Frost to Megan's Caitlyn Snow. On "Freak Nasty," Snow pushes Stallion out of the way, fearlessly striding into livelier, dancing territories. The video is all about the power of the feminine body, of Snow, and Stallion's shared body. Snow and Stallion have to exist as separate entities, but if they can mesh together, they can find some sort of peace.
With folded arms, Tina Snow and Megan Thee Stallion walked into the light for an exciting, sensually striking jam, "Big Ole Freak." The song found its legs via its video; watching it feels like viewing the final battle of Avengers: Endgame and appreciating the culmination of a years-long story. It also plants the seeds for the next chapter.
It's striking to hear the ferocity of the artist's softer side (something not previously shown) on the same track. Like a darker, lustier version of Mariah Carey's "Hypnotize," it's immediately evident that things are different for Megan this go around. The fist-clenching boss talk of "Stalli (Freestyle)," and "Freak Nasty" has been refined into a smirking statement of all-encompassing sexuality. This time, she raps not about how she's better than the rest in bed, but instead chuckles at how she has a man wrapped around her fingers.
Then, thanks to the #BigOleFreakChallenge, her reign really began. Megan, in a cropped white tee and small shorts, kicked off a twerking competition at a gas station (inspired by influencer DJ Duffey) and invited the world to try and outdo her. The challenge, the song, and Megan all grew larger. The song infiltrated streaming-service playlists like Apple Music's The A List: Hip-Hop and Spotify's RapCaviar. And months later, the song still sticks around, even through the release of her debut LP, Fever.
"Cash Shit" ft. DaBaby (2019)
Megan's new project, Fever, showcases the power of Tina Snow, Hot Girl Meg (another of her identities that she's previously described as her party animal character), and her own personality. The three personalities converge on the confident bass booster that is "Cash Shit," poetically featuring DaBaby, a rapper of similar viral success.
Only a few days old, it's already in contention for song of the summer (per Twitter talk anyway) and it's the highest-charting Fever song on Apple Music (at the time of publication, it sat at No. 30). The pair's chemistry is what really sells it, making each bar punch a bit harder than the last. When put opposite a rapper who can match her tornado-like delivery, Megan really shows off her skill and the extent of what she can do. Like a real fever, now that she's settled in, she'll be here for the long haul.