Internet Scammers And Doomscrolling Sparked Quinn Shephard's Viral Hit 'Not Okay'
The filmmaker's cautionary tale about online fame is filled with complicated, even unlikable characters. She prefers it that way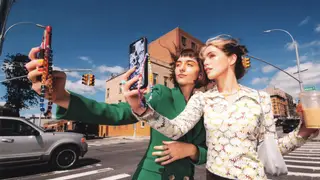 The writer and director Quinn Shephard, who appears via Zoom wearing a sensible black T-shirt with a sparkly gold necklace, is energetic and forthcoming when talking about her latest film Not Okay, even as it deals with the harsher truths of our society. Following one woman's misguided journey to become the internet's next trending personality, the film is a satirical cautionary tale that reflects how skewed social media personas influence the reality in which we live. Starring Zoey Deutch (Danni Sanders), Dylan O'Brien (Colin), and Mia Issac (Rowan), the characters are connected through their collective use of the internet to cope with trauma. 
It was this absurd contrast between scrolling frightening headlines, influencer scandals, and shiny beauty advertorials, as well as the resulting information overload, that sparked Shephard's concept for the project. "Weirdly, I was like, 'When they finally pass laws and stop school shootings, stop all of it, then this movie won't be relevant anymore, and it'll be great,'" she says. Instead, "it keeps becoming more relevant, which is tragic."
Hailing from Metuchen, New Jersey, Shephard performed as an actress before pivoting to filmmaking exclusively. She's appeared in films such as Unaccompanied Minors, in which she portrayed the sensitive yet tough tomboy Donna Malone, and The Miseducation of Cameron Post, where she played the lead's best friend with benefits. The 27-year-old creative made her directorial debut with her feature film Blame about a taboo relationship between a drama teacher and an unstable student, which she also wrote, produced, starred in, and edited. Shephard often creates manifold characters who are forced to make choices about the right or wrong ways to act in an effort to grapple with difficult themes such as bullying, abuse, and the addictive nature of popularity. 
"I consider myself a very political person," she says. "Talking about important topics is really crucial to me and my art." And with Not Okay, that starts with the need to see more nuanced takes on womanhood on-screen, even unlikable ones.
MTV News: You've directed Not Okay, your second major film, at only 27 years old. What initially made you pivot to directing?
Quinn Shephard: I was an actress from a really young age. My mom got me into acting when I was young and managed me for a few years. I made my first film, Blame, when I was 20, and my mom and I produced it together. She raised me to love film. We always watched foreign films in my house, and other movies, almost every night. Outside of such a great '80s and '90s film education, she showed me all of the old Winona Ryder films — Heathers, The Virgin Suicides, Heavenly Creatures. All of these movies impacted me when I was a teenager.
I started to take film classes when I was in middle school, just a film program at a public school in New Jersey. I always felt really safe on set. I felt like it was a place where I could geek out about movies. It was always me and six guys doing costume makeup and running around with cameras and boom mics just being idiots. It was so much fun, and it was always where I really just felt happy. I knew it was the one place where I could combine all my passions and all the different art forms I enjoy.
MTV News: What inspired you to make this film and focus on social media?
Shephard: It was honestly something that came from the world around me at the time I started working on it. It was around 2018 when I was writing the first draft of the script, so it was simultaneously "Summer of Scam," Caroline Calloway articles, but then also this massive rise in violence and Trump-era politics. I'd go on Twitter and see that next to skincare ads and influencers, and it was very bizarre. I was feeling angry and anxious and wanted to talk about that feeling that so many young people were going through at the time. It was like you couldn't look away from your phone, doomscrolling, yet when you were on your phone, you felt it was almost detached from reality. Writing the script felt like a way to take the darkness and the absurd levity that we were living with on a daily basis and the resulting anxiety and combine that into a film concept.
MTV News: I love that the film stars an unlikable female protagonist. What made you want to go in that direction?
Shephard: I always love a complicated, morally gray, unlikable woman at the center of a story. We don't see it enough. I love satire! We've had so many iconic satirical films with extremely unlikable men at the center, like [American Psycho's] Patrick Bateman-level unlikable men, and there's never been an issue with people understanding where those films stand politically. Men have been used as vessels for satire for a long time. It really excited me to get to do a film like this that had a commitment to having an unlikable woman who does a lot of problematic things, which are also very specific to being a young woman on the internet. It's a little polarizing. Some people are like, "Why would you put a woman in this movie?" I'm like, "Why not?"
MTV News: Not Okay seems to ask people to examine their personal feelings about cancel culture through Danni's dilemma. What do you want viewers to take away from this film?
Shephard: There's no one right answer on social media or cancel culture. I think they're both complicated topics. There's no world in which I want people to watch this movie and be like, "Oh, throw your phone away in the ocean. Your phone is evil." It was more about gaining a real awareness of and a sense of humor about the absurdity of the internet, and also really understanding how it magnifies what we're feeling as a country right now. As young people living in America, I think the internet is a magnifying glass on our emotions, privileges, and biases. All of that impacts the media we consume on a daily basis. It impacts who we are.
I think it's the same with cancel culture. It can be an incredibly toxic practice where we're, like, sending rape and death threats to women, which is not a solution for them making a mistake. That's not going to help them grow. On the other side, holding people accountable for their actions is really important. The film was a lot about exploring something that we're living with now — it's a real part of our world.  I really wanted to explore, "What is a satisfying end for a character like this? What is the best we can hope for? Is watching them suffer satisfying for an audience? Is watching them have a happy ending a good ending?" I wanted to toe that line and see where we landed with the story.
As young people living in America, I think the internet is a magnifying glass on our emotions, privileges, and biases. All of that impacts the media we consume on a daily basis. It impacts who we are.
MTV News: Mia Issac brought fire and passion to her role as Rowan, a gun control advocate dealing with trauma. What was it like to work with her?
Shephard: Mia is incredible. Her performance in the film is so beautiful. Working with her on set was such an honor. She was so young, just 17 when we filmed, and this was her second acting project ever. She brings all of herself every day. Every scene we'd work on, she'd have playlists. We'd sit and talk through the moments and the emotions her character was going through. It was really easy to work with her. I think she really connected with Rowan on a deep level. It was that fire and passion that drew me to her for the role, and she just rocked.
MTV News: Zoey Deutch and Dylan O'Brien add nuance to their roles as Danni and Colin. Why did you choose them to portray these characters?
Shephard: I think that Dylan hadn't really played a role similar to this before, but he's such a talented comedic actor. He's also so great in drama. For me, it was a gut instinct. We had a similar vision of the role. I did a Zoom meeting with him and I could just tell that he had a great sense of humor and knew who this guy was in the same way that I did. We were both like, "Pete Davidson. Justin Bieber. Machine Gun Kelly. Blond hair, tattoos." We were really excited and sent each other the most ridiculous outfit photos and instantly vibed. I knew he was going to really transform himself and he genuinely did. He's kind of unrecognizable in the character in a great way.
With Zoey, I loved her work in so many projects. I loved her in Flower. I saw an ad for its Tribeca premiere and I really loved that performance. It was in my mind when I was writing Not Okay. I was seeing her in my head when I was working on it because she's so great at being an incredibly brave actress who isn't afraid to play unlikable women but also brings lovability and vulnerability to all her characters. This is no different. She committed so hard to Danni. The fact that she can be so cringe in one moment and then you really feel for her in the next, that's something very special.
MTV News: Has making Not Okay changed your own relationship with social media?
Shephard: I genuinely wish that I could be like, "Yeah, I'm not on Instagram anymore." But the problem is the movie has made me more online because the research for it required me to be immersed in the internet. I'm always on my phone because I'm always trying to keep up with the trends and what's on TikTok. I was in my hotel room and I was like, "I gotta get a 'fit pic." I was like, "Oh my god, I'm literally becoming Danni." Maybe after the press, I'll take a social media cleanse. Thank you for reminding me.
MTV News: Not Okay can be categorized as a political film. Do you see yourself making films that are similarly concerned with politics in the future?
Shephard: It's funny, I consider Not Okay a fairly political film. My next project, which I can't share too much about yet, is a story that I think also has a lot of social and political themes. It's hard to say whether I'd do a film that's marketed as that, because I like to Trojan horse people with something that feels entertaining but ends up making them confront a lot of social issues by the end.