Bop Shop: Songs From Macy Rodman, Victoria Monét, Spencer., And More
Summer, summer, and more summer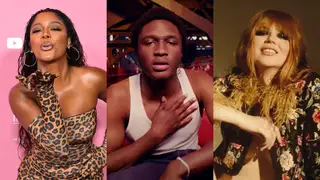 The search for the ever-elusive "bop" is difficult. Playlists and streaming-service recommendations can only do so much. They often leave a lingering question: Are these songs really good, or are they just new?
Enter Bop Shop, a hand-picked selection of songs from the MTV News team. This weekly collection doesn't discriminate by genre and can include anything — it's a snapshot of what's on our minds and what sounds good. We'll keep it fresh with the latest music, but expect a few oldies (but goodies) every once in a while, too. Get ready: The Bop Shop is now open for business.
If you're Filipino, your parents and your titos and titas might have grown up hearing Gary Valenciano's music. Well, it runs in the family, and his daughter Kiana V has an empowering heartbreak anthem not just for herself but also a new generation. On "Better," she is tired of waiting and staying for someone who keeps hurting and taking advantage of her: "But why would I beg for you if you're not / Who you said you were when we started off / If you wanna leave then I won't force you to stay." The R&B ambient vibes she brings to the song fit perfectly in her self-discovery journey in finding peace and gaining newfound strength. Good riddance to whoever brought her pain. —Athena Serrano
It only takes two minutes to understand Spencer.'s appeal. On the humid, springy "MyLuv," the Rochester native (currently based in Bed-Stuy) spans a nocturnal neo-soul backbeat, guitar lines that wobble like curly fries, and warm horns that rise up like on string bulbs for a summer night. It encapsulates the artist himself, a prodigious talent whose engrossing new album Are U Down? drops September 10. —Patrick Hosken
Macy Rodman: "Rock 'N' Roll Gay Guy"
On this '90s-inspired bop, Macy Rodman pays homage to one of the cornerstones of queer and trans culture: hooking up with your friends. "We can be friends, can be lovers / Be my friend under the covers / No need to tell all the others, it'll be fine," croons the sultry-voiced New York nightlife legend-turned-singer-songwriter. I can't decide what I love more: the song's fun, flirty vibes or Rodman's exquisitely campy visuals. —Sam Manzella
Baby Queen: "Dover Beach"
Baby Queen can't shake the ghost of a past relationship in her retro and romantic video for "Dover Beach," and honestly, when the heartbreak inspires a bop this good, I'm not sure I want her to. From incompatible star signs to imaginary conversations, the London-based pop singer crams every detail of her haunted being into candid and diaristic lyrics, though her delivery sounds like a dreamy stream of consciousness. "I swear I'm gonna lose it / If I keep playing your music / But what else is there to do?" she wonders before admitting, "Everywhere I look, I just see you." With a synthy production and a triumphant chorus, it's no surprise the track is just as all-encompassing as the ex who inspired it. —Carson Mlnarik
Pet Symmetry: "2021: A Personal Space Odyssey"
Pet Symmetry? More like Pet Synergy! The latest tune from the great Chicago power trio has a high-key space theme — echoed visually in the video by the members' futuristic silver suits. The newest Pet Symmetry album, of course, is called Future Suits and it drops August 13. If you're into the high-stakes, borderline apocalyptic drama of this absolute ripper, and if you're feeling the guitar solo, now's a good time to get involved. Power pop at the end of the world? Sign me up. —Patrick Hosken
Victoria Monét: "Coastin'"
The Grammy-winning pop-R&B singer is throwin' it back and reinventing '70s funk. With "Coastin," a groovy summer single, Victoria Monét is thinking of time to spend with her boo and going in all directions — north, south, east, west — with them ("Just let my hips take you on a trip"). In a way, this new single is a celebration of freedom in being able to travel coast to coast again after the hell of a pandemic year. —Athena Serrano
Ryan James Brewer: "Limits of the Heart"
Forgive me for saying that this sounds like summer, but I mean, this sounds just like summer! There's not an ounce of twang in Nashville-based Ryan James Brewer's "Limits of the Heart," and the chillwave-adjacent tune is very worthy of its hazy, beachy, rollerskating music video (thanks to superstar Ivy Briana Price). His debut album, Tender, is out September 24. —Patrick Hosken
Canadian alt-emo singer Nghtfall dives deep into their personal experiences with how being non-binary can be difficult in dating and friendships. "I wanted to know what it's like in your room / I wanna know what it's like to be you," they sing, touching upon how certain people don't have to worry about being discriminated against. There is always that fear about being accepted for their queerness. This track is reassurance that they are not alone in worrying. —Athena Serrano