Logic's VMA Performance Was A Powerful Protest Against Immigrant Family Separation
We are all human beings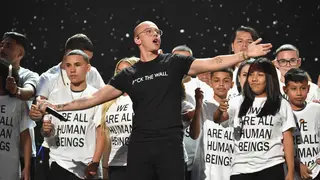 Logic triumphantly walked into the MTV Video Music Awards tonight (August 20) on a mission. Followed by 60 Latinx children wearing "we are all human beings" shirts, the Maryland rapper launched into a meaningful performance of "One Day" featuring Ryan Tedder. The moment was an artistic statement, which symbolized why so many Americans oppose the Trump administration's misguided family separation policy.
As Logic rapped onstage with Latinx children behind him, a video screen featuring a border wall started to rise symbolically. When the song reached its mighty crescendo the children reunited with their parents, standing in solidarity against the injustice countless immigrants are currently facing. Last week, the Nobody rapper released the "One Day" music video. It details the gripping story of a boy who is separated from his family at the U.S. border and the trials he faces in a detention center.
Logic isn't new to using his platform at award shows to advocate for important messages. At the 2017 VMAs, he performed "1-800-273-8255" with Khalid and Alessia Cara, and was accompanied onstage by suicide attempt survivors and loss survivors. The words he said a year ago still resonate, "We must fight for the equality of every man, woman, and child, regardless of race, religion, color, creed, or sexual orientation."
In 2018 those words are even more important.