'Ex On The Beach' Premiere: Will Chase Give Victoria A Chance?
Girlfriend faces one major obstacle, and her name is Skyler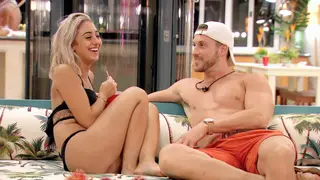 "This perpetual bachelor is guaranteed to keep temperatures rising in the villa." You can say that again.
During tonight's Ex on the Beach series premiere, self-proclaimed f**kboy (and Bachelorette vet) Chase found himself in the middle of two ladies: His ex Skyler and fellow single/fashion influencer Victoria. This beach has a love triangle a brewing...
Here's how this relations**t tale began: As soon as Victoria started talking to Chase (after all of the singles swam ashore arrived), she demanded he lose his shirt, revealed how physically attracted she was to him and gleefully declared, "I love him." And there was her admission to the other gals that she's commented on his Instagram account with messages about having his children.
So what was Chase's take on the bubbly 22-year-old?
"I think Victoria is adorable and entertaining -- in some ways," he stated in a separate interview. Code for..."Yeah, I'm used to this type of attention from girls, and I'm not exactly feeling this particular gal."
As the evening progressed, Victoria was even more forward and, to quote Chase, "coming on strong." But Chase admitted to Big Brother alum Paulie that Victoria was "obnoxious" -- after he gave her a hug (and what appeared to be a smooch) on the couch. Mixed messages much?
Before long, though, the honeymoon getting-to-know-you period was interrupted -- by Skyler.
"I'm a wild child," she admitted. "I'm here because I want him to see a mature side of me. I'd love to have another shot with Chase."
But there's a reason why these two broke up -- Chase stated it was because he needed to "slow down," while Skyler was not at that point in her life. Even so, he was open to the idea of exploring their past spark, although work would be required in order to have a sustainable relationship. And the beach catch-up chat ended with (what else?) a kiss. We will let Vanderpump Rules star Faith perfectly sum up the situation:
"So Victoria has been chasing Chase all night, and then Cameron Diaz comes flying out the water like Charlie's Angels, and Victoria is at a slow jog."
But back to Victoria. She made it abundantly clear that she won't allow Skyler to stand in her way and was hellbent on still pursuing Chase. But do you think she even has a shot now that Skyler is in Hawaii and she and Chase want to give their romance another go? Share your thoughts in the comments, and be sure to keep watching Ex on the Beach every Thursday at 9/8c.