World Premiere: Meet Ronnie Ortiz-Magro's Baby Girl
The proud dad just posted a photo of his brand-new 'Jersey' gal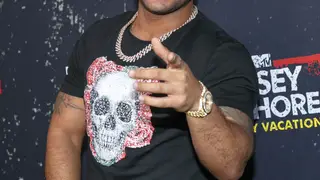 Ronnie Ortiz-Magro has a special little someone he would like the world to meet.
The Jersey Shore Family Vacation cast member -- who you can watch every Jerzday Thursday with his roomies -- is proudly introducing his baby daughter in the heartwarming Instagram photo below. Adorable filter/hearts included.
Baby Ariana made her highly anticipated debut on April 3, slightly before her scheduled due date (and the global premiere of her daddy's big return to MTV). Ron and the baby's mother Jen Harley first shared on Christmas Eve that they would soon be parents. Ron also shared his sentiments about having a petite princess after seeing pink feathers at a gender-reveal bash -- via a series of his trademark hashtags (as seen below).
"Fatherhood has surprised me in many ways," he told MTV News shortly after Ariana's arrival. "You love all of these people throughout your life, and then you finally have a baby and you start to realize what real love is. I look at her, and I'm like, 'I made that. That came from me.'"
Next thing we know this precious kiddo will be wearing leopard/zebra (like her aunts Snooki & JWOWW). Offer your congrats to Ron and his loved ones in the comments, and don't miss him -- and his cohorts -- every Thursday on Jersey Shore Family Vacation at 8/7c.