Bop Shop: Songs From Snail Mail, Wonho, Tems, And More
And Vince Staples asks the important question: "Are You With That?"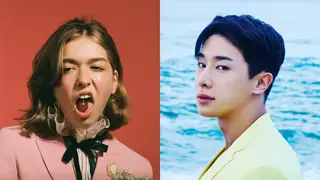 The search for the ever-elusive "bop" is difficult. Playlists and streaming-service recommendations can only do so much. They often leave a lingering question: Are these songs really good, or are they just new?
Enter Bop Shop, a hand-picked selection of songs from the MTV News team. This weekly collection doesn't discriminate by genre and can include anything — it's a snapshot of what's on our minds and what sounds good. We'll keep it fresh with the latest music, but expect a few oldies (but goodies) every once in a while, too. Get ready: The Bop Shop is now open for business.
The power of Lindsey Jordan's Snail Mail project has always resided in her voice — specifically in how she boosts it on just the right syllables for maximum impact. On "Valentine," the title track to her sophomore LP out November 5, it comes down like a hammer on the first chorus. "So why'd you wanna erase me!?" she exclaims as the guitars finally hit after a minute of synthy, sensual mood-setting. The song comes complete with an awesomely melodramatic, period-set music video that ends in enough cartoonish bloodshed to match the song's deep pangs of sorrow and heartache. Only five more months until Valentine's Day! —Patrick Hosken
If anyone can get a K-pop stan to even remotely care about sports, it's Wonho in a football uniform. His new single "Blue," the title track of his sophomore mini-album Blue Letter, displays the soloist in a completely new light, both sonically and visually. As the start of his new era, "Blue" explores happier, more optimistic themes compared to the darker concepts he explored in his past few releases. "We are young, we are dumb, we'll just party all night long," he sings, representing an extremely different state of mind. Accompanied by a lighthearted, campy, sports-themed music video, Wonho turns over a new leaf and enters this comeback with joy, spirit, and confidence. —Sarina Bhutani
Vince Staples: "Are You With That?"
Vince Staples has always plainly been a Black man from Compton, a rapper who speaks to the darker sides of the things you see when upward mobility isn't nearly as abundant as the looming threat of violence and death. It can be commonplace in rap to glorify street life and its hard-won badges of strength. But Vince Staples, his fourth album, drawls and slumps with resignation. On the swirling opener "Are You With That?" he is consumed with, and depressed by, the draining premise of his own survival. He visits the graveyards of his lost friends, recalling how he aimed to follow their footsteps, growing up wanting to be a thug far more than a famous artist. He acknowledges the probability of his own death, envisioning his friends treating his candlelight vigil like a wild club night. "Hope you watchin' your back," the song chants, delivered more like a sad mantra than a sharp warning. None of this is exalted; it doesn't reach for any particular fear, or joy, or remorse. For him, and for so many others, it's simply the way things are. —Terron Moore
A deceptively upbeat offering from Cold War Kids, "Always" thrums with an undercurrent of nervous energy, mirroring the anxiety many of us are now navigating as the world reopens post-vaccine. "My expectations have expanded uncontrollably / You are the one that puts my feet down in reality," lead singer Nathan Willett intones over lilting keys. It's less an ode to a supportive partner and more a reminder directed inward. After all, leaning on each other during these unprecedented times is "what we do we get by." —Sam Manzella
Tems ft. Brent Faiyaz: "Found"
Nigerian songwriter/producer Tems is having a great September. Fresh off the stunning Drake collab "Fountains," she released her second EP, If Orange Was a Place, earlier this week, complete with the dreamy "Found." Grounded by a gracefully plucked nylon-string guitar, the song is essentially a duet with Brent Faiyaz, but Tems haunts the entire runtime, even when she's not actively singing. When she is, the alchemy is palpable. It's just enough to make you swoon. —Patrick Hosken
London-based singer-songwriter Dexter offers up a groovy slice of self-empowerment without the saccharine on "I Like Me." Armed with two chords, the truth, and a voice that feels approachable yet entirely authoritative, she examines the rules of femininity and the places she feels she falls short. "What if I was girly and my hips were really curvy / And I walked around and strutted in the place?" she wonders, before resolving that, "It doesn't matter because I like me anyway." It's a refreshing take on self worth and acceptance, acknowledging the what ifs that plague us while settling on authenticity over a smooth beat. —Carson Mlnarik
Matt Copley & No Resolve: "The Greatest Show"
Broadway buffs and emo kids alike will dig this new track from composer, vocalist, and Unwell frontman Matt Copley backed by No Resolve. "The Greatest Show" is a cover from the 2017 movie musical The Greatest Showman with a surprising pop-punk twist. Copley's creative arrangements paired with his undeniable charisma and stage presence make his latest album Broadway Does Punk (and all of his projects, frankly) impossible to ignore. But you don't have to take my word for it — millions on TikTok and Instagram have already cosigned. —Farah Zermane
If you simply can't get enough wiggly, fidgety, British post-punk in the vein of Dry Cleaning and Black Midi, you're gonna want to know Yard Act. You're gonna want to embrace the pure Jarvis Cocker energy frontman James Smith deploys on "The Overload," the title track to their upcoming new album to be released by Island Records. And you're gonna want to play it again and again and get lost in its spinning, frantic carnival. —Patrick Hosken