'You're Growing On Me': 'The Hills'' Audrina Shares A First Kiss With Sean
Watch a sneak peek of 'New Beginnings' now!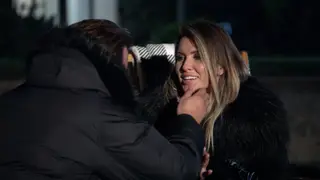 Heidi may have set up Audrina with Sean, but Spencer did his part to bring the possible couple together by inviting Rod Stewart's son to the crew's Hills getaway in San Diego. And in a sneak peek of tonight's New Beginnings episode, Audrina and Sean are getting candid (and flirty) by the campfire.
"I really enjoy talking to you -- I've never met someone that has the same type of personality," Sean tells Audrina. "Forget like how beautiful, because you're a very beautiful girl inside and out."
"Thank you," Audrina replies.
While Sean can tell that Audrina is being shy (she agrees), she does admit he's "growing" on her.
And after a bit more back and forth about the topic of love, they kiss. Who initiated the PDA? Watch the clip -- and find out how their relationship evolves on a brand-new episode of The Hills: New Beginnings tonight at 9/8c.