'Jersey Shore: Family Vacation' Poll: Who's The Ultimate Prank Champion?
Pauly D and Snooki went head-to-head -- with a lot of assistance from Angelina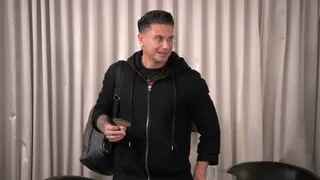 Looks like the prank war champion just got duped.
When Pauly D left his Jersey Shore: Family Vacation Part 2 roommates alone for a night of beat juggling, little did he know he'd have a Staten Island surprise waiting for him upon his return.
We admit it: Angelina's entire Vegas arrival wasn't a total shocker (unlike Pauly's epic Miami prank) -- Snooki did openly invite the "dirty little hamster" along in an effort to "be nice." But letting the meatloaf marinate in Pauly's bed after a long, sweaty night of dancing, unbeknownst to the DJ? Let's just say the Angelina prank bar has been raised and then some.
"I think this prank is better than his because he only brought her to the house that day," explained Ronnie. "Now she's in his bed, and she slept in it. She didn't even shower." Oh, and she went commando.
Needless to say, Pauly (who is typically all smiles), was less than thrilled with his Staten Island souvenir.
"WHAT THE HELL?! That's my bed!" he shouted, before proclaiming he'd have to burn his mattress. "That's disgusting. This girl's hygiene is questionable. I'm too OCD for that."
But the good-natured DJ wasn't about to give up his reigning title (or his bed) that easily. Rather than personally search the sheets for skid marks, he retaliated by calling the hotel's turndown service.
"My bed was soiled. There was a Staten Island dump that occurred there last night," he told the operator, also requesting hazmat suits and a brand-new mattress.
Frankly, we're still laughing at Snooki's prank -- but was her stunt better than Pauly's? Who's the real prank war champions on Family Vacation? Take our poll below, then tune in to an all-new episode next Jerzday Thursday at 8/7c.