Cardi, Kylie, And All The Campiest Looks From The 2019 Met Gala
There were bright colors, feathers, beads, and even bananas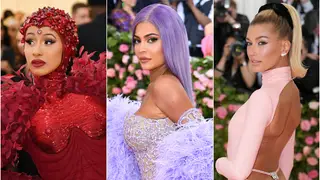 Fashion's biggest night has come again! The Met Gala has returned for a glorious night of fanciful looks fitting this year's theme, "Camp: Notes on Fashion." Some of Hollywood's best and brightest have trekked to New York City's Metropolitan Museum of Art to be a part of Vogue's annual event.
From Kendall and Kylie's matching styles to the Riverdale couples that hit the carpet arm in arm, here are all the looks you just can't miss.
Kendall and Kylie teamed up for their complementary looks, with Kendall's orange beaded number turning into a feathered explosion by her shoulders and feet, and Kylie's lavender knit dress weighed down with a matching fur on her arms.
Lizzo made her Met Gala debut in an outfit fit for a queen! The artist cloaked her pretty pink dress in a luxurious fur and topped it off with bright pink hair.
Miley Cyrus and Liam Hemsworth
Whereas Liam opted for a simple black tux, Miley leaned into the theme with a structured emerald-and-black striped mini dress.
The rapper's maroon gown was complete with a cushioned train that required a team of people to perfectly lay it out around her nipped frame.
Cole Sprouse and Lili Reinhart
One year after their red carpet couple debut, Riverdale's beloved duo decided to have some fun with their looks tonight. Cole rocked a floral-embroidered maroon suit with his finger-waved hair, while Lili took glam inspiration from Marie Antoinette in a light blue romper with an oversized train.
Charles Melton and Camila Mendes
Representing another Riverdale love connection, Charles and Camila posed together in complementary looks: He in a sparkling navy suit, and she in a sweet yellow feathered gown.
Nicki was in pink from her ponytail all the way to the end of her long, long train.
Nick Jonas and Priyanka Chopra Jonas
The Jonas Brother paired his white suit with a soul patch and budding 'stache, while the Jonas sister accentuated the various textures of her gown with a spindly crown.
Joe Jonas and Sophie Turner
In order Jonas news, the newlyweds coordinated their primary-colored outfits — Joe in a sleek turtleneck and Sophie in a sequined jumpsuit.
Zendaya fully embraced her night as Cinderella, completing her light-up ballgown with a horse-drawn carriage purse and glass (looking) slippers — one of which she lost as she headed up the stairs into the ball.
Mrs. Bieber made a statement in a baby pink gown with her back completely exposed — all the way down to her matching thong.
Kim Kardashian West and Kanye West
Kim showed off her tight physique in a nude dress draped in crystals, while Kanye opted for a more casual black zipped-up jacket.
The pop star lightened up the mood by putting a chandelier atop her head and around the waist of her crystal-covered mini dress.
While most men opted for subtlety, Darren went all in with an exquisitely beaded jacket, oversized bow around his neck, and dramatic winged makeup.
Awkwafina was a golden goddess in a crisp pleated gown with heavily adorned shoulders.[/items]
The Dirty Computer artist had an extra pair of eyes looking out. She paired her abstract dress with a stack of hats, because two faces absolutely requires more than one topper.
All eyes were on Ezra as he walked the carpet — literally. The actor had two extra sets and one third eye, turning his face into a psychedelic masterpiece.
The supermodel dressed the part in a long-sleeved bodysuit with a dramatic floor-length cape and a matching cap. But even though she was covered in a metallic print, it was her eyes that really popped, lined with long white lashes.
Halsey matched her flowing red gown with long dark hair and Wonder Woman-inspired gold cuffs all up her arms.
The Rainbow singer stuck to one color tonight — pink! She channeled none other than Barbie to perfect her look, from her long blonde hair all the way down to her silver-tipped toes.
The Charlie's Angels actress topped her sequins-covered look with sunrise-toned hair.
Rather than deal with a long train on her dress, Tessa instead opted to turn her ponytail into a dramatic whip.
Hailee's lavender and green gown was cheekily captioned "No Photos Please" as she posed with her very own camera on the carpet.
The Grown-ish star had her hair piled high as she covered her formal bodysuit and beaded tights with an oversized feathered coat.
On a night full of interesting headpieces, Cara's was certainly noteworthy. The model topped her rainbow-striped outfit with bananas, chattering teeth, and eyeballs.