Bop Shop Queer Music Week Edition: Songs From Princess Nokia, Jan, And More
Welcome to your Queer Music Week (and Pride Month) soundtrack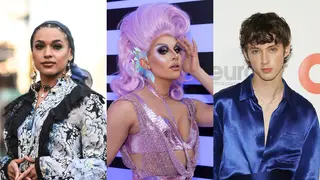 The search for the ever-elusive "bop" is difficult. Playlists and streaming-service recommendations can only do so much. They often leave a lingering question: Are these songs really good, or are they just new?
Now, for this week's music round-up, we shine the spotlight on LGBTQ+ musicians making art that feels vital to this moment. Get ready: The Queer Music Week Bop Shop is open for business.
Mykki Blanco ft. Big Freedia: "That's Folks"
"She definitely paved the way for a lot of us," Mykki Blanco recently told MTV News about Big Freedia's impact in the queer music space. That power is on full display for "That's Folks," a dynamic team-up between both talents that closes out Blanco's newest release, Broken Hearts & Beauty Sleep. The flexing on each respective verse keeps the air celebratory — thanks to a beat that really breathes — but the real party lies in the shout-outs to friends and family that most of the song is devoted to. As the song goes, "Don't disrespect my girls when they in Freedia world." —Patrick Hosken
Kat Cunning's latest single goes out to all the "beautiful, beautiful, beautiful, beautiful boys." The pro-transgender anthem is Born This Way-era Lady Gaga meets Muna, marrying Cunning's poetic, uplifting lyrics with ethereal dance-pop instrumentals. Hit play on the aesthetic visuals for a brief but lovely sojourn into the nonbinary singer-songwriter's transmasculine-inclusive paradise. —Sam Manzella
Jayli Wolf: "Would You Die"
There are layers to Indigenous queer pop singer Jayli Wolf's debut solo EP, Wild Whisper. Between her childhood in a doomsday cult, to coming to terms with her sexual identity, and reacquainting herself with her heritage, the Toronto-based artist packs a mighty punch with all six tracks, though its themes hit hardest on "Would You Die." Its haunting visual, which Wolf directed, illustrates the ways in which we bring our baggage to every new relationship, shedding armor and revealing our deepest secrets, always with the possibility of creating new scars. "Now you know my secrets / I'm haunted by a stranger," she sings over a glitchy and psychedelic slow-moving track. Still, Wolf seems to find the answer to her own question from within: Love for oneself cannot be superseded. —Carson Mlnarik
Jan (ft. Alaska & Peppermint): "(Put Your) Gay Hands Up"
Jan returns to the workroom this week on the latest season of RuPaul's Drag Race All Stars, but she has enlisted some true Drag Race legends — Alaska and Peppermint — to accompany her on the new track, "(Put Your) Gay Hands Up." When a drag queen releases new music, you never know what to expect, but Jan's new jam is a pleasant surprise, an Italo disco Cerrone-inspired dance track. Alaska is on hand to provide a shady vodka-soaked rap, but it's when the goddess Peppermint, dressed in trans Pride flag colors, appears to deliver an ethereal bridge that the song ascends to a dreamy disco heaven. Leave it to Drag Race queens to provide the perfect Pride weekend soundtrack. —Chris Rudolph
Troye Sivan has easily become one of the LGTBQ community's favorite pop artists. His free-spirited dance record "Bloom" could transcend anyone into a state of pure happiness. The bright and eclectic fashion in the visual personifies the fun-filled lyrics all about falling in love. If you ever need a pick-me-up or decide to profess your love to someone, this song will definitely do the trick. —Taura J
Todrick Hall: "Rainin' Fellas"
Todrick Hall manages to make an even gayer sequel to The Weather Girls hit classic "It's Raining Men." With its catchy dance-pop beats, this homage celebrates Hall's unapologetic love for all beautiful, gorgeous men. The fabulous music video even goes all out with its epic choreography, bringing glitter, colorful visuals, and a diverse wardrobe. The Weather Girls would be so proud. —Athena Serrano
Sub-Radio: "King of My Heart"
At this point, LGBTQ+ representation is fairly embedded in the bloodline of mainstream pop and dance music, but it can feel like a rare find in other genres. Maybe that's what makes the six-man band Sub-Radio's "King of My Heart" feel so special, a humble ode to the guy who has the key to your body. When lead singer Adam Bradley (who identifies as bisexual) sings "Look at me, babe / Everywhere you see the light touch, that's yours," I haven't heard a sweeter moment in music this year, man-on-man or otherwise. —Terron Moore
Rostam: "Fruits of My Labor" (Lucinda Williams cover)
Rostam was coy about recording his gorgeously vibey take on Lucinda Williams's tender "Fruits of My Labor" when we spoke earlier this year. I can see why: It was better kept as a surprise, a meticulously crafted new spin on a highly loveable song that radiates warmth. (Yes, it's got saxophone on it.) Press play and start swooning. —Patrick Hosken
Biianco promises "songs to dance and ugly cry to," and their latest offering "Checkmate" is no exception. Cultivating the best sensibilities of what alternative and dream pop have to offer and throwing in a crackling beat that won't quit, they weave a hypnotizing story of an all-encompassing love gone wrong at the final moment. Its dark and chilling video takes the eerie vibe to another level, evoking horror film aesthetics 'til they fall apart completely in the song's hair-raising bridge. What's scarier than falling head over heels only for a lover to call endgame? —Carson Mlnarik
Princess Nokia: "It's Not My Fault"
"It's not my fault that I'm that bitch" is Princess Nokia's self-applied motto on her latest, a two-minute passing shower that'll leave you soaked. She shouts out Gwen Stefani, N.E.R.D., and J.Lo and declares herself "God's favorite flavor." After the year she's had so far — "Slumber Party," anyone? — the fitting braggadocio is a blast. —Patrick Hosken