Nicki Minaj Made The Most Dramatic, Majestic Entrance For Her EMA Performance
She and Little Mix got the party started in 'good form'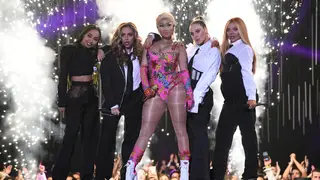 You may have noticed that Nicki Minaj didn't grace the red carpet at the 2018 MTV EMA on Sunday night (November 4), but that's for very good reason — she had a hell of a performance to get ready for. The Queen rapper spared no drama while opening the star-studded awards show, kicking off the festivities with slick choreo, sparks, and Britain's hottest girl group.
Nicki's performance got underway in theatrical fashion, with cloaked figures forming a circle around the stage. As chants of "majesty" filled the arena in Bilbao, Spain, she descended from the ceiling surrounded by showers of golden sparks and wearing an embellished pink leotard. She and her crew of dancers launched right into the Queen cut "Good Form," before ceding the stage to Little Mix, who busted out some Michael Jackson-esque moves for their empowering new single, "Woman Like Me." Naturally, Nicki chimed in with her verse before joining the girls for an explosive final chorus, punctuated by a sassy claw move. NM + LM = EMA royalty.
Earlier in the night, Minaj took home the EMA for Best Look, besting fellow nominees Dua Lipa, Migos, Post Malone, and Cardi B. See the full list of winners here, and catch the entire show at 7 p.m. ET on MTV or stream on MTVEMA.com!