This Florida Teen Is Throwing A Dream Concert To Benefit Parkland Victims' Families
Emilie Smith tells MTV News how, along with her friends, she's fundraising for activism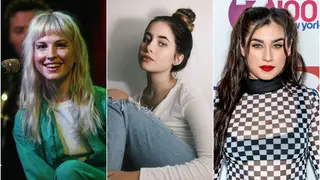 A week after a horrific shooting at Marjory Stoneman Douglas High School in Parkland, Florida killed 17 people — among them students, a teacher, a coach, and an administrator — survivors and supporters rallied outside the state capitol in Tallahassee to push for gun reform. One of them was 18-year-old senior Emilie Smith, who attends nearby North Broward Preparatory School.
After talking with some local Broward County friends, Smith decided they could all help their community in another way, by raising funds to put on a benefit concert for the victims' families — reminiscent of Ariana Grande's One Love Manchester and A Concert for Charlottesville in 2017.
Emilie Smith
Between homework and the other rigors of being a high-school student, Smith told MTV News she's working hard to get the show's logistics settled. Below, in her own words, she reveals how she's doing it, what's inspiring her, and why it matters.
---
I'm really into music. I like to sing. I play the piano and guitar. So my whole life, I've really relied on music to find stability and healing, and that's been a huge part of my life. So I thought about it. I said, well, why don't we have a concert for this community? Why don't we use music the way it's helped me?
And my friend Sebastian, he's an alumni from Douglas. He texted me the same day I thought about it, saying, "We should have a benefit concert." And I was totally on board. I thought it was a great idea, so we got things moving pretty fast. I mean, we've only been at this for four days, so yeah, really just the healing qualities of music. The community could really use that right now, so I thought it'd be a great idea.
One of [Sebastian's] close friends Alyssa Alhadeff passed away in the shooting. I have a ton of friends who were really close with Joaquin [Oliver], we call him Guac. I have some friends who knew Jaime Guttenberg through dance. They were really close, and it's hard to watch these people so upset and hard to watch your community kind of crumble. It's very sad, but we have to turn it into something productive.
[The Tallahassee march on February 21] was extremely eye-opening. I found out about it the night before we left, and we left at 8 a.m. on a bus, so it was already 11 p.m. when I found out about it. I packed in five minutes, went to bed, and got on the bus with my friend Natalie. And we really didn't know what to expect when we got there. There's so much support. There were high schoolers there welcoming us, saying, "We're here for you." The vigil had hundreds of people at it. It's so different than sitting at home talking to your friends, when you travel somewhere else and you actually see all of these people supporting you. They already know all about your community, about you and why you're there, and they're supporting you, and it's incredible.
But the actual part where we talked to legislators was a little frustrating at first because there are so many that are against gun control. They're against gun legislation, and a few of them actually didn't wanna talk to us at all. They said they had a meeting and were like, "We can't talk." That was frustrating, but then again, there were legislators that were very supportive and had a lot of great ideas that we agreed with for gun control.
But the legislators we did not agree with, they kind of went off about, "Oh yeah, we can do stuff about mental health. We can have better background checks," and they mentioned arming teachers, and I am very against that because for one, there are a lot of things that go into that. For example, teachers aren't trained to carry firearms. And also, I myself and my friends would feel more uncomfortable going to school knowing that our teachers had guns.
That was discouraging when we voiced our opinions and they basically said, "No, you're wrong." We're still gonna keep going. We're not gonna stop pushing for the change that we need, pushing for gun control.
There was the rally on the last day that was absolutely incredible. The county actually canceled school in the entire county for all the students to come to the rally. I think there was over 3,000 people that came and the majority of them were students. I have chills talking about it right now.
Looking out and seeing all these people, the kids just crying and staring at us, and they had signs, and it was so powerful. Listening to my friends give their speeches — they're so brave, and I'm so proud of every single person here who's doing something about this. It was an incredible experience.
I actually got the idea [for the benefit concert] while I was there. I was talking to my friend Natalie, and it was kind of just a "what if" at that point: "What if there was a benefit concert?" I just kind of let it go. I was thinking about it for a day or so, and then I got back, and my friend Sebastian mentioned it, and I said I would absolutely love that. I was thinking about that two days ago. That's how it started.
I didn't expect this big of a reaction. Hayley from Paramore literally direct-messaged me on Twitter and I screamed so loud. I mean, I love her. My friends and I love her. We're so excited. I've gotten so many emails from my favorite bands that I listen to every day, like in the car on my way to school and on the way back. It's completely surreal, and I didn't expect this at all. But I mean, it's amazing. It's incredible. I don't even have words for how fast this has blown up and how many people wanna help us. I mean, we have people donating money, offering their equipment, offering their services, their advice. It's... I don't even know. It's amazing.
Obviously it's a challenge just because I'm still in high school. I've never really had professional experience with concert planning or PR or any of this stuff, the financial aspects. But I'm learning very quickly. And I'm working very, very hard every day. I'm talking to people all across the country for advice. I'm talking about venues. We're trying to find a date. Things are moving really quickly.
It's definitely a lot, it's definitely overwhelming, but I can handle it, and I'm very excited. I've got some great friends who are doing just as much as I am. They're working very hard as well, so, I mean, we're gonna get it done and it's gonna be amazing.
Smith meeting The Aces, one of the bands on her concert wishlist.
There's a ton of stuff behind it, and I've learned so much. Even just the trip to Tallahassee, my communication skills and talking to people, I feel like I've matured like 10 years. And in all of this planning and the details behind it, the financial planning, every aspect to travel, hospitality, what organization are we gonna give this money to to give to the families, PR, who's gonna host it — so much stuff. It's a lot, but I mean, I think it's benefiting me. It's making me smarter and more able to handle situations and conflicts. It's definitely not a bad thing.
I think the thing I wanna stress the most is that this is of course for the families of Parkland, but this show is also going to promote gun control. We're gonna put in aspects of this show, I don't know if I should say what they are, but the show is going to have something to do with pushing for gun control and gun legislation and for voting. In addition to healing the families of Parkland and the students, there's going to be the activism side to the show as well.
For five ways you can take action on gun violence, head over to Everytown.org.