Camila's Red-Hot Romance, BTS's Surprise Guest, And More Jingle Ball L.A. Highlights
Billie Eilish, Normani, and Katy Perry also joined the holiday fun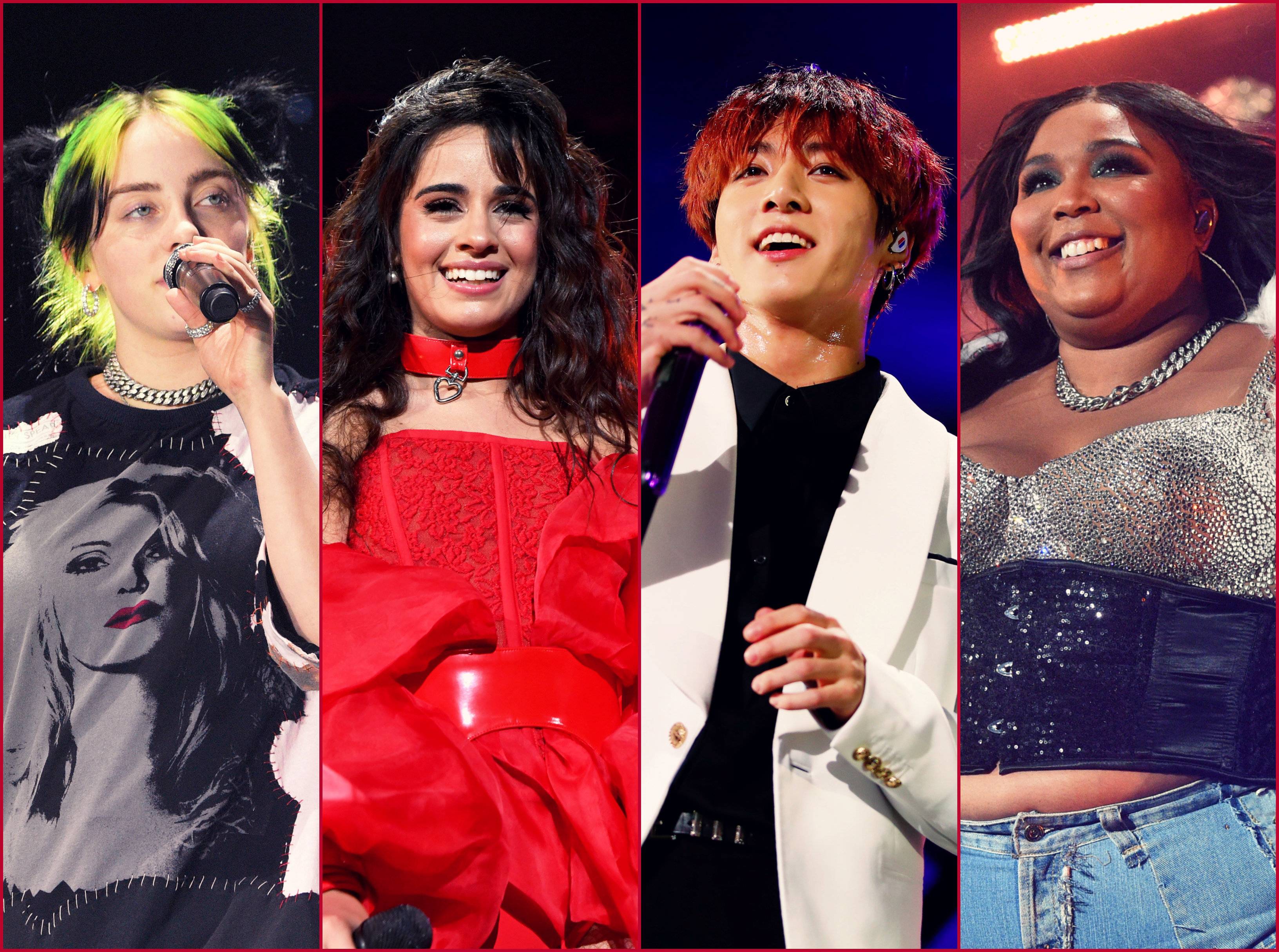 It wouldn't be the holiday season without a slew of pop's biggest stars storming the stage for some festive fun. Yep, it's Jingle Ball time again.
iHeartRadio's annual concert series landed at L.A.'s The Forum on Friday night (December 6) with a predictably stacked roster of talent in tow. Jingle Ball veterans like Camila Cabello and Halsey broke out their chart-topping hits, while first-timers Billie Eilish and Lizzo reminded us why they're two of the year's brightest breakout acts. From the minute BTS kicked off the show, all the way through a surprise set from a former One Directioner and a finale from Sam Smith, it was a nonstop party. Below, check out highlights from each of the nine performers. (Warning: high levels of FOMO ahead.)
BTS opened the show with a "mic drop."
For their Jingle Ball debut, the K-pop phenoms tore through a short but mighty set: "Mic Drop," "Make It Right," and "Boy With Luv," which featured a surprise appearance from Halsey (check out her high-kick in the pic above). The guys also promised the crowd that "2020 is going to be a great year," so get excited, ARMY!
Billie Eilish wore her Britney fandom on her chest (literally).
Eilish bounded onstage for "bad guy" so abruptly and energetically that it took a minute to really discern her outfit, which had Britney Spears's face emblazoned on the front of it. (Legend supporting legend!) From there, the world's coolest teen kept the energy up with bangers like "bury a friend" and "you should see me in a crown," before slowing it down with a gorgeous rendition of "when the party's over."
Katy Perry replaced "Left Shark" with "Left Gift" for her hits-packed medley.
After kicking things off with the festive bop "Cozy Little Christmas," Perry busted out all her most beloved hits: "Teenage Dream," "I Kissed a Girl," "Dark Horse," "Roar," and "Firework," along with recent singles "Never Really Over" and "Harleys in Hawaii." She certainly looked the part of a Christmas queen in her hot pink, snowflake-adorned minidress, while her pair of backup singers stole the show in their gift box ensembles. Left Shark is shook.
Halsey got real about her 2019.
The Manic singer got refreshingly candid with the crowd, admitting, "2018 was one of the hardest years of my life, which miraculously turned into 2019, which was one of the best. ... I had to make a lot of mistakes — and you know, because they were all over the internet." What kept her going, she said, was the unconditional support from her fans, who returned the love by shamelessly screaming along to "Bad at Love," "Eastside," "Graveyard," and "Without Me."
Normani was motivation personified.
It should come as no surprise that 'Mani opened her set with "Motivation" and didn't miss a goddamn beat as she busted out that next-level choreo. Before getting into the rest of her set — which included "Checklist," "Waves," and "Love Lies" — she even played a vocal sample of Nicki Minaj's infamous "Normani is that bitch" speech from the 2018 VMAs.
Camila Cabello celebrated Romance with a red-hot dance party.
After releasing her second solo album earlier in the day, Cabello took a victory lap on the Jingle Ball stage, where she and her dancers rocked red Romance-inspired 'fits. Her hits-packed set — which included "Living Proof," "Shameless," "Liar," and a solo "Señorita" — was bookended by two oldies but goodies: "Never Be the Same" and "Havana." Ooh na na!
French Montana had originally been slated for the Jingle Ball lineup, but was reportedly under the weather on Friday. Enter Tommo, who gamely filled in for French with a four-song set that included "Just Hold On," "Don't Let It Break Your Heart," and "We Made It." He added some much-needed rock flavor to the otherwise pop-heavy lineup, especially with closing tune "Kill My Mind," which remains an absolute jam.
Lizzo revealed her BTS bias during her twerk-heavy set.
The eight-time Grammy nominee opened with "Good As Hell," wearing a festive cape resembling a Santa suit. After belting her heart out on "Cuz I Love You," she hilariously asked the crowd to scream for her the way they would for a certain K-pop star. "Can you pretend I'm Jimin from BTS?!" she asked, and the screams were borderline deafening. "Tempo" and "Juice" then gave way to the smash closer "Truth Hurts," which, yes, included a flute solo.
Sam Smith (and Normani) helped turn Jingle Ball into "the biggest gay bar."
The Brit singer opened strong, welcoming Normani to the stage for their collab "Dancing With a Stranger," which they performed while strutting around in matching baby pink ensembles. The rest of Smith's set spanned some of their biggest hits, like "Latch," "Promises," "Stay With Me," "Too Good at Goodbyes," and recent bop "How Do You Sleep?" After that one, they told the crowd, "I wanna turn this whole arena into the biggest gay bar in the world." "Make the yuletide gay," indeed.