Lady Gaga Sends A Hug, Cardi B Is Stressed, And More Celeb Reactions To The 2020 Election
'Wake me up when ALL of the votes are counted'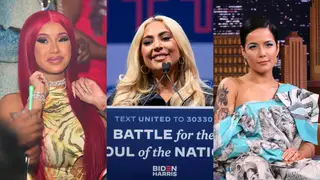 Here's a helpful reminder: The 2020 presidential election is far from decided. As of this writing, the race between President Donald Trump and former Vice President Joe Biden looks to hinge on three battleground states, Wisconsin, Michigan and Pennsylvania. But zoomed out, a total of 3 million ballots have yet to be counted in seven key states, per The New York Times — and as of 2 a.m. ET on Wednesday (November 4), some states had not even begun to report their early vote tallies at all, according to the Vote Early Day initiative.
This kind of uncertainty makes for plenty of stress and anxiety, and it's extremely important to continue to take care of yourself as it continues. What might be comforting to know is that celebrities are dealing with this, too, and some are even choosing to post through it. Below, we've rounded up some of these notable reactions to show you that you're not alone.
In one of the strangest election years of our lifetimes, Lady Gaga is here to remind us to be patient, and that every vote matters. The pop star, who campaigned for Biden and Harris in Pittsburgh on Monday night with a performance of "Shallow" and "You and I," also sent everyone "a big hug," which just feels nice.
Janelle Monáe, aka Cindi Mayweather, came through with a much-needed reminder that it's over until it's over. And it's not officially over until every vote is counted.
The "Anyone" singer took to Twitter to express a common refrain: Given, well, everything that's happened since 2016 — and in particular given all the protests and marches that happened over the summer — how was the 2020 election a close battle? "I'm not losing hope. My faith is strong. Just very disappointed at how close this is," she continued in a follow-up tweet. "Like.... really y'all?"
In addition to the doomscroll-y content above, Teigen also tweeted a brief video showing her "stress cooking" with an avocado on the counter in front of her. The night before Election Day, Teigen appeared onstage with her husband, John Legend, at a Biden rally in Philadelphia.
After throwing her support behind the Biden-Harris ticket ahead of the election, Cardi had no choice but to wordlessly puff on three cigarettes as she watched the returns — specifically, as she watched state after state go for Trump.
In a series of tweets, Halsey — who had rubber bullets fired at her at a protest against racist violence over the summer — railed against the president for "skewing logic" as well as his threats to use the Supreme Court to put a stop to ballot counting in order to declare himself the winner.
Lili raises an extremely good point!!!
LDR spent Election Night at Denny's, enjoying a nice, socially distanced spread in a tent, tracking live updates via smartphone. Oh, and she slipped in some pertinent information for fans, namely that her forthcoming "folky" album, Chemtrails Over the Country Club, is delayed due to vinyl processing backups. But in the meantime, Lana's got you covered. "In the meantime, I'm gonna give you a digital record of American standards and classics for Christmas," she said, holding a Denny's coffee mug, "because I can't get the record plants to open 'til March 5." (She also clapped back at a fan who claimed she voted for Trump with a simple message: "Go. Fuxk. Yourself.")
After apparently tweeting (and deleting) a message of "WELP" early Wednesday morning (November 4), the Independent presidential candidate seemed to concede his campaign — despite racking up a reported 60,000 votes — only to post a tweet looking forward to 2024. Four years is a long time. We'll see what happens.
Our latest glimpse of Tarzan does not disappoint.
Election = stress = dog pics. Not a bad formula.