Tee Grizzley Reveals How Meek Mill Inspired 'First Day Out,' The Song That Changed His Life
Dreams and First Days Out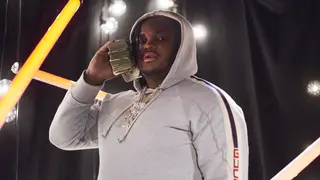 Tee Grizzley's story is tied to the specter of incarceration. After a failed jewelry heist in Kentucky and a series of home-invasion robberies, Grizzley served three years in jail. After his release on November 16, 2016, the Detroit rapper dropped "First Day Out" — the song that would change his life forever. On the viral hit, Grizzley raps about those that prayed on his downfall and fighting for his life in the courtroom.
The story is eerily similar to that of Meek Mill, who's facing two to four years as a result of a probation violation. In an interview with MTV News correspondent Gaby Wilson, Grizzley — MTV's Push: Artist to Watch for February — opens up about Meek Mill, how their "First Day Out" remix happened, and the Philadelphia rapper's incarceration.
"I always wanted to do something with Meek anyway, because he inspired the 'First Day Out" song,' said Grizzley. "You know, it's like the 'Dreams and Nightmares' type of feel. We end up doing that song. I had reached out to him. He had hit me. We was just kicking it for a minute. We met up in Atlanta at a studio. I really was just coming to listen to [Meek's album] Wins and Losses, and then he's like, 'Man, pull some beats up. Let's do something.' I end up getting the 'First Day Out' instrumental."
Later in the interview, Grizzley reveals how he felt when he learned Mill was going back to prison.
"I didn't think that that was possible," he said. "People was telling me Meek got two to four years. Those people can't give Meek Mill no two to four years. He got all these fans, this big influence out here. They can't do that. They did it, that was crazy, and for what they did it for, that was, like, over punishment."
Watch Tee Grizzley perform his song "Colors" below and check out his entire Push: Artist to Watch interview here.