Bop Shop: Songs From Blackpink, Samaria, Bellah, And More
Let the 'Pink Venom' into your veins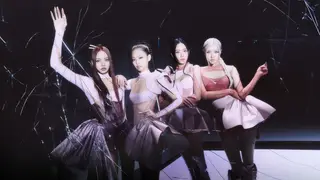 The search for the ever-elusive "bop" is difficult. Playlists and streaming-service recommendations can only do so much. They often leave a lingering question: Are these songs really good, or are they just new?
Enter Bop Shop, a hand-picked selection of songs from the MTV News team. This weekly collection doesn't discriminate by genre and can include anything — it's a snapshot of what's on our minds and what sounds good. We'll keep it fresh with the latest music, but expect a few oldies (but goodies) every once in a while, too. Get ready: The Bop Shop is now open for business.
Blackpink: "Pink Venom"
With their first release in nearly two years, Blackpink are officially back in your area with the release of "Pink Venom," a boisterous, rap-heavy track dedicated to the patient, yet passionate Blinks around the world. As the first single off their upcoming album, Born Pink, "Pink Venom" is representative of the very essence of the beloved girl-group: confidence and contradiction. Combining the traditional sounds of a Korean geomungo with the electronic sounds of the 21st century (as well as a surprising  nod to Rihanna's "Pon De Replay), the group find a way to mitigate the past and future to create a track living entirely in the present. Accompanied by an immensely striking visual, composed of fast cuts of innately crafted sets and silhouettes, Blackpink create their own personal fantasy dreamland and invite their listeners into their new world. As the track's many peaks and valleys build to an explosive climax/dance break during its final moments, the members of Blackpink remind fans of their strength and dedication as performers ready to take charge once again. After racking up nearly 60 million views overnight, they further prove with "Pink Venom" that they can not, and will not, be stopped. —Sarina Bhutani
Flo: "Summertime"
Girl group Flo motivates us to ditch the mundane commitments and take a girls trip! Reminiscent of the R&B hip-hop jams of the '90s, the trio's new track has got that bumping beat that'll make you shake in your seat on the way to the beach. Their vlog-style video pairs perfectly with the vivacious sound of a carefree summer curated by those you're most comfortable with. It's time to do what you want while you've got the wherewithal – so soak up the heat with your besties! —Gwyn Cutler
Blondshell: "Sepsis"
As opening lines go, "I'm going back to him / I know my therapist's pissed," is up there with "I met you at the blood bank / We were looking at the bags." The former is what Sabrina Teitelbaum, a.k.a. Blondshell, sings to begin "Sepsis," her latest slice of fuzzy, probing alt rock. It's also the perfect occasion to fall under her spell: hypnotic melodies and '90s-inspired guitar tones running underneath IG-ready lyrics like "If I'm in love, nothing hurts." The weariness in her voice tells you that's bullshit, and leaves you wanting her to pull you aside and tell the rest of the story. —Patrick Hosken
Lizzo: "2 Be Loved (Am I Ready)"
Shakespeare said, "If music be the food of love, play on," but I'm taking it upon myself to give it a bit of a refresh — "If music be the food of love, jam on. And if it's a Lizzo song, dance, too!" That's exactly what I did after hearing her and watching the visuals for her latest track "2 Be Loved (Am I Ready?)" If there's one thing a Lizzo bop will do to you, it's make you dance and reflect. As summer comes to a close, we're inching closer and closer to cuddling season, and Lizzo is questioning if she's ready to be loved and following it up with an affirmation: "Girl, without a doubt!" What I love most about the electric-pop and funk-tinged beat is that the "Rumors" singer highlights that in order to be ready "2 Be Loved," you've got to love yourself first. Now throw on your best leg warmers, put that song on repeat, and get ready to dance your heart out. —Virginia Lowman
Bellah: "In the Moment"
Bellah has gifted us a scintillating R&B song about recognizing red flags and the dangers of waving them off. We often want what we shouldn't have, and it's what we do in the face of this predicament that seals our fate. Bellah is stuck with one foot in and one foot out of a complicated situationship, questioning her self-control. It's easy to get caught up "In the Moment," especially when someone's affection fills a void, but maybe one's imagination is better than the harsh reality that'll ultimately unfold. Her video features entrancing visuals, including a sparkling snowscape, a sun goddess, and a signature dance in dire need of replication IRL. "Right person, wrong time / Don't ask how I feel, I'ma lie / Why'd I have to meet you in my prime? / Now, we can only do it in my mind." —Gwyn Cutler
Samaria: "Somebody Else" (The 1975 cover)
In its original version, "Somebody Else" remains a synthpop fever dream, humid as a sauna with sweat dripping from desire and the ache of longing. It also gestures at R&B without fully embracing it. Samaria's new cover of the 2016 track, meanwhile, dives all the way in, preserving the humidity and turning it up to 10. The yearning in her voice inches this reinterpretation closer to the genre's landmarks like "Losing You" while bringing a singular, kaleidoscopic, widescreen R&B vision to the fore. —Patrick Hosken
Post Malone ft. Doja Cat: "I Like You (A Happier Song)"
Post Malone and Doja Cat join together to make a happier song about a blossoming romantic relationship. The echoing synths and chill beats make this delightful track perfect to listen to during a new beginning or the honeymoon phase. "Ooh, girl, I like you, I do," Malone sings with enamored vocals. "I wanna be your friend, go shoppin' in a Benz / I like you, I do / I'll hit you when I land, can you fit me in your plans?" Doja echoes the connection in the second verse: "Let me know when you're free / 'Cause I been tryna hit it all week, babe / Why you actin' all sweet?" —Athena Serrano
Dayglow: "Deep End"
There's something reassuring about People in Motion, the name of Sloan Struble's third album under the Dayglow name. Forward momentum is objectively pleasing, sure, but the phrase suggests a communal moment — on a dance floor, in a travel corridor — where movement is an antidote. On "Deep End," his latest single, the zapping groove is enough to entice some wiggling, but a close read of lyrics like "Show me how to let it go like flowing water" suggests a gentle stream can also provide its own kind of stillness. —Patrick Hosken