Bop Shop: Songs From Mitski, Blackstarkids, Eartheater, And More
Phoebe Bridgers covers Bo Burnham, Remi Wolf goes for the TKO, and more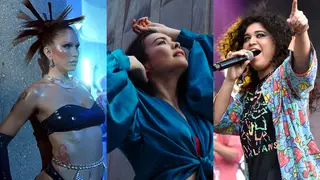 The search for the ever-elusive "bop" is difficult. Playlists and streaming-service recommendations can only do so much. They often leave a lingering question: Are these songs really good, or are they just new?
Enter Bop Shop, a hand-picked selection of songs from the MTV News team. This weekly collection doesn't discriminate by genre and can include anything — it's a snapshot of what's on our minds and what sounds good. We'll keep it fresh with the latest music, but expect a few oldies (but goodies) every once in a while, too. Get ready: The Bop Shop is now open for business.
Mitski: "Working for the Knife"
Where's Mitski been? Working for the knife, you see, just as she'll live and die by it. The examination of her own career in the spotlight makes for a great new single (her first in several years), and the way the sharp guitar lands on the chorus across a sea of buzzing keys makes for an enthralling listen. Welcome back! —Patrick Hosken
Fletcher: "Girls Girls Girls"
Did you also spiral into a Gay Panic™️ the first time you heard Katy Perry's "I Kissed a Girl" in 2008? You may be entitled to compensation, and an exclusive first listen to Fletcher's "Girls Girls Girls," a sexy, alt-pop reimagining of Perry's groundbreaking hit. Where the "Harleys in Hawaii" singer marvels with wide eyes at "the taste of her cherry chapstick," Fletcher "[sips] her like an old fashioned." One thing's for certain: Fletcher, who is openly queer, and the lucky recipient of her girl-on-girl lip-lock "really, really liked it." —Sam Manzella
Last month, models wearing black leis, acid-colored gowns, and scuba shorts adorned with fringe edges stomped down a runway in New York for the label Proenza Schouler's spring 2022 ready-to-wear show, which was loosely inspired by designers Lazaro Hernandez and Jack McCollough's vacations in Hawaii and the restorative effects of travel. Soundtracking the vibrant display was an ambient hymn called "Scripture" by the experimental composer Alexandra Drewchin, who blends baroque instrumentation with throttling rave beats as Eartheater, and who went wide with the song earlier this week. Her airy vocals expand and dissipate like a cloud of smoke over a haze of atmospheric electronics and tuneful folk fluting, which makes this transportive track ideal listening for a different kind of trip. —Coco Romack
Blackstarkids: "All Cops Are Bastards*"
Kansas City alt-pop trio Blackstarkids have always colored outside the lines, using early aughts nostalgia, vocal effects, and their strong point of view to craft tunes that resonate with what it means to be young and alive today. Their newest single, which appears on new album Puppies Forever, dropping October 15, is no exception, though its high-powered take on police brutality, the exhaustion facing the Black community, and the unyielding hope that times are changing will stay with you long past its three-minute runtime. "I'm gonna say something this time," the track begins, before building into a powerful refrain: "So go, revolt / Keep hope." Its visual is a powerful reminder that the Black Lives Matter protests of 2020 will not be forgotten, but it will take everyone's work to make it last. —Carson Mlnarik
You'd know a train beat if you heard it, that loping yet caffeinated rumble of drums that imitates the chug of a locomotive. But it's harder to place by ear if the rhythm is coming from something other than two brushes — say, a pair of shoes. Roots musician Laurel Premo's new album Golden Loam is full of new takes on old folk songs, all filtered marvelously through her idiosyncratic mastery of the guitar. Often, it's all you hear on a track — except on "Hop High," an update on a tune from Southern banjo players, that also features percussive dancer Nic Gareiss fashioning a bit of a train beat from his own mic'd-up foot shuffles. The result is subtle but dazzling and rich in texture. Watching a live performance is pure hypnosis. —Patrick Hosken
Like a true Capricorn, Jay B tends to keep his cards close to his chest. However, he tends to reveal new aspects of his personality through his music, which can be gleaned from his new single, "Fame." Off of his debut solo EP Somo:Fume, "Fame" reveals the more playful, easygoing side of the K-R&B star. Featuring Korean-Canadian artist Junny, the groovy, bass-lead track oscillates between English and Korean, as well as rapping and singing, with incredible ease. Accompanied by a cool-toned music video filled with Jeep wranglers, bucket hats, and blue skies, this is a great song for blasting with the windows down. Jay B further promotes the narrative that he is perfect boyfriend material. —Sarina Bhutani
Phoebe Bridgers: "That Funny Feeling" (Bo Burnham cover)
Phoebe Bridgers lends her breathy vocals and Big Sad Girl Energy to this chillingly beautiful cover of Bo Burnham's "That Funny Feeling," a dark, acoustic guitar-backed meditation on existential ennui from his acclaimed Netflix comedy special, Inside. It's no secret that Bridgers adores Burnham's jokes: After the Emmy-winning show premiered, the "Kyoto" indie rocker sang its praises on social media. She has also been covering the song in concert on her current U.S. tour, leading Pharbz everywhere to speculate about a possible Phoebe-Bo collab. Her version of "That Funny Feeling" is available for purchase on Bandcamp, with all proceeds benefiting abortion funds in the state of Texas. "This one's for [Republican Texas Gov.] Greg Abbott," she said in a statement. —Sam Manzella
In case you haven't heard, Remi Wolf is the moment. Fusing funk, soul, and pop with some of the most unhinged lyrics ("Orgy at Five Guys with five guys / That's 10 guys and holy Christ / I've never seen more nuts in my life," she sings in "Quiet on Set"), the L.A. artist is exceptionally herself. "Front Tooth," which appears on her debut album Juno, out October 15, finds her taking on a more vulnerable voice than her typically braggadocious bops. "It don't feel like it's supposed to," she croons, before comparing her relationship to "a Conor McGregor fight / Kicking out my front tooth." Of course, there's also a crunchy guitar solo, some dolphin noises, and a truly romantic moment when she dubs her lover "a garden gnome." It is Remi Wolf, after all. —Carson Mlnarik
Kali Uchis ft. SZA: "Fue Mejor"
SZA singing in Spanish? Yes please. Her appearance on Kali Uchis's languid "Fue Mejor" is brief but potent, much like the entire tune. By the end, after sweltering downbeats and a devotion to creating the sexiest atmosphere possible, Uchis is literally engulfed in flames in the music video. Checks out. —Patrick Hosken
JoJo confronts her mental health struggles with cutting honesty on new capsule project Trying Not to Think About It, but if you've been following the R&B prodigy's career long enough, you know she's always had a penchant for transforming her innermost cringeworthy breakdowns into irresistible bops. "Spiral SZN" finds her at a low point — "Ice in my Sauvignon / I'm havin' one of those nights" — and rather than preach optimism or hope, she does something even more honest: She gives into the feelings. "Postpone the healin' / It's spiral season again," she sings. Turn to the rest of her EP to come back together, but this is the perfect bop for falling apart. —Carson Mlnarik
James Ivy: "Pushin' Thru It"
The pop-punk resurgence is, if anything, a little stale by now. But the mall-rock revival — what I'd affectionately call soft rock with a slight edge — is nigh. Few artists understand that better than Garden State native James Ivy, whose sonic sweet spot resembles a drum riser set up between a Journeys and a Great American Cookies stand. Unlike on shimmering, nostalgic previous singles "Last Star" and "Headset Go," Ivy opts for a dimed-out fuzz-pop sundae on "Pushin' Thru It." Or maybe it's more of a cup of (spilled) Dippin' Dots? —Patrick Hosken